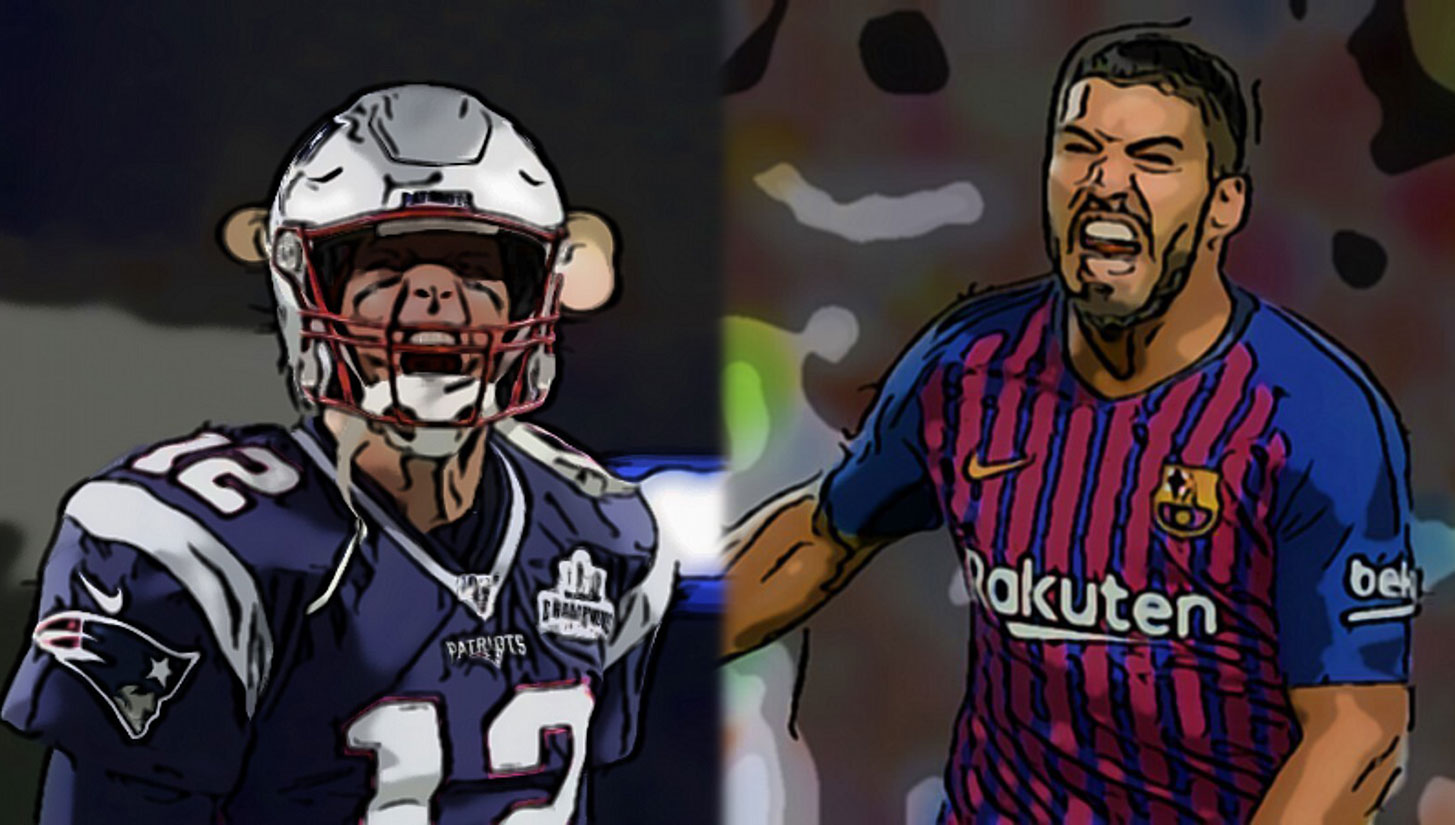 Luis Suarez's acrimonious departure from FC Barcelona to Atlético Madrid this past September is eerily reminiscent to what happened with Tom Brady and the New England Patriots. While Brady's move resulted in a surprise Super Bowl victory, it's looking very possible that Suarez may bring a stunning La Liga title to his new team as well.
It's a sad, familiar scene we've seen many times over the years across various professional sports. An aging superstar becomes increasingly less valuable to a team as father time begins to slowly chip away at his declining skills. Previous accomplishments and accolades aren't quite forgotten but become brusquely diminished in comparison to looking ahead towards the team's future. A one-time centerpiece is marginalized and leads to an inevitable breakup between the superstar and the team for whom he brought multiple championships.
A Proven History of Success
In Tom Brady's case, he led the Patriots to an unprecedented six Super Bowl championships over 20 seasons. As the quarterback, Brady and head coach Bill Belichick were the cornerstones of the team's success for two decades. Joining the franchise just months apart in 2000, the two were consistently credited for forming what is probably the greatest dynasty in NFL history.
Luis Suarez joined Barcelona in 2014 on one of the most expensive transfers after a history of individual and club successes. With his goal scoring abilities, he made an immediate impact in helping his club win back-to-back La Liga titles. They did it again after a one-year spell during which they came in second place to their main league rival, Real Madrid.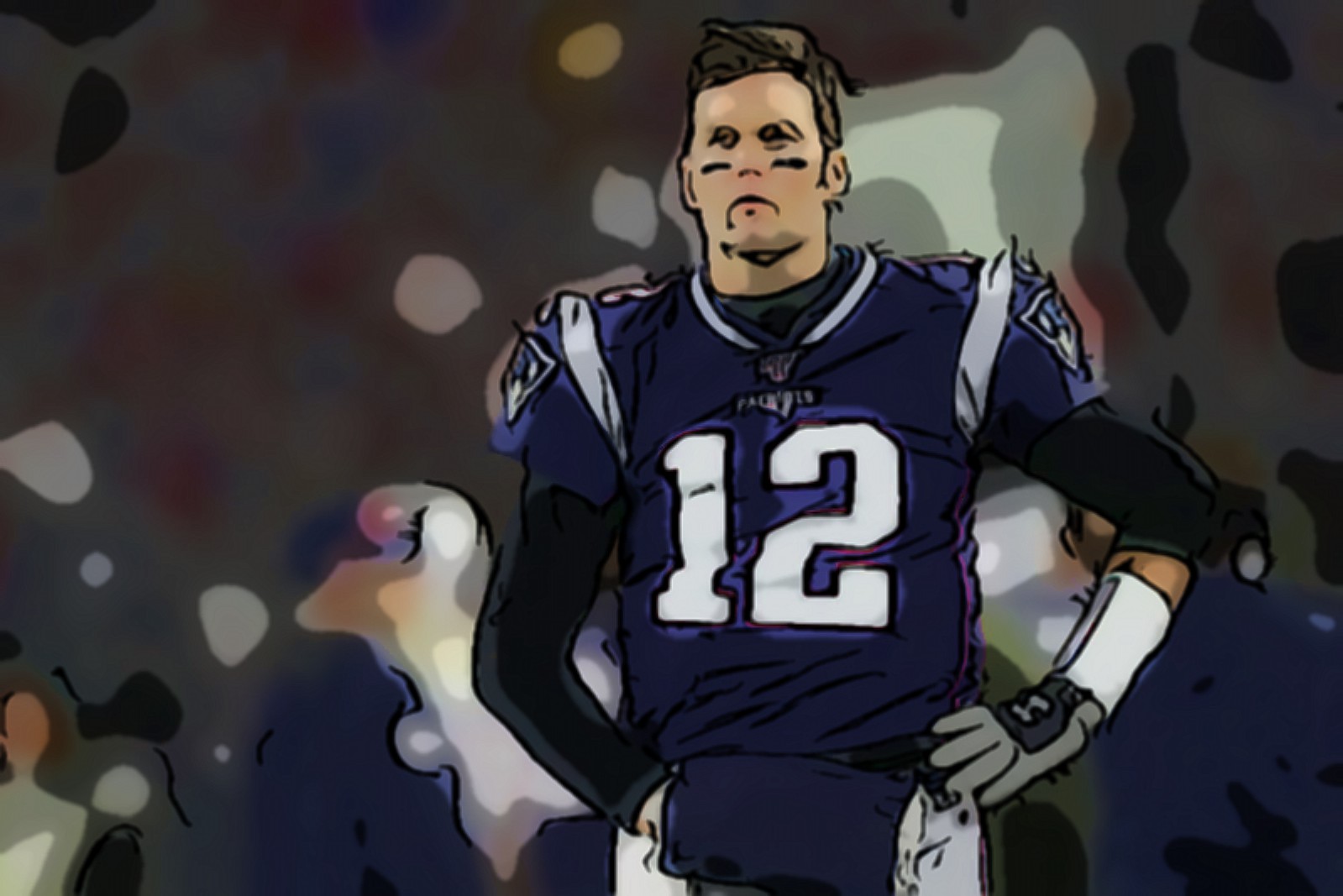 Both of these superstars had the distinction of being a leader as one of their team's top players during their respective championship runs. Although Suarez had the advantage of having both Lionel Messi and Neymar as teammates during some of those years, it cannot be denied that he was a major contributor and superstar in his own right. Even as part of Barcelona's attacking trio of Messi, Suarez, and Neymar, nicknamed "MSN," he earned his second European Golden Boot in 2016 — an award given to the leading goalscorer from the top division of every European national league.
Apparent Decline in Skills
Although New England won another Super Bowl in 2018, Brady's skills and individual statistics had been declining for three straight years between 2017-2019. Most noticeably his passer rating had plummeted in his last year with the team while also having turned 42 years old. This seemed to signal the beginning of the end of his career as well as the once successful New England dynasty. Everyone seemed to think so, including his own coach and team. Everyone that is except for Brady himself.
Suarez had a similar declining arc in his career trajectory as well. For the past three years, his game-defining statistic of goals scored had continued to shrink. His 21 goals scored in his last year with Barcelona was the lowest total he'd registered since 2011 when he had begun making his international mark with Liverpool. Even worse, he had slowed down, kept experiencing problems with his knee, and his overall contributions had noticeably dropped off.
No one could rightfully fault the Patriots for beginning to lose confidence in their former star player. Brady, for his part, was bothered by the fact that the team was unwilling to offer him a long-term contract. It was particularly galling given the fact that he had consistently given the Patriots a discount on his past contracts in order to help build a title-contending team.
The two sides could not come to an agreement on a long-term contract that would allow him to play well into his 40s. Although it was Brady's desire to eventually retire as a Patriot, he was not getting an offer that was satisfactory to what he believed he had earned and deserved. Ultimately, Brady felt unappreciated by the Patriots — specifically by Belichick and team owner Robert Kraft.
Coincidentally, Luis Suarez faced a similar situation where he was also no longer a top priority for his team. Though younger than Brady, at 33 years of age in his last year with Barcelona, he was an elder statesman in his sport and was beginning to look it on the pitch as well. Faced with a team financial crisis and an increasingly aging roster, political pressure began to mount within Barcelona to rid itself of the once popular player.
Experts began to question whether he could still perform at the highest level. Team executives at Barcelona were so eager to unload his contract that they let him leave on a free transfer — an unheard of transaction for a top caliber player. This occurred in September after manager Ronald Koeman informed Suarez that he was no longer part of the team's plans.
Miscalculating the Heart of a Champion
Prior to Brady's arrival, the Tampa Bay Buccaneers had gone 12 straight seasons without making the playoffs. Even after he joined, along with a few other key free agents, the team was never a high choice to win the Super Bowl this year. Yet, the team pulled off one of the biggest turnaround seasons in order to win the second championship in its history.
Not only did Brady pull off the astonishing feat of bringing a trophy to his new team, but he did it while having one of his best individual seasons ever at the age of 43. His motivation at wanting to prove the Patriots wrong seems to have shockingly lengthened his career. His resurgence this year was such that now the expiration date on his playing days seems much more distant than previously thought.
Similarly, Suarez has also seemingly miraculously turned back the clock after joining his new team. The striker is leading La Liga in goals at a torrid pace while helping to propel Atlétio Madrid to the top of the table by a comfortable margin. His performance so far has been a shock to everyone including most notably his former team. Barcelona fans are understandably vexed to find their own club in third place trailing quite a bit behind a club that's now led by their former player.
Suarez most likely has even more motivation than Brady to prove his previous team wrong. Whereas Brady and the Patriots couldn't see eye-to-eye on a long-term commitment, Suarez was unceremoniously dumped after having helped Barcelona to multiple cups and championships. Although his joining Atlético was an unforeseen mistake that Barcelona tried to initially prevent, no one could have predicted his recent performance after seeing his steady decline.
Knowing what we've witnessed with Brady, and with their similar career arcs and resurgences, it is very possible that Suarez may also bring his new team a league title. This is even more tantalizing given the fact that outside of Atlético's title in 2013, no other club besides Barcelona and Real Madrid have won La Liga's title in the last 17 years. The one thing we've learned from both Brady and Suarez is that, no matter their age, one cannot underestimate the heart of a true champion.