Our 'Art of the Game' series spotlighting the most prolific artists within football continues with Daryl Rainbow. The London-based illustrator has caught the eyes of many with his creative and humorous renderings of footballers, politicians, and iconic movies. 
If Johan Cruyff was a painter, he probably would have assured: "Illustrating football is very simple, but illustrating simple football is the hardest thing there is."
Daryl Rainbow has mastered the seemingly impossible, with a dazzling array of works whose topics range from football to pop culture to politics. The London-based artist has become a reference amongst fellow football illustrators — an authority in a growing field of brilliant creatives.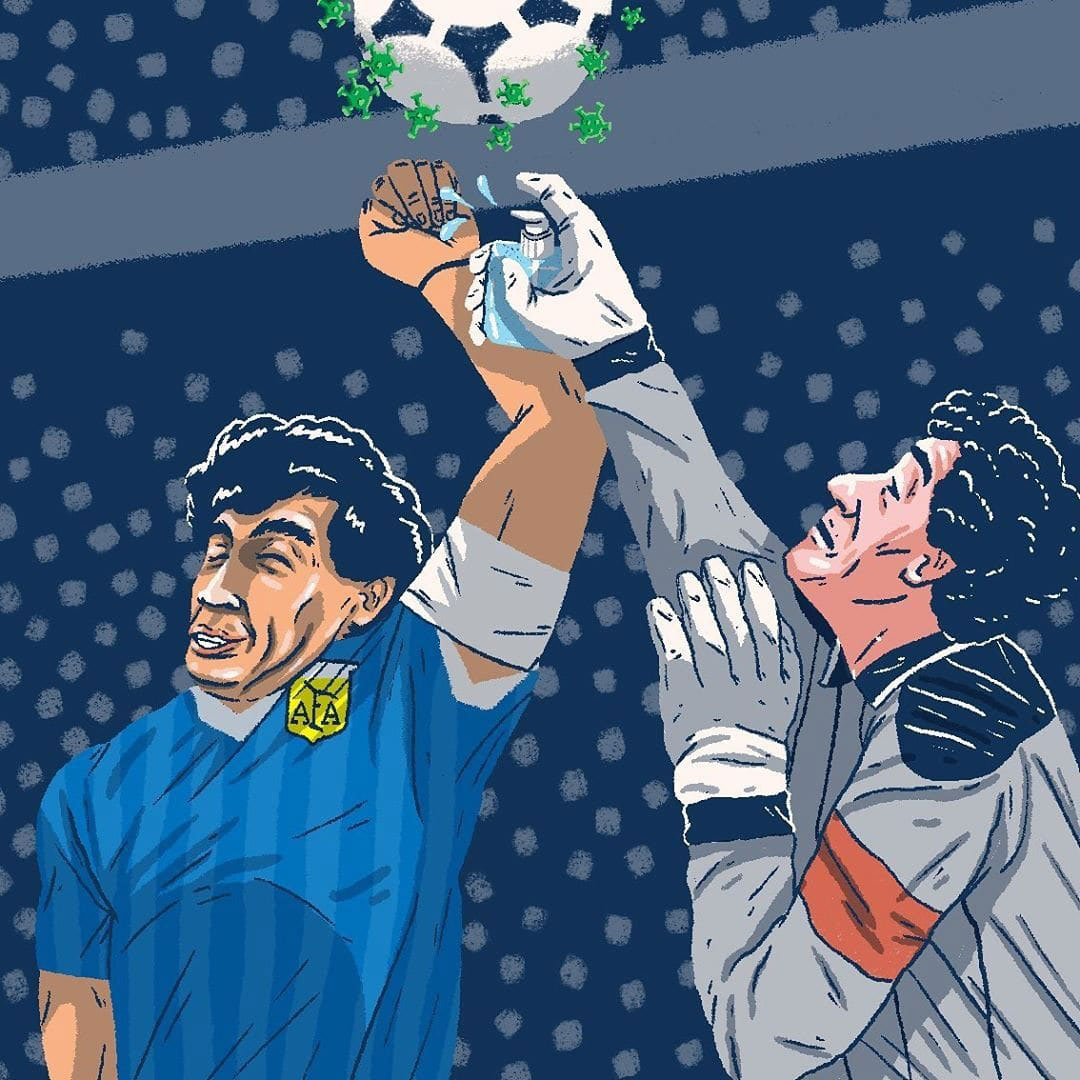 Through social media, I discovered Daryl's work a few years ago, and since then I've been hooked. Traditionally, we perceive art as a serious matter with significant aesthetic values. However, Daryl's illustrations make us laugh and laugh, seemingly inviting us to the crazy and colorful pitch that he creates with his exceptional sense of humor and tragedy.
Comic scenes such as Wayne Rooney's hairline evolution, the 'Good Ebening' revolution lead by former Arsenal gaffer Unai Emery, and decadent tributes to cult Premier League favorites who aren't quite stars have all been captured by Rainbow's imagination. We caught up with the talented artist to discuss the vast breadth of topics he covers, his Arsenal fandom, and favorite football crests.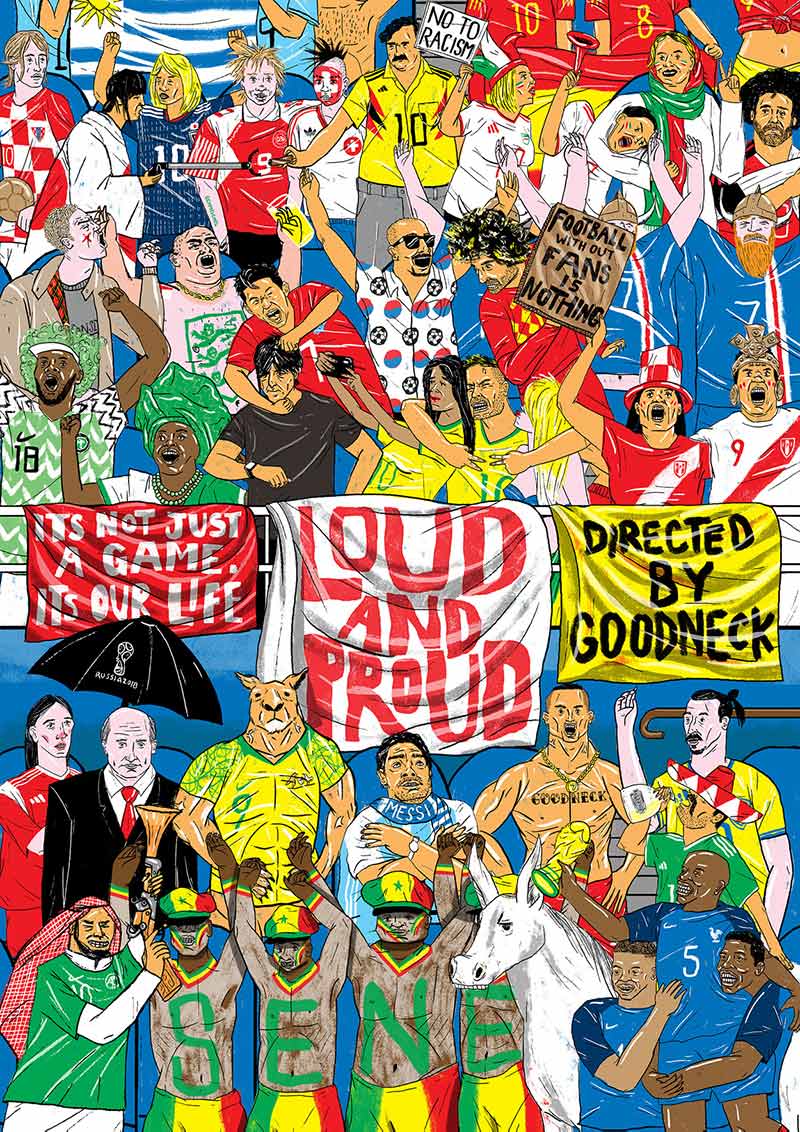 Urban Pitch: You're from East London. Does this singular area inspire you?
Daryl Rainbow: Yeah living in East London is fun. There are lots of creative businesses based in East London. I work in a studio with lots of different creatives, so in that aspect, it can be quite inspiring.
There's obviously a vast amount of clubs to support in London. Which one is yours?
I support Arsenal, the Gunners. I was born in the Philippines but moved to London when I was 3, so I grew up in the city, and in the mid-late '90s they were a fantastic team. With so many icons in the club, they became symbols for not just Arsenal, but London too.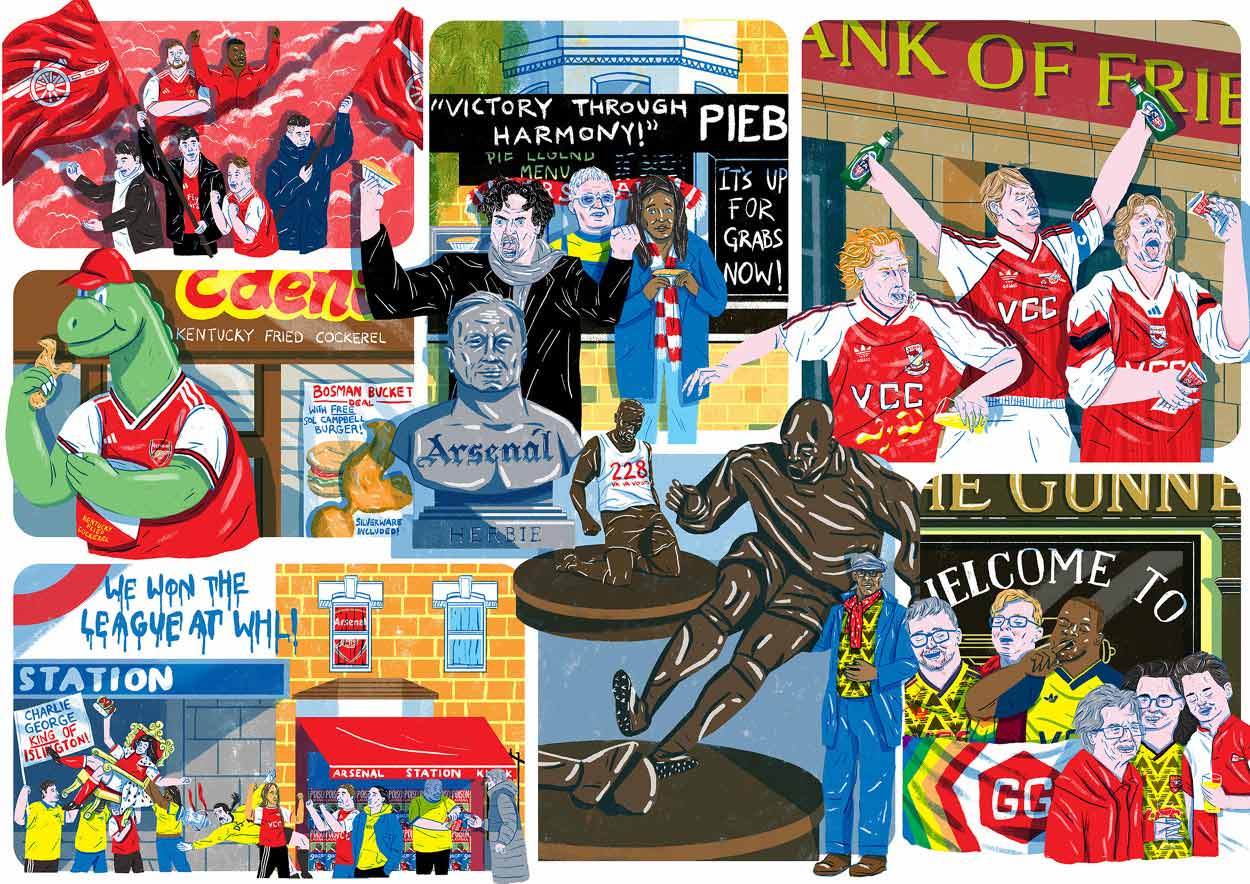 Do you have any memories from Highbury, and what are your thoughts on Emirates Stadium?
Unfortunately, I couldn't go to Highbury, but from seeing it so many times on TV and just observing the photos you can notice that was an actual iconic stadium with a lot of character. Currently, the Emirates looks like a difficult stadium to create atmosphere in, and sometimes it is hushed. Also our teams have not performed the best during the last seasons, so you can notice that on the fans. They charge a lot for the season tickets, so the fans want value for their money. But on the big games, that's when the stadium is alive — you can notice how the fans support the team and are very excited. We should have that atmosphere every time, not just when we play against Tottenham.
What are your three favorite Arsenal moments?
Thierry Henry scoring that solo goal at White Hart Lane then running the full length of the pitch again to celebrate in front of the Spurs fans. Arsene Wenger pushing José Mourinho about like he was a boy. And Cesc Fàbregas throwing pizza at Sir Alex Ferguson.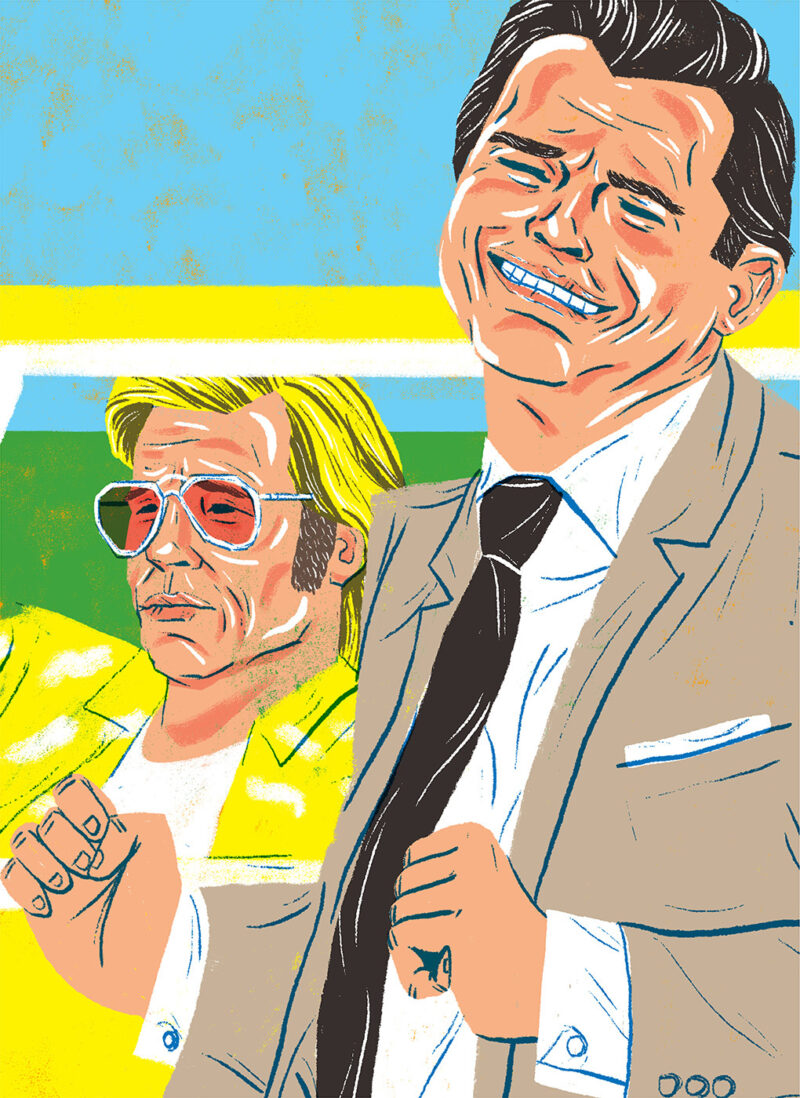 Your work includes more than just football. What are some other topics you like to illustrate?
Apart from football, I've been trying to branch my portfolio and subject matter out to film as well. I've done a few film magazines in the past year, which is excellent as it's a big interest of mine. Politics and music always have good narratives to illustrate too.
You also feature some football-adjacent elements such as pint glasses, pub pies and full English breakfast throughout your portfolio. What compels you to include them?
I like those elements because they are representative of general English football culture, and they can be synonymous of the English male working class. Those elements are hand-in-hand with the football scene, so I try to put that into my work. It's the sort of culture I embraced growing up. I consider it to have a lot of cultural significance and impact.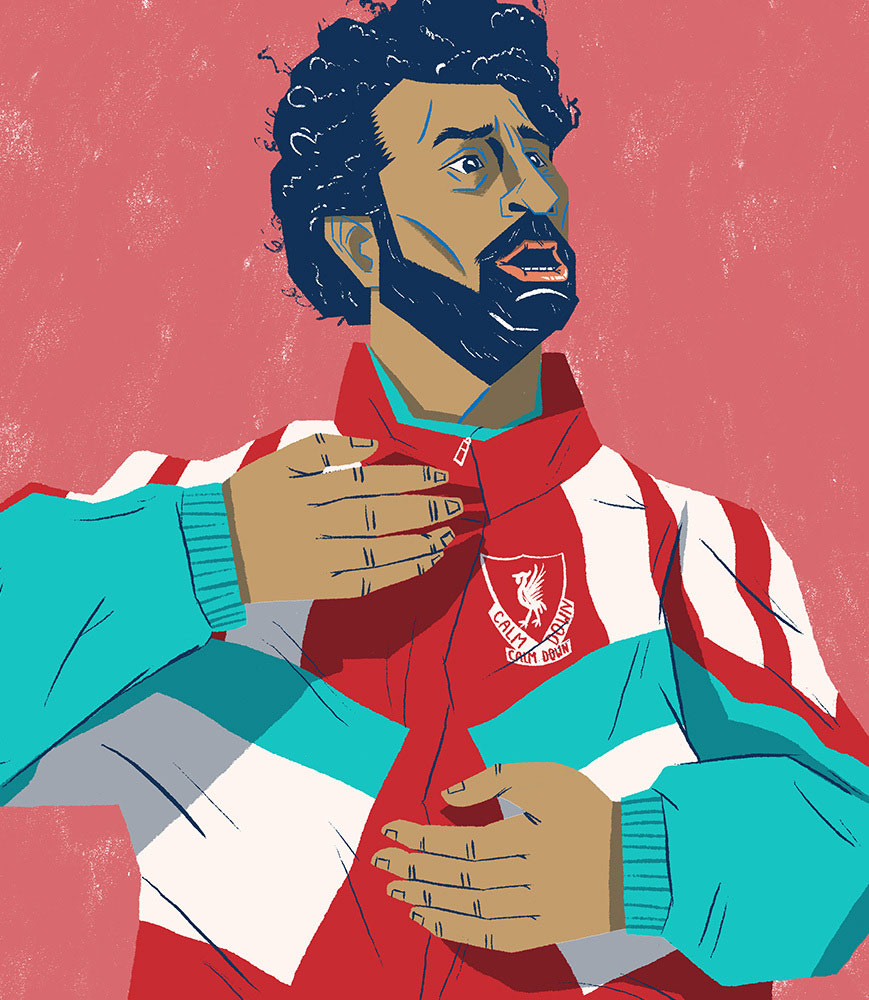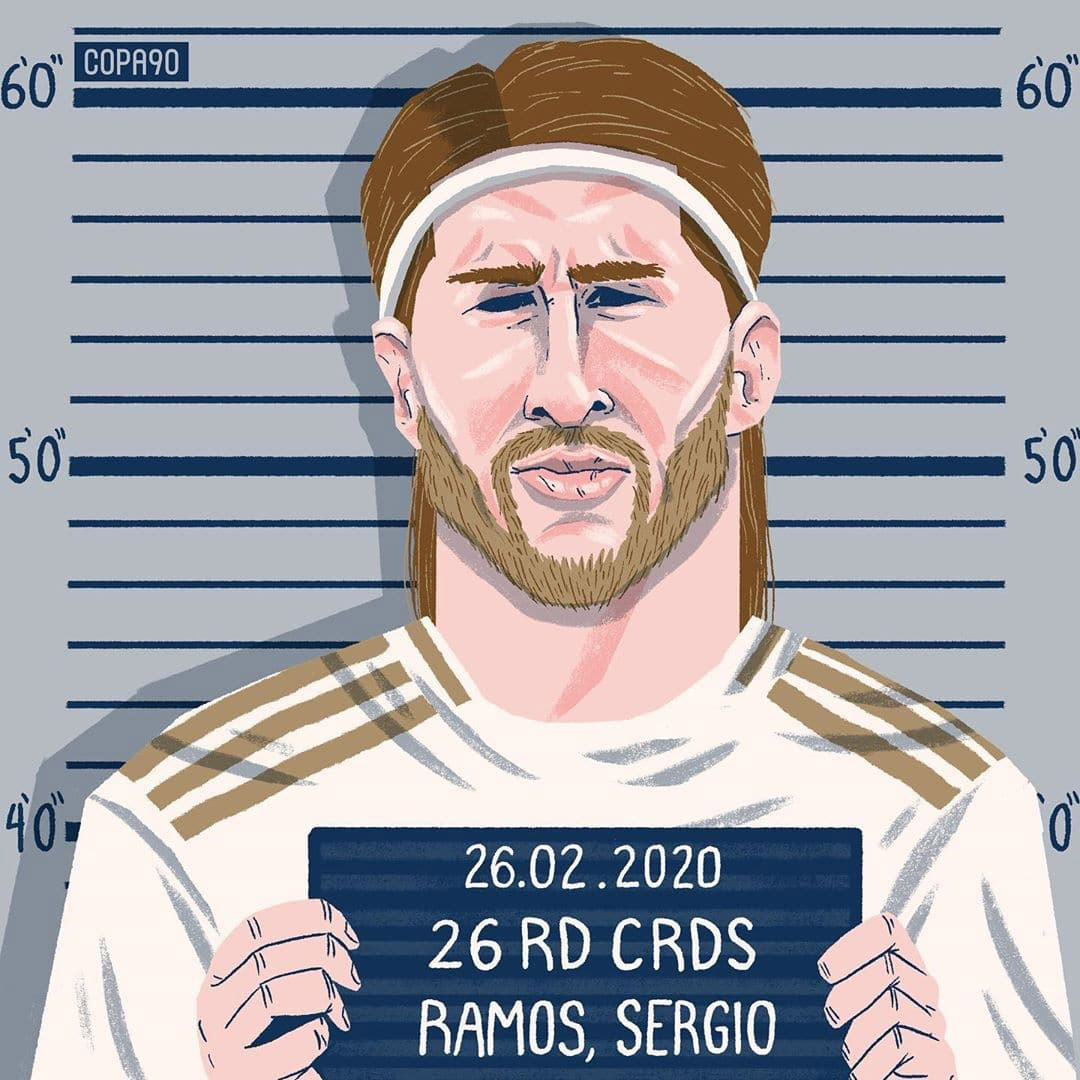 As someone who's dipped their toe into the world of typography, what are your thoughts on Comic Sans? 
Typography isn't really my speciality. I've done a few bits in the last year. It can be quite fun to make if it is a style that's a bit more fluid and not so so restrained. Comic Sans always get a lot of bad press. I feel like it's a very popular or obvious subject for snobby graphic designers to trash, but I don't really have any strong opinion on it. It's like a thing people use at schools and at local events, but not everyone's going to have studied graphic design and care that much about what type to use. It's almost gotten so naff that it's ironically cool again.
Name five football badges you like the most.
All of the old Arsenal crests. The two '90s ones with the gothic type, the '70s cannon, and the two variations on the art deco badge from the '30s-'50s. All 10 times better than the current one.
Name some football players that are very 'art-friendly.'
Héctor Bellerin is a big one. He is very into silly fashion and seems like an interesting guy. Mourinho is always blockbuster. He is a bit of a cartoon bad guy himself. Former Arsenal star Ian Wright is great as he is such a legend and always seems to understand the fans very well. On the other side, Diego Maradona is another big one. His haircuts are totally iconic and he's a controversial guy as well. And the French King Eric Cantona. Another huge personality and he also has an enjoyable face to draw.
What's a football-related project that you'd like to do in the near future?
I've always planned on doing an illustration football book. I've got a few ideas I think would be good, but I haven't had the time recently to do one. But I definitely would like to get one out.
Follow Daryl Rainbow on Instagram and check out his personal website to browse his vast portfolio.