We're not particularly close to the 2026 World Cup, but that doesn't mean it's too early to look ahead at what we can expect. 
With the most recent men's World Cup behind us, it's only natural to begin obsessing about the next one in three-and-a-half years. It's never too soon to get hyped for a World Cup, especially considering the United States will be hosting in 2026 along with Mexico and Canada. So let's get into it, shall we?
Expanded Field
There are two big details about 2026: It's the first time three countries have co-hosted (we'll get to that), but the bigger and more impactful detail is that it's going to be 48 teams instead of the traditional 32.
Initially, the group format was supposed to go from eight groups of four to 16 groups of three, but after some backlash FIFA has reconsidered. The governing body has not committed to four teams though, so the final group stage format is still up in the air.
Tournament structure aside, the big question is how much does the increase in teams affect the quality of play? The biggest proponents against expansion mention the potential of a watered-down competition, while those in favor of it are intrigued by the added opportunities for upsets.
If FIFA ends up going with a three-team group format, however, there's reason to believe there will be more blowouts than upsets. Instead of groups of death, we'll get groups of boredom.
And while "good" teams who have struggled to qualify for the World Cup in recent years (ahem, Italy) will surely make it into the expanded field, the majority of additions won't be among the world's powerhouses. Added slots would be good for Asian, American, and African nations who haven't competed on the world's biggest stage, but we won't necessarily be getting a ton of wow factor to the field.
Cities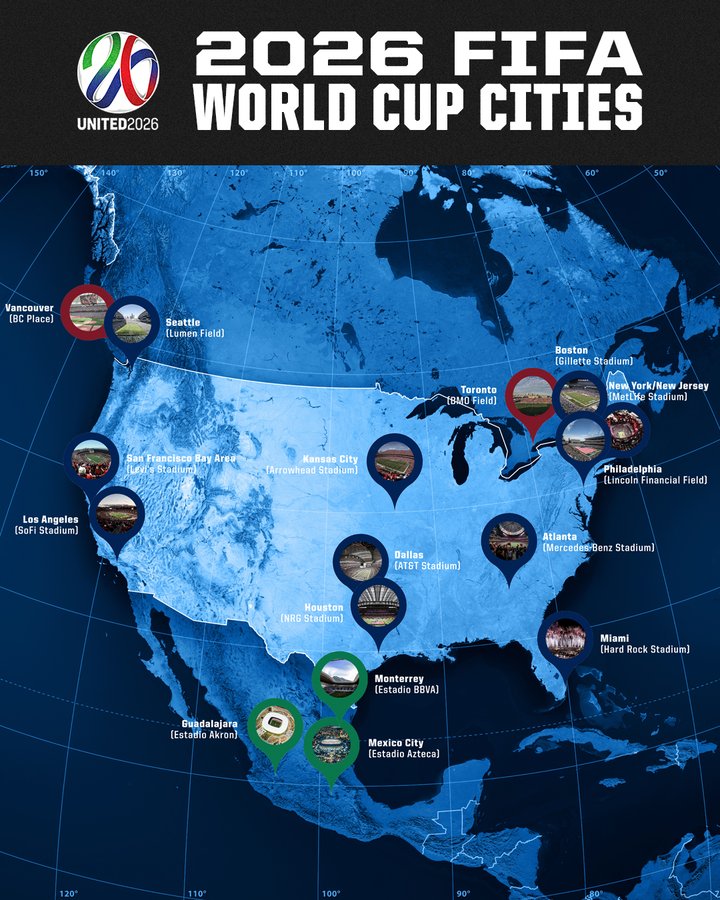 The other big difference with 2026 will be the fact that there are three hosts: United States, Canada and Mexico. The only other time multiple nations hosted a tournament was 2002 with South Korea and Japan.
Logistically this is massive — an entire continent pretty much. However, Canada and Mexico only combine for five out of 16 host cities, which is a little disappointing. Canada just has two in Toronto and Vancouver, while Mexico has three in Guadalajara, Monterrey, and Mexico City. It would've been nice to see at least one more city represented from each country.
For the United States, there are three West Coast cities: Los Angeles, San Francisco Bay Area, and Seattle, with the middle of the U.S. being represented by Houston, Kansas City, and Dallas. This leaves Atlanta, Boston, Miami, New York/New Jersey, and Philadelphia for the East Coast. All in all it's a good list, with the biggest snubs being Chicago (although it's in line with how the Fire have been as a club) and Washington, D.C. (a host nation's capital has been a host city all but two other times).
The World Cup is the ideal time to travel. You're not the only tourist, and also there are a ton of activities to do in host cities for the World Cup in addition to cultural landmarks and museums. Realistically I'll enter the ticket lottery for the U.S. and wherever I can get a ticket I'll go, but Monterrey is on my bucket list for stadiums to visit. The view is iconic and this is the perfect time to check out the city on Mexico's East Coast.
Watching any World Cup game let alone in your home nation is a dream. One day!
Qualification
When you host a World Cup you automatically qualify. Pretty neat except for the fact that we (the United States men's national team) now have to aggressively schedule friendlies, while those teams focus on qualifying. It's going to be hard to get meaningful games for the squad outside of regional tournaments like the Gold Cup. Winning it becomes critical, and in many ways it is our qualification in that we will have the potential of being eliminated from something.
Now more than ever an invite to Copa America would be beneficial for any of the host countries. It would be great to see USSF organize and host a round robin of some kind around two years out from the World Cup and a year before the Confederations Cup. It's not just getting games against good opponents, it's getting games where something is on the line.
The Squad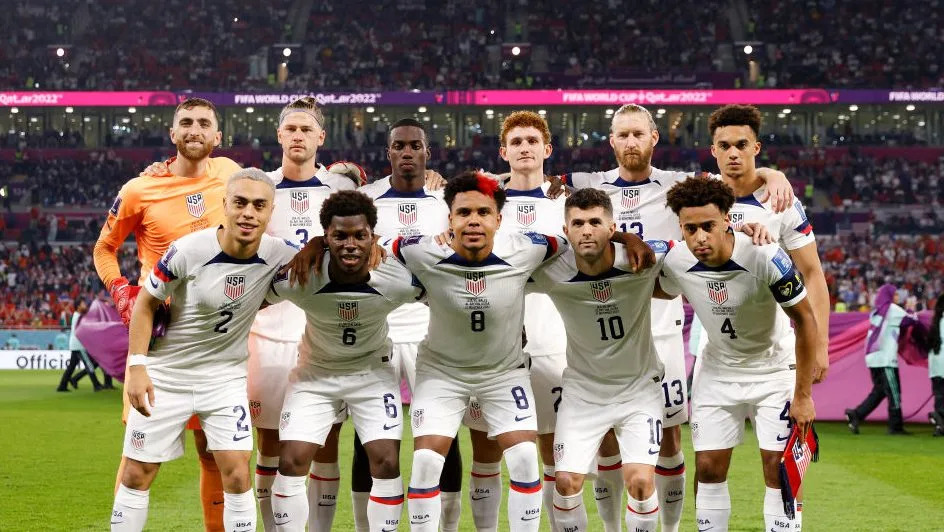 What's a World Cup article without some squad speculation? Especially when the past two World Cup squads for the U.S. have left out attackers and then had that exact position become the focal point of the team's issues.
The striker position has long been one of said focal points, and the USMNT doesn't seem like it's figuring out that problem any time soon.
Ricardo Pepi and Josh Sargent are young enough that they can still become the guy, but neither have done it consistently. Haji Wright will only be 27 for the next World Cup, but his addition still feels odd and we'll see where his club play is at come 2026.
The midfield of Weston McKennie, Yunus Musah, and Tyler Adams isn't going anywhere regardless of coach, and we have the potential of three World Cups with the same midfield trio. Four more years of them is exactly what the team needs — a sense of stability and familiarity.
Obviously the 2022 World Cup didn't go the way we wanted, but a great reality check for me this past weekend was watching Brenden Aaronson. He completely holds his own day and in and out the Premier League. I know USMNT fans that would have committed crimes to make that happen in the past. Yet this man couldn't find the field for us in Qatar. How cool is it that we have too many talented players — a first for the USMNT.
Another question mark comes in the form of Gio Reyna. The drama surrounding his parents' threats and subsequent reveal of a domestic violence incident involving head coach Gregg Berhalter and his now wife Rosalind has plagued U.S. Soccer this week, and it's yet to be seen if Reyna will be affected by it. Theoretically, his talent and potential are too valuable to leave out from the roster, and we've seen other footballers come back from scandals both similar and worse, but U.S. Soccer is in uncharted waters here with no real precedent to rely on for a ruling.
Then comes new players who will break through who weren't on the roster in 2022. This includes Gabriel Slonina, the 18-year-old recent Chelsea signing who will figure to be competing for starting goalkeeper role come 2026. Other potential call-ups include Folarin Balogun, currently on loan with Reims via Arsenal, who has yet to officially declare his allegiance between the U.S. and England, and and Malik Tillman, who's with Rangers via Bayern Munich and has four senior team caps as well as youth appearances for both the U.S. and Germany.
The Broadcasts
The quality of the FOX broadcasts was a big talking point at the 2022 World Cup and rightfully so. Their studio show was just soulless. Clint Dempsey clearly doesn't watch soccer outside of CONCACAF (and I love him on CONCACAF-related games), and Alexi Lalas is so obviously contrarian on purpose it's actually sickening.
But FOX Sports has been panned enough. Away from the "official" broadcasts, the next World Cup will be vlogged and posted on social media like no other tournament before. Already with the last two World Cups, we've seen watch along streams on Twitch and Instagram live become more popular, and as internet personalities and streamers become more mainstream that will only increase come 2026.
We won't have to complain about Lalas mispronouncing player names or another one of his lukewarm hot takes because we won't be forced to watch them. We could see FOX even go to an alternate broadcast format like ESPN has done with the Monday Night Football Manningcast. More choices give more power to fans in consuming games in ways that they actually want to.
How will MLS capitalize on this opportunity? Can it finally catch up to the other major sports leagues? Four years from now the sports landscape could truly be miles away from where it is now, and while overtaking MLB and the NHL might be unrealistic, hosting a World Cup presents a unique opportunity. The league can truly embrace a digital-first approach and position itself in a different place than the other leagues. Will it? Who knows, but the World Cup in 2026 can't come soon enough that's for sure.