With limited run collections that scratch an itch unreachable by official team apparel, there has been an increased amount of fan-made merchandise across the country. We take a look at three of the more successful brands created by fans of the Portland Timbers, Minnesota United, and LA Galaxy. 
It started the way all great stories start. Binge drinking, sleeping in winter rain, and a Home Depot bucket-wielding shaman handing out small fuzzy plant-like objects to participants of "the line."
Lines form for events of great significance. The "Pigeon" Nike SB Dunk release, 11 a.m. Sunday brunch, followers of Moses crossing the Red Sea. The general admission wristband scramble during the 2021 MLS Cup was something which would classify as a line, but acted more as a vessel for dorks and hardcore enthusiasts to lose the feeling in their toes (and the function of their livers).
A group of likeminded fans formed in that primordial soup of frozen degeneracy, and with it came merchandise of course. To be specific, a scarf, full of dumb little slogans and inside jokes from events which transpired during similar nights in line.
A small run of fan-made scarves might seem too niche to move the needle, but there has been a growing trend of supporters' groups and brands making extremely creative and eye-catching merch that ranges from the aforementioned scarves to jerseys and apparel.
No Pity Originals was my first introduction into fan-made gear. The group was named after the scarf that created the visual identity of the Timbers Army, which was drafted on a bar napkin and sold via message boards back in 2002 through volunteer efforts from supporters like the late Gisele Currier, known as the supporters' group matriarch.
In the following years, one-off pieces of merchandise were sold to help fund flags and tifo projects for the TA. No Pity Originals was always run through volunteer efforts. Inspired by groups like St. Pauli FC and the punk rock scene, early and current designs often use DIY design philosophy.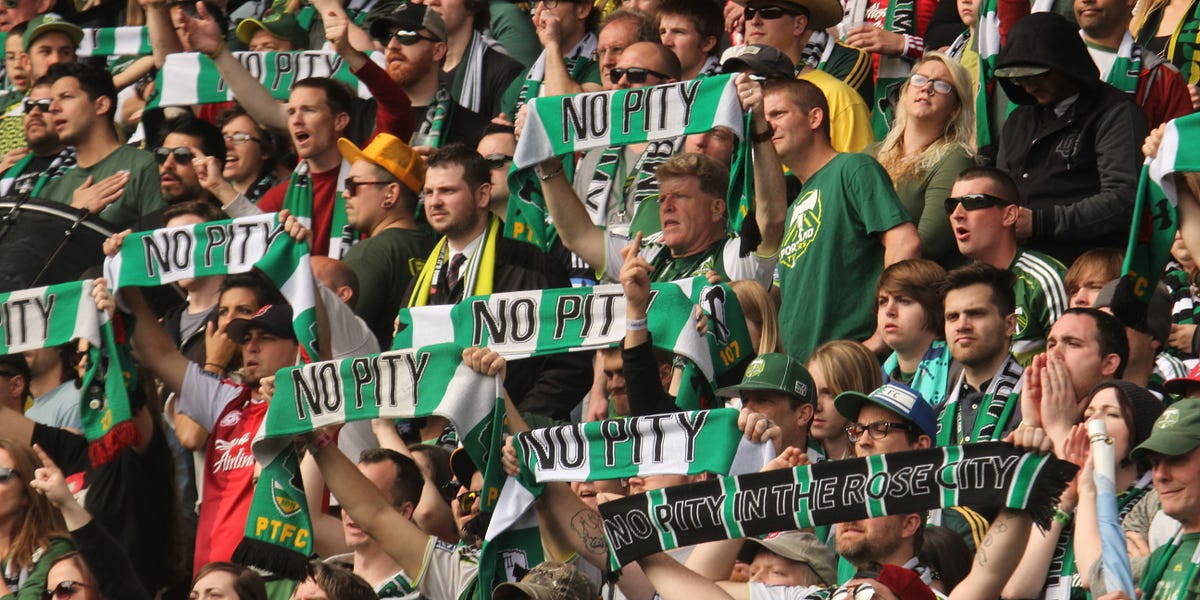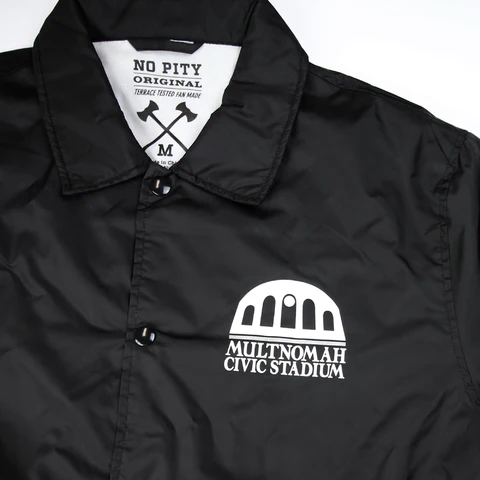 "Lots of designers and vendors volunteered their talents to help out during those early days," Fernando Machicado, my PTFC historical guide and info source for this article, wrote to me. "Combined with those who took over the tifo/flag fund, we started to come together as a full working group in 2008-09 with sets of volunteers handling design, logistics, shipping, budgets, and ordering."
The process of design has been refined and streamlined after years of organization. Production partners, designers, feedback, the whole deal. All proceeds from No Pity Originals go towards the 107 Independent Supporters Trust, which helps fund match day operations, community outreach, and leases for spaces the groups use. No Pity Originals utilizes limited edition shirts and small-batch releases inspired by sneaker sales to drive hype and avoid unmoved inventory.
Like anything, there are challenges that come with operating NPO. Having it being volunteer-driven, commitment varies. And since the community is so large everyone has an opinion on how the operations work and designs look. Yet the group still continues to push out captivating and sought-after collections.
The supporters' group has also teamed up with community initiatives like Harper's Playground, an inclusive playground organization, Operation Pitch Invasion, a soccer field and park refurbishment group, Timber Jim, and Stand Together. This goes along with brand collabs like Bridge and Burn, Widmer, in addition to some bands as well.
No Pity Originals has become a standout brand of supporter-made apparel in the United States. Many contemporaries exist in the space, with one or multiple brands and/or supporters' groups appearing with several MLS clubs.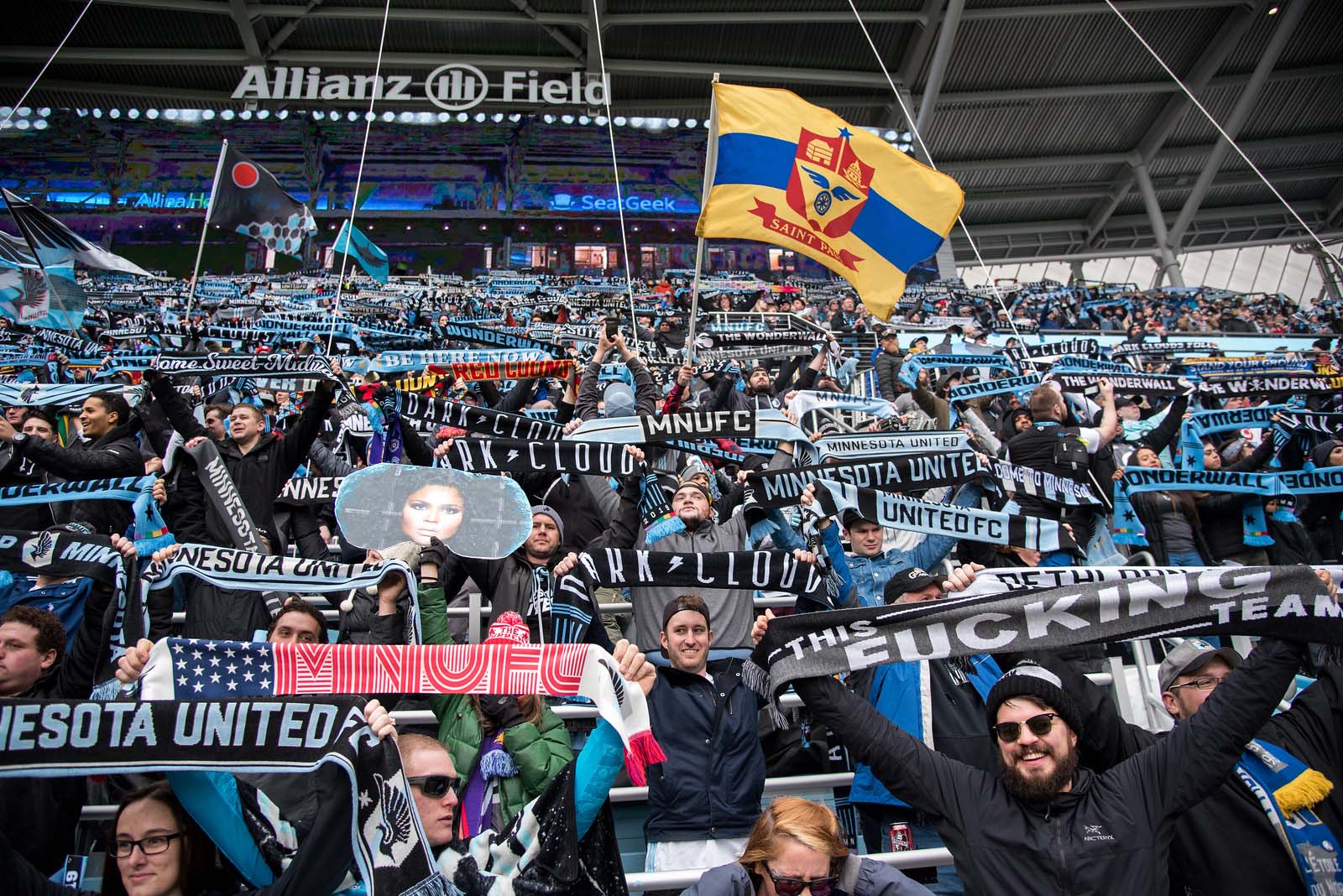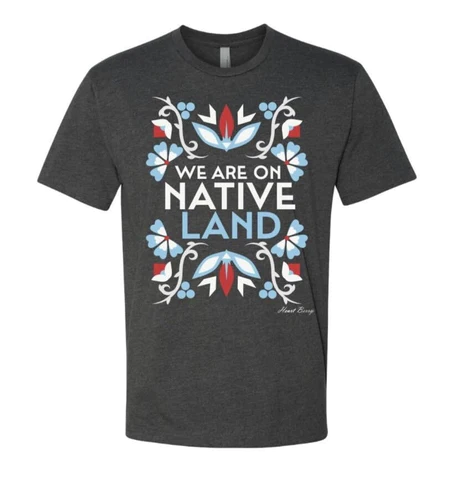 Minnesota United FC has Wonderwall, an overarching supporters' group made up of three smaller groups, all of which sell gear under the Wonderwall label. Beginning in 2017 as Minnesota started their time in MLS, Wonderwall represents Dark Clouds, True North Elite, and Red Loons. Wonderwall works with designers that are already involved in each supporters' group to create apparel. Profit from merch goes towards tifos, expenses, and community funds.
Dark Clouds as a group have been selling merchandise since 2004, creating designs and paying for the cost out of their own pocket. Most of their merchandise is inspired from songs, chants, and other aspects from the club. Banding together with the other MUFC groups has given them not only a wider reach, but more support as well.
"We work with organizations like Avenues for Youth and their CONNEQT program which supports LGBTQ+ homeless youth; Keystone Community Services, which provides support for people in the Midway neighborhood around Allianz Field; and The Sanneh Foundation, a super great organization started by former Minnesota Thunder player Tony Sanneh," Jim Crist, a Wonderwall member, wrote to me.
By far, Wonderwall's most popular items have been those in collaboration with Sarah Agaton Howes, a local indigenous artist who partnered with Dark Clouds to benefit the Minnesota Indian Womens Sexual Assault Coalition. The group worked with her again to design a tifo for that year's Native American Heritage Night. Then, they used that tifo's design on a t-shirt, donating those proceeds to Wakan Tipi, a Dakota nonprofit which works to care for natural places, sacred sites, urban conservation, and environmental education.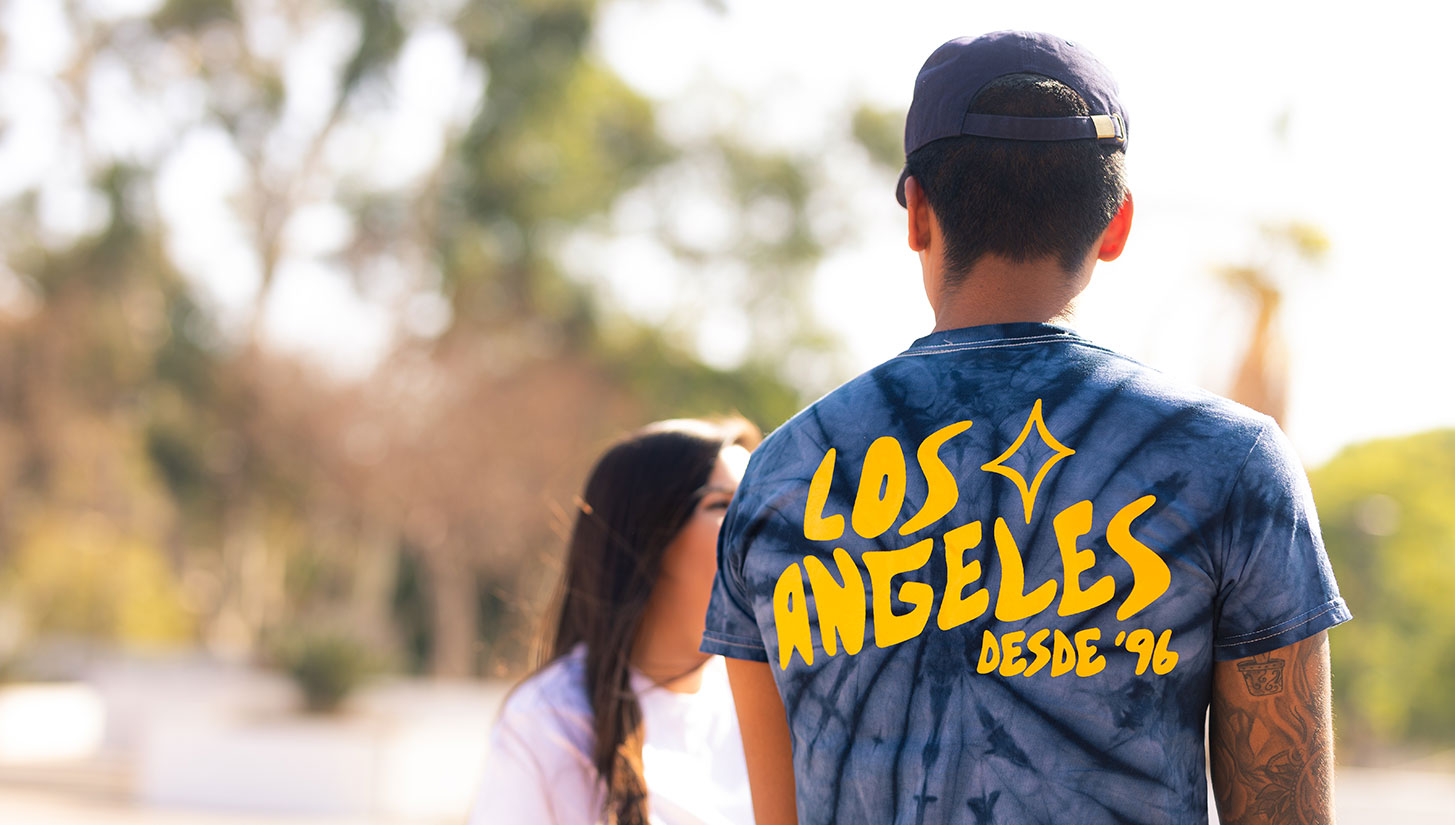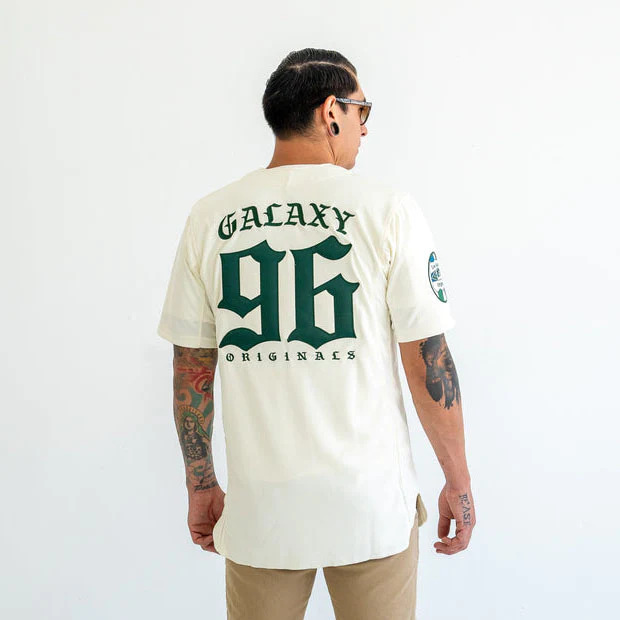 Los Angeles Galaxy have been one of the most successful clubs in American soccer, although little can be said of some of their more recent teams. However, the previous decades of success and fandom for Julio Guerrero and Jamie Pham spurred an idea. Guerrero himself is a '96 Original, and going to matches with his father was a staple of his childhood. Pham got on the Galaxy train in 2011 and has been a follower ever since.
Since high school these friends have created clothing together. And when finding time to follow the club again, Guerrero was disappointed with the merchandise that was available through the team store. They used their past skills with merchandising to create twizzle hats and striped shirts to sell to supporters. This was the genesis of One Two Threads.
Ever since the initial launch, Guererro and Pham have been releasing banger after banger. Multiple pairs of shorts, incredibly detailed embroidered hats, coaches jackets, the whole lot.
"All of our ideas come from the love and passion we have for LA culture and teams," Pham said. "More specifically, our understanding of the Galaxy's history, culture, love, and passion gave us the foundation we needed to fill a merch void the Galaxy was not targeting back in 2018, especially with retro and nostalgic pieces."
Putting through ideas that entangle the identity of the club with LA streetwear and culture is the MO of the brand. All of their gear is made in house, from the printing, embroidering, and shipping. Some real bespoke stuff.
As a #LAGalaxy  legend and Rose Bowl Original, Mauricio Cienfuegos has created countless unforgettable memories. Check out some of his favorites at the Rose Bowl!
🎶: Arquitekto Verbal – Riot At The Tailgate pic.twitter.com/E0kUBwj7hD

— One Two Threads (@onetwothreads) July 4, 2023
Collaborating with supporters' groups, fans, and players is what the brand is all about. But one project ranks above all for the pair — working with LA Galaxy legend and their all time favorite player, Mauricio Cienfuegos.
"We were fortunate enough to meet and work with him back in 2021 for a signed jersey collaboration," Pham said. "But most importantly, we have been fortunate enough to build a friendship with him and his family."
Family is the keyword of that sentiment. From events with supporters' groups, to seeing players wear their pieces into games, this is a brand which really ties the club culture together, both for those on and off the pitch.
These are only three of the countless supporters' groups and supporter-ran brands which make amazing apparel. They're part of a growing trend of creatives making a positive impact on fellow supporters and the community at large, doing so in unique ways that big clubs can't do.