The USL and its players association reached an agreement in principle on a collective bargaining agreement for the second-division USL Championship. It is being touted as a landmark achievement for the league. But how does the pay compare against the stark reality of players who are still paid to play but chose a completely different route?
The five-year collective bargaining agreement will run through the end of the 2025 season. This agreement between the USL and its players association (USLPA) represents the first of its kind for a professional second division men's soccer league in the CONCACAF region.
"Together with our players, we celebrate this historic agreement, which further solidifies the USL Championship as one of the top professional sports leagues in North America," said USL President Jake Edwards in an official release. "Establishing these new standards will help our Clubs attract, sign, and retain top talent, both domestically and internationally. Most importantly, this agreement in principle recognizes our players' work and sets expectations that everyone can respect and plan for accordingly."
This was a nearly three-year long negotiating process in which the key elements of the agreement are a minimum compensation structure along with minimum contract lengths. According to The Athletic, the drafted CBA establishes minimum pay for Championship players at $2,700 per month next season. The minimum compensation allows for a combination of a player's wages, bonuses, team-provided housing, and medical insurance. Additionally, clubs are allowed up to six "flex contracts" at lower pay rates for certain players.
The new CBA will now establish a mandatory 10-month minimum length for player contracts. This is a significant win over what has historically been in place. Currently, some USL clubs have drafted contracts with their players for just seven months out of the year — representing the length of a season. Also included in the provision is the standardization of a per diem for team travel to cover the cost of meals and incidentals.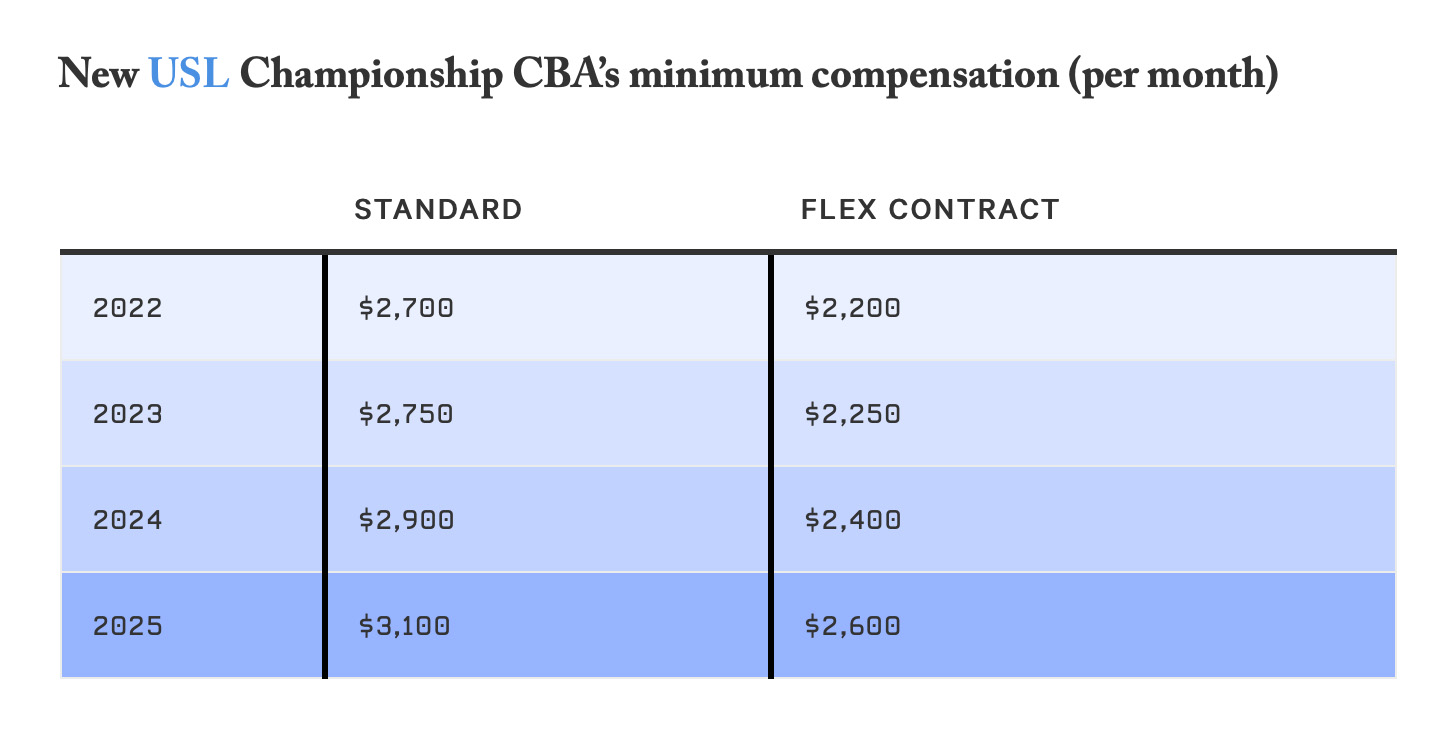 "The importance of this agreement cannot be understated," USLPA executive committee member Connor Tobin told The Athletic. "Players and clubs are partners in growing the sport. This agreement provides standardization that is going to significantly enhance our collective ability to grow our soccer communities. This is great for the stature of the sport and fans. And then to think this is just the beginning, it is really exciting."
This is all great news for the USL and a significant milestone in particular for the players. This agreement provides minimum standards that help establish a basic level of professionalism that should have been implemented long ago. But how does it compare against the other options for players who look to get paid to play in America?
There is a somewhat underground soccer scene that exists almost exclusively within the ethnic enclaves of largely populated cities across America. These various leagues appear as amateur competitions to the unaware masses, but in truth, they would be more aptly described as being semi-professional in nature.
Largely driven by tradition, cultural pride, and a highly competitive environment, these semi-pro leagues take place in various nondescript parks year-round. The teams are usually vying for cash prizes in addition to local bragging rights. Adding in the periodic tournaments held throughout the year, the total financial incentives that are up for grabs are usually significant.
It is an interesting phenomenon that a surprising number of these players receive financial compensation for their efforts. Team owners will typically pay their players in efforts to recruit the best available talent. It is safe to say that almost all of the teams competing in these leagues will have a few paid players on their rosters occupying the key positions. Surprisingly, the persons who bankroll their respective teams aren't doing it to turn a profit, but instead to be able to lay claim as being the best local team around.
In the Los Angeles area alone, when viewing some of these "Latino leagues," it is apparent that they are littered with high-level talent. Many of these players are ex-pros who have prior experience in MLS, USL, and other top division leagues in Central and South American countries. Some of them could still be considered to be in their prime but have chosen to forego the traditional route and play here instead. But why?
Anonymous sources have told Urban Pitch that they typically receive between $100-$300 for each game they play. Most of these teams don't have or enforce a rigid practice schedule during the week allowing them to participate on multiple teams. According to them, many players will often play on two or three teams simultaneously throughout the year. A decent level talent playing on three separate teams could typically earn approximately $450-$750 per week. In other words, by playing in these underground semi-pro leagues, they can easily earn up to $3,000 a month — presumably tax free.
The uncovering of this current reality isn't to belittle the positive benefits of the USL collective bargaining agreement that is currently on the table. Nor is it to disregard the significant strides we are making in the lower divisions. The importance of the CBA in helping to establish guidelines and standards shouldn't be understated. However, it should be plainly stated that we are still far from the fervent culture and minimum standards that are necessary in order to elevate the game to the level of respectability on par with the other major sports in America.