After yet another display of racism towards Real Madrid star Vinicius Junior, many fans and fellow players have come out in support. The media coverage in Spain however, told another story. 
Where does football go from here? We've arrived at a crossroads that we have been to many times before.
In a 1-0 away defeat to Valencia on May 21, Real Madrid forward Vinicius Junior was the subject of torrid racial abuse from the home fans. A barrage of racial slurs and monkey noises were aimed at the Brazilian, who stopped the game in the 71st minute to confront some of them.
The referee paused the game for 10 minutes after Vinicius identified at least one person who he claimed had aimed abuse towards him. After being consoled by teammates and manager Carlo Ancelotti, the game continued to its conclusion. The forward was later sent off as tensions overflowed, although he has since had the card and ban rescinded.
Não foi a primeira vez, nem a segunda e nem a terceira. O racismo é o normal na La Liga. A competição acha normal, a Federação também e os adversários incentivam. Lamento muito. O campeonato que já foi de Ronaldinho, Ronaldo, Cristiano e Messi hoje é dos racistas. Uma nação…

— Vini Jr. (@vinijr) May 21, 2023

After the game, Vinicius tweeted: "The championship that once belonged to Ronaldinho, Ronaldo, Cristiano, and Messi today belongs to racists. It wasn't the first time, nor the second, nor the third. Racism is normal in La Liga. The competition thinks it's normal, the federation does too, and the opponents encourage it.
"A beautiful nation, which welcomed me and which I love, but which agreed to export the image of a racist country to the world. I'm sorry for the Spaniards who don't agree, but today, in Brazil, Spain is known as a country of racists. And unfortunately, for everything that happens each week, I have no defense. I agree. But I am strong and I will go to the end against racists. Even if far from here."
A video was then released on Monday compiling racist abuse that the Brazilian has received this season. It's at least the seventh time that this has happened to him.
Vinicius received an overwhelming response, with former Manchester United defender Rio Ferdinand replying to his statement.
How many times do we need to see this young man subjected to this shit? @LaLiga @UEFA @FIFAcom pic.twitter.com/FsEJUZuvMY

— Rio Ferdinand (@rioferdy5) May 21, 2023
"Bro you need protecting…. who is protecting Vinicius Junior in Spain??" he asked.
"How many times do we need to see this young man subjected to this? I see pain, I see disgust, I see him needing help… and the authorities don't help him. People need to stand together and demand more from the authorities that run our game. No one deserves this, yet you are allowing it. There needs to be a unified approach to this otherwise it will be swept under the carpet AGAIN."
However, there was some pushback to Vinicius' statement. In response, La Liga president Javier Tebas said Vinicius twice did not turn up for a meeting to discuss what the league "can do in cases of racism."
"Before you criticize and slander La Liga you need to inform yourself properly," Tebas said.
Vinicius criticized the statement for making him the target rather than the "racists," demanding La Liga take "actions and punishments."
Tebas has since apologized for his comments, which have not been met well. Ex-pro and current TV analyst Micah Richards was one of many to vocalize his frustration.
"Javier has tried to make himself the victim in all this, it's absolutely embarrassing what he has come out with in his statement," he told BBC Radio 5 Live. "It makes my blood boil and that is part of the problem. It's not just a football issue, it's a life that people go through every single day."
Terrifyingly, the response from the Spanish media has been similarly shocking.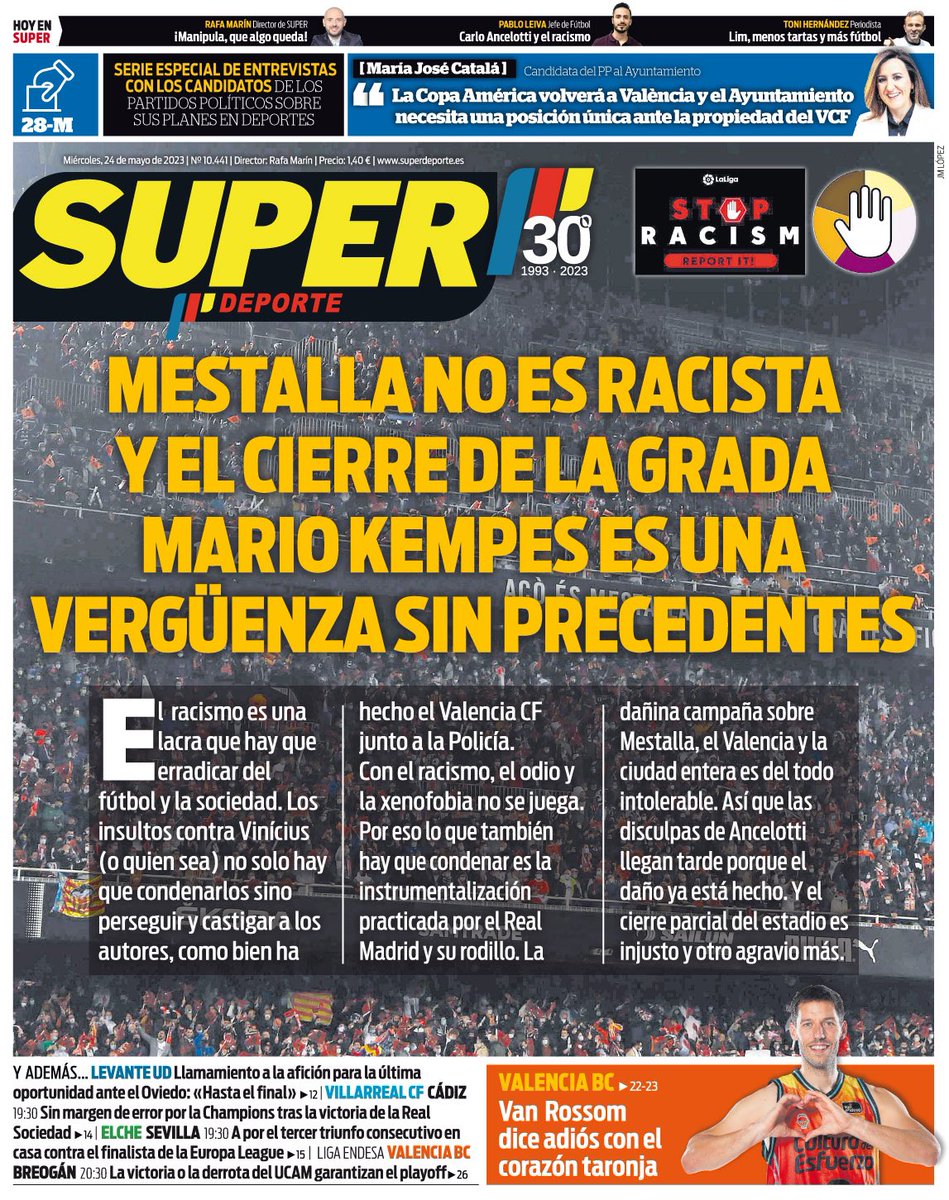 Valencia's sport paper Super Deporte led with a front page calling for a "Madrid-led campaign" against them to be stopped and Vinicius to face punishment for his "on-field disrespect."
Sport, a Catalan paper, led with the headline "Escandalo Vinicius En Mestalla," or "Vinicius Scandal in the Mestalia." The article makes mention of the racist abuse, and it describes Vinicius as "lamentable," suggesting he is to blame.
Madrid-led Marca, the best-selling sports paper in Spain, includes little acceptance that racism occurred in the stadium, but Vinicius' relegation gesture towards Valencia fans is described as an "ugly response." It further suggests that Vinicius was the instigator for all the actions in the Mestalla.
Real Madrid reported the abuse to Spanish authorities as a hate crime, and the police later stated they had detained three people. The police also arrested four people concerning an effigy of Vinicius hung from a bridge in January.
La Liga have punished Valencia with a partial stadium closure for five games and a €45,000 fine. They have also asked the Spanish authorities for more sanctioning powers to punish incidents of racism, as they can currently only identify and report cases.
In a statement, they highlighted "surprising reasons" why previous reports have been dismissed, with one stating some cases didn't appear "to be a person who intends to incite racism" after examination of their social media.
Despite the numerous statements and promises, it's hard to envisage a world where effective change is put into practice. The response from the Spanish media shows a deep-rooted problem with racism not just in the sport but in Spain as a country.
Unfortunately, this isn't limited to just one nation.
We've seen Romelu Lukaku face a similar flurry of abuse from rival fans in Serie A, again to insufficient response from Italian officials. The Belgian was sent off after scoring a penalty and responding to racist chants from supporters towards him with a defiant celebration.
Juventus, the club responsible for those who made the gestures, had a stadium ban overturned on appeal. The striker had his one-match suspension initially upheld before it was overturned as well.
Just a week ago, we saw Sheffield Wednesday manager Darren Moore receive racist messages online after his side lost 4-0 in the first leg of the playoffs. Without significant input from FIFA, UEFA, sponsors, and governments, this problem isn't going to go away. Another anti-racism campaign won't cut it.
FIFA President Gianni Infantino released a statement in support of Vinicius:
"Racists should be banned for life from entering football stadiums worldwide, and they should face criminal charges in their country as racism is a crime."
UEFA on the other hand, opted against making a public statement on the matter.
We stand with @vinijr. pic.twitter.com/vbgVkwK7Us

— Nike (@Nike) May 23, 2023
Nike published an image of Vinicius on Twitter with the caption: "We stand with Vini, stop looking the other way."
These statements are significant and suggest movement in the right direction, but there needs to be visible action. People have frequently called for stricter sanctions against fans who engage in abusive behavior. How many times have those cries gone unheard?
Campaign groups such as Kick it Out have fought racial abuse in football since 1993, and despite their incredible efforts, cases are still rising. Those in charge of football have to care about stopping racist abuse for us to see a change. Sadly, the lack of response to these incidents suggests that they don't.
Luckily, Vinicius isn't backing down, and he has the full support of his manager, club, and fans. Will such a strong response from a player of his caliber bring about real change? Will there be significant action from governing bodies that will make a difference? I sadly doubt it.