Having played with 13 professional clubs over 14 years, you could say Marcus Haber is something of a rolling stone. Over the years, he has gathered a wealth of knowledge and experience, and we sit down with him to pick his brain and get his reflections on his well-traveled playing career and thoughts on the constant shuffling of football rosters.  
When you start diving into the smaller leagues of world football, you come across quite a few stories of massive team turnover. Some squads are losing or letting go of half their roster year over year.
With this, you get players who move from club to club, whether up, down, or laterally. Those looking to make a name for themselves often have a difficult time setting down roots — but this is the sacrifice one makes to play the game at the highest level.
One of these footballers is Marcus Haber. His well-traveled career has seen 13 different professional clubs spanning four countries and three continents.
He got his start in his native Canada, playing in grassroots leagues in addition to the youth national team. From there, he went to FC Groningen in the Netherlands, where he played in an academy which has produced high profile names like Ronald Koeman, Virgil van Dijk, and many others.
He made his pro debut for the pre-MLS Vancouver Whitecaps before heading to the United Kingdom, where he'd play for several clubs at varying levels. Another stint in Canada preceded his current stop in the Cambodian Premier League, where he's spent the past three seasons, the last two with Svey Rhieng. Last season, he won the league's Golden Boot and Best Player awards.
We were able to catch up with Haber for a discussion that started on roster turnover in lower leagues and evolved into something much more personally significant — an opportunity to understand a player's perspective on how to look out for yourself in the cut-throat world of football.
Interview edited for clarity and brevity. 
Urban Pitch: When looking at your career, the one thing that stands out most is the amount of teams you've played for. Can you give a quick background of where you've played?
Marcus Haber: Yeah, I have had an interesting career so far. I started with the local representative teams, like the Vancouver, BC team and the youth national team setup. Then I went abroad to the Netherlands for two years. Did my reserves, scholar, and U19 time with a team called Groningen, which has a history of developing some great players.
Did two years there and then went back to Vancouver in 2009 to play for the Whitecaps, which were in the USL at the time. Then got my big move to the United Kingdom, which at the time was with West Brom, who were about to be promoted to the Premier League, which was a big move for me. I eventually found my level in Scotland and League 1, sort of bounced around a bit for nine years, and was there until 2019.
I came back to Canada to play in the Canadian Premier League for a couple years, then at around 30-31, I wanted to reevaluate what I wanted to do with my career because after 30, you are kind of on the back end of your career. I really wanted to maximize my playing time, money I could earn out of the game, and try and experience a different part of the world that I wouldn't have otherwise. Asia was always appealing to me. Even when I was back in Canada, I had heard of some players who had gone to Asia and really enjoyed the culture, the lifestyle, and your ability to maximize your life on a fairly limited expense.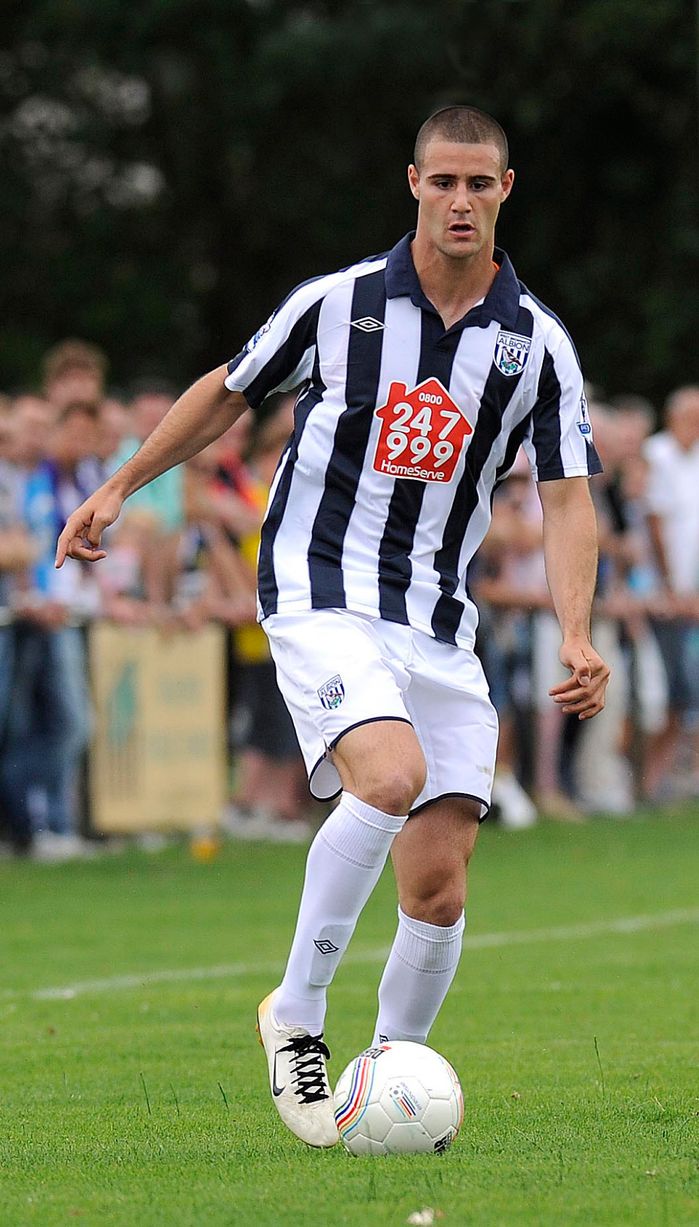 One topic that continued to come up between Haber and I was how well the Canadian Premier League was doing in terms of level of play when compared to the relatively small salary cap and salaries.
Haber: Well, you know, I think the players will start to realize that soon they will be able to make five, six, seven times the amount of money if they go over to Europe and play at an equal level. I think the CPL is a great place for young players to start, but for more experienced pros, there isn't as much upside unless it is a place you really want to settle and plant roots.
Sticking with Canadian Premier League stuff, you mentioned finding your level. Do you think that is why there is so much roster turnover in the league, because not only are younger players getting a chance to prove themselves, but also the older players are trying to maximize their financial success. So, it is in a bit of a limbo state, where it doesn't quite fit the level for a lot of pros?
The CPL is an interesting league because there isn't much incentive for players to stay contract-wise. I would say to a lot of players, don't sign a one-year-plus-three or -four year option because then the league and the club have all the leverage. So, if you have a great year, they put a price tag on you, and if they don't sell you, they have you on a contract which is significantly below your value and with a very small increase year over year.
And at the same time, the amount of money that a European club will pay for a player from the CPL, which is a relatively unknown environment, isn't going to be upwards of $1 or $2 million. You might get a couple hundred thousand — I am not sure of the exact finances of these deals — but it is not going to be a significant amount that will genuinely benefit the club and the league.
So I am trying to figure out how that works from a business perspective and how that would affect me as a player. You know, if you are ambitious and want to move on to Europe, the current market states that they shouldn't sign more than one- or two-year deals with the CanPL clubs.
That's a pretty candid statement from an active player. 
I have no horse in that race. I am long gone from the CPL. I am overseas, so I can be much more honest. And while I have criticism, the CPL is a great place to develop — the level is much higher than people think. So, it is good for that. But is it a great place to have a full career and set yourself up for the future? Absolutely not, at least not yet.
So, let's say that a player gets their move to Europe, and it is in one of the smaller leagues. While those leagues are more stable, there is still significant roster turnover. Can you unpack why even in a more stable league, players continue to shuffle in and out?
The thing about England that is appealing to a lot of players, from the Premier League down to Conference South, is it is still very competitive. There is a lot of movement between players, leagues, and divisions, and most importantly there is exposure.
It is not uncommon for a player in the sixth tier to go straight up to League One or the Championship. But, when you are young, and in Canada, it is basically CPL or bust. So, why wouldn't you want to go to a place where if it doesn't work out at one club, you had significantly more options for you to move around?
So if you don't hit the ground running in the CPL, you might be out of the Canadian game after one season, whereas you get more chances in Europe. Another great thing about Europe is that there is promotion and relegation. It adds more incentive and anxiety throughout the season. The lower leagues are so tight and so competitive, and that is what is so beautiful about the lower leagues in England at least.

I saw a headline that you won two motorcycles for winning the Golden Boot and the Best Player for the Season in Cambodia, is that true?
Well, I actually have three if we are being technical. I won one for winning player of the month. And then, after the awards, I was also gifted two of the exact same bikes. So right now, two of the bikes are at the club garage, and a bunch of my teammates and club staff are offering to buy them from me.
I just need to figure out the price to make sure I am not ripping someone off or getting swindled. They give out awards based on the inventory that they have. They gave out microwaves last year. Household utility items is something that we sometimes get for man-of-the-match performances. We got some interesting stuff.
How is the level in Cambodia compared to Canada? I have heard lots of stories that talk about the game in Asia. That they are quite technically proficient, but maybe they lack specific organization, infrastructure, and exposure.
I think those are accurate claims of Southeast Asian football in general. You have lots of technically capable players. The one thing I will say is that it's not easy to play here, even though the standard of technical ability might be lower than the CPL. It is not as physical in terms of duals and contact on your body with hard tackling. But, it is much more physically draining in terms of playing in the heat, the pace of the play, and the style of the play. It is one pace. It is fast, always trying to score. That is basically just the culture.
Marcus is one of five international players allowed per roster, and he was clear that there is a spoken expectation that they must perform because there is more investment and that you have to be fit and healthy at almost all times. So the pressure level for internationals is higher than in most places.
Haber: The players are technically and athletically pretty sound, but the tactical awareness, savviness, and game management are lacking. And that is more because they haven't quite had the coaching, awareness, or exposure. A lot of these players grew up playing on small courts around here, so it is a lot like street football.
As far as my club goes, my coaching staff is almost all Irish and Northern Irish, so our training style is very much what I am used to, which has definitely contributed to how I have enjoyed my time in Cambodia.
—
After I had asked all of my questions pertaining to the game and roster turnover, Haber and I chatted for a bit longer. He is passionate about fashion, and he claims to have been doing the fashion game before it became the new wave of seeing players' outfits before games. We also chatted about what the next few years might look like and where he wants to transition post-football playing career.
He believes he will be able to play until he is 40, especially with the changes he has made to his lifestyle and the style of play in Southeast Asia. After playing, he will consider some business opportunities, coaching, and potentially even football media. His friends Tosaint Ricketts and Julian De Guzman have done that, so Haber feels he could potentially do the same.
Maybe there's a few more motorcycles in his future, and maybe he takes my suggestion for an Instagram caption of, "Been doing this fashion thing since before the 'Caps were in MLS."