From positional trends to major trades, we break down the biggest moves from the 2023 NWSL Draft. 
The 2023 NWSL Draft was a flurry. We saw a record number of draft day trades which created an exiting and suspenseful experience for veterans and draftees alike. Most notably was Lynn Williams to NJ/NY Gotham FC in a straight swap for the second pick, giving us a taste of what the night was to become.
With 200 women eligible for 48 total picks, a lot of names went uncalled last Thursday in Philadelphia, and it's a safe bet that one of those undrafted rookies will make a splash in 2023. Pre-season can start as early as next Monday in preparation for the 2023 NWSL Challenge Cup, so teams planning any more moves will want to get them done sooner rather than later.
But we're not here to speculate on that. Amidst all of the craziness, there were some themes and interesting details to come out of the night. Below are my favorites.
A Premium on Attackers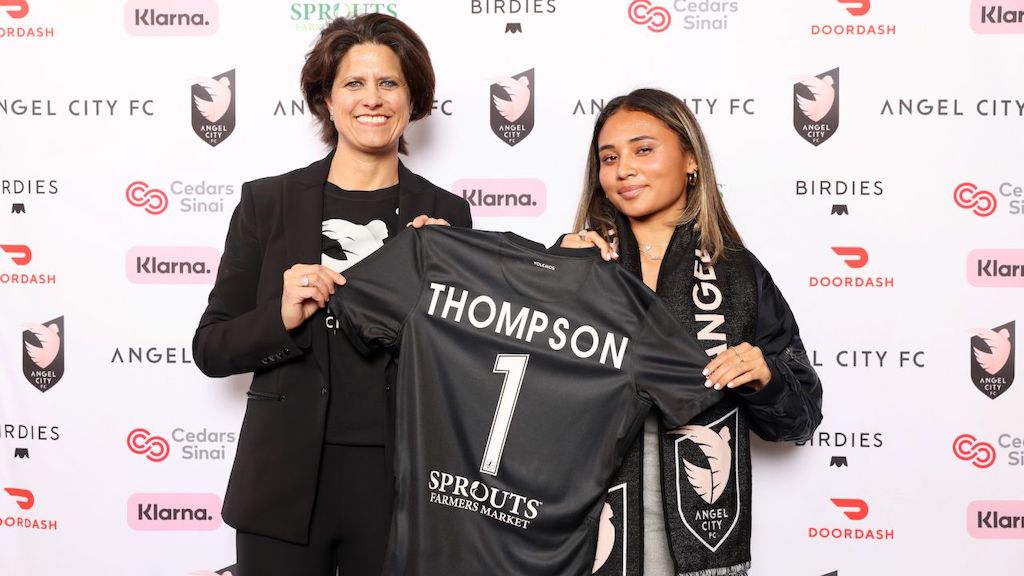 Ten of the first 15 picks were attackers, including top selection Alyssa Thompson. Angel City FC moved hell and high water in two trades totaling almost $500,000 in allocation money and next year's second-round draft pick to secure the 18-year-old phenom. Originally slated to start at Stanford in the fall after playing in MLS Next Pro with the boys, she decided to forego school to give herself the best chance of making the United States women's national team World Cup squad this summer.
The second pick was also an attacker in Mac Herman Trophy winner Michelle Cooper of Duke. It was rumored that had Thompson not committed to the draft, Angel City would have instead selected Cooper, whose wide range of skills has many high on her future.
A Courageous Strategy
North Carolina Courage were all over the first round, with four total picks (twice the amount that each of Angel City FC, Gotham FC, and OL Reign had in the entire draft). One of the four picks was acquired via trade that sent Diana Ordonez, a rookie breakout from last year, to the Houston Dash. The Courage also received an additional first round pick in 2024 as well as $100,000 in allocation cash.
Whether these big swings will connect or result in a whiff is yet to be determined, but it does seem that the Courage are looking to completely rebuild from scratch (again) following the departure of Ordonez and living legend Debinha, who signed with Kansas City in free agency. The relationship between the club and its fans is already rocky, and a blow up of the roster for picks that don't live up to expectations would be disastrous.
The Spirit's Big Third Round
View this post on Instagram
While the first round was all North Carolina, it was the third that also saw a club accrue a horde of picks. This time the Washington Spirit traded into the round for an additional three selections — one of which was used for Long Beach State's Lena Silano, who you may remember from her ridiculous viral bicycle kick goal.
While it may seem a bit odd to make a push in the third round instead of one of the first two, the draft broadcast mentioned that there has been a significant investment in scouting and video analysis in the Spirit under new owner Michelle Yang. The club clearly had criteria it was looking for and saw it on the board for the taking. Already with a young core highlighted by Trinity Rodman and Ashley Sanchez, the Spirit could become even more exciting to watch should these draftees pan out.
A Quiet Angel City
In a draft that saw a record amount of trades, Angel City FC was surprisingly quiet. The new club has big ambitions and after narrowly missing out on the playoffs in its inaugural season it feels like it's one or two players away from being able to make a serious run.
Especially after the allocation money given up for Thompson, a few more rookie contracts might not only make sense, but also be necessary to fill out the rest of the roster. The club only had one other pick in the draft, and still has several open roster spots with the departure of a handful of players in the offseason.
Angel City used its second draft pick to select goalkeeper Angelina Anderson in the third round, which perplexed some fans who have been vocal about adding help in the midfield.
The team has already traded away its 2024 first and second round picks, and last year, it traded its first three draft picks. Two of the three players the club selected in 2022 are no longer on the roster either. I can't help but wonder if the all European leadership at ACFC isn't valuing the draft as a player acquisition option. Trading for the No. 1 pick was essentially making space for a big free agent signing rather than trusting a largely American sports process. A team in "win now" mode will do what it takes to get the player it wants. The question now is — how will the club acquire new talent in the future?