While almost anything and everything becomes a talking point when discussing the Premier League's Big Six, we wanted to open the conversation to decide which one player is the most stylish representative from their respective club.
Manchester City: Jack Grealish
Jack Grealish's appeal stems way deeper than being one of the biggest entertainers on the pitch. The £100 million man is also viewed as a maverick, as his signature hairband-adorned barnet and rockstar lifestyle off the pitch have made him one of England's national treasures.
Another key ingredient behind the frenzy around the Englishman is his devil-may-care style choices that accentuate the enigma that is the Manchester City man.
A vintage Grealish fit that perhaps sums up all you need to know about him came to light during the Leeds Festival last year, after he celebrated his first goal in sky blue against Norwich in a 5-0 drubbing.
While the green and yellow floral Gallery Dept. bucket hat may look silly on nine out of 10 people, Grealish miraculously manages to pull it off effortlessly. But the silky attacker was only getting started, donning a stylish £450 Balenciaga tee as well.
However, Grealish doesn't simply rock up wearing a designer tee, as it's all about making a statement for him. He paired his top with a Christian Dior body bag to go along with a teal pair of Gucci monogram shorts and perhaps the loudest pair of Nike Dunks known to man.
While many may scoff at Grealish's style choices, it is key to emphasize that he dressed aptly for the occasion. Being as eccentric as possible is the memo one receives before heading to a festival, and he understood the assignment.
However, it isn't all about being out there for Grealish, who can switch things up with a casual, yet clean fit.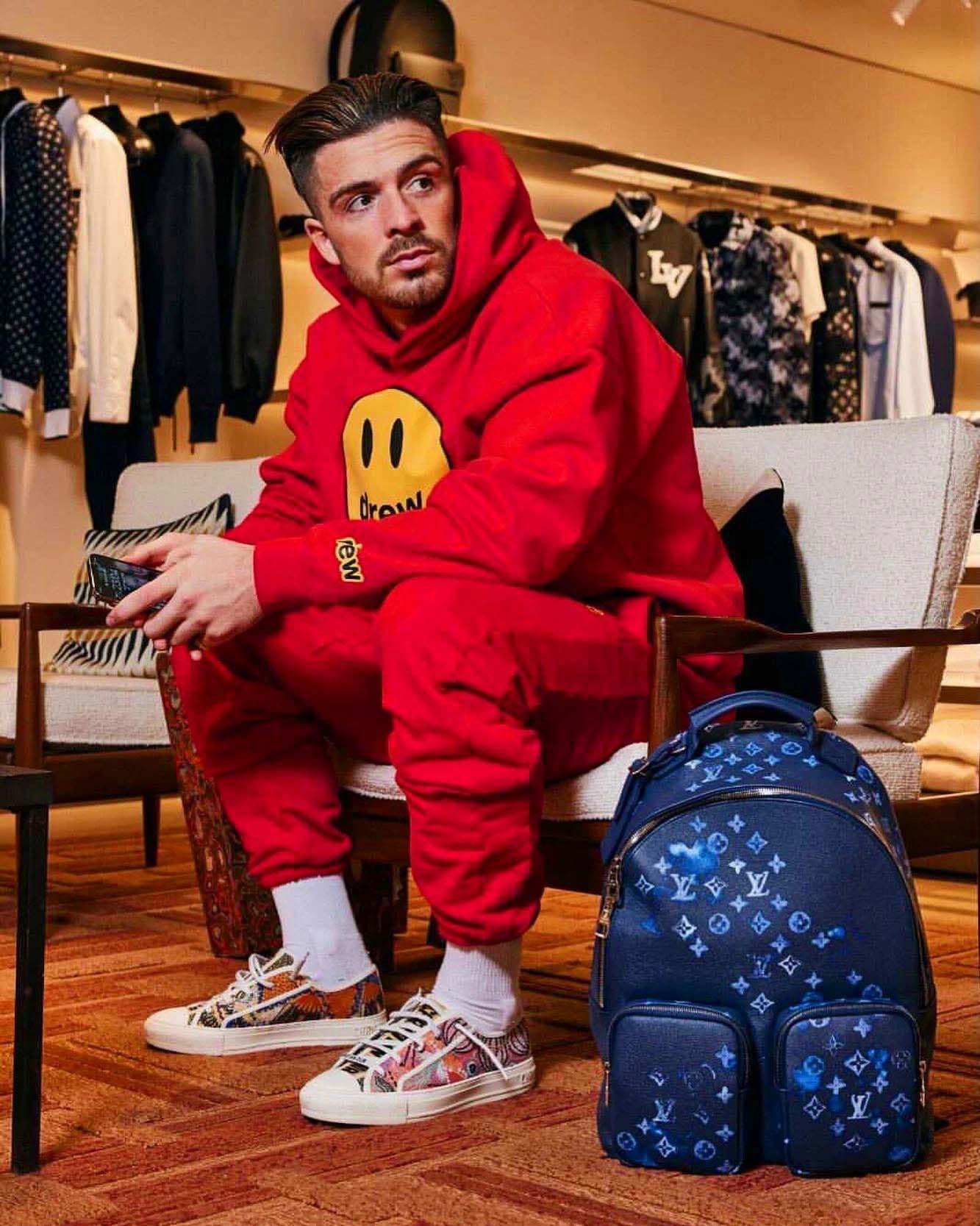 Donning Justin Bieber's streetwear brand Drew House from top to bottom, the elegant technician's choice of a simple red hoodie and joggers are an instant hit. The decision to place the Louis Vuitton backpack subtly in the corner as well is the definition of a slight flex.
Ultimately, the standout trait about Grealish's style is that he isn't wedded to any particular aesthetic and instead, wears exactly what he wishes to without a care in the world, which is what makes him a fashion icon in his own right.
Honorable mention should go to Joao Cancelo, but it's a tough task topping "Gucci Grealish."
Manchester United: Jadon Sancho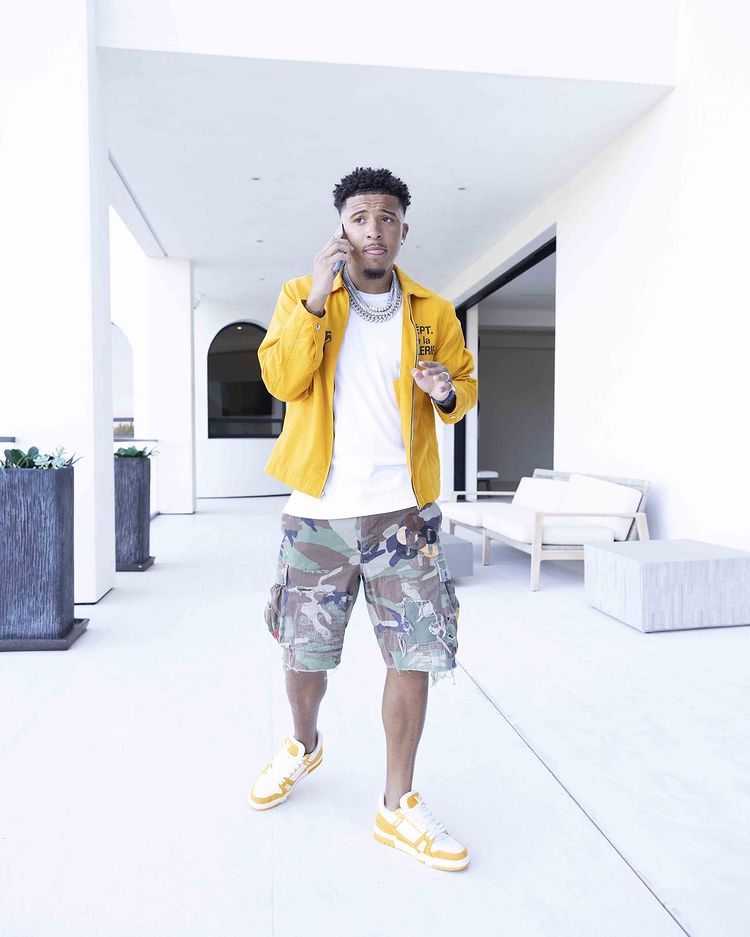 When the world opened their eyes to Jadon Sancho being a special talent at Borussia Dortmund, they were also awakened to the fact that there aren't many more stylish players in the game. And while things may not have taken off for the fleet-footed winger at Manchester United yet, his style game remains one of the best in the business.
To those that reckon the hype around Sancho's sense of fashion is all talk, one of his fits during the summer makes the case for itself.
Straight off the bat, that Gallery Dept. G-Ball Montecito jacket is a winner. And to the former Manchester City youngster's credit, his choice from the hype brand is proof that he is above and beyond simply being a hypebeast.
While a number of his peers have been spotted rocking the popular Gallery Dept. trucker hats and tees, Sancho's niche choice is an insight into how entrenched he is in the style game. In a similar vein, the England international was also pictured wearing the same brand's G-Patch camo cargo shorts.
The cargos are a humble flex in general and only have the label at the back of the shorts, which is key, considering how iced out JS25 is for the 'gram.
While some may not rate the fit so far, considering the cargos seem out of place, the Watford youth graduate has chosen to go for a more relaxed aesthetic, being on holiday and recharging his batteries which adds up.
Also, it is essential to emphasize that the best way to judge a fit is by looking at the sneakers and making a judgement from bottom to top.
As a result, Sancho's executive decision to wear the yellow Louis Vuitton trainers which go perfectly in sync with his jacket is a belter. The DFB Pokal winner has seemingly exhibited the kind of vision that Erik ten Hag would want to see from his franchise player on the pitch.
View this post on Instagram

As has been said with a number of well put together outfits by Sancho in the past, he tends to go for a "breezy" vibe overall — a term the tricky wideman tends to associate with himself and his Instagram captions on multiple instances.
Chelsea: Trevoh Chalobah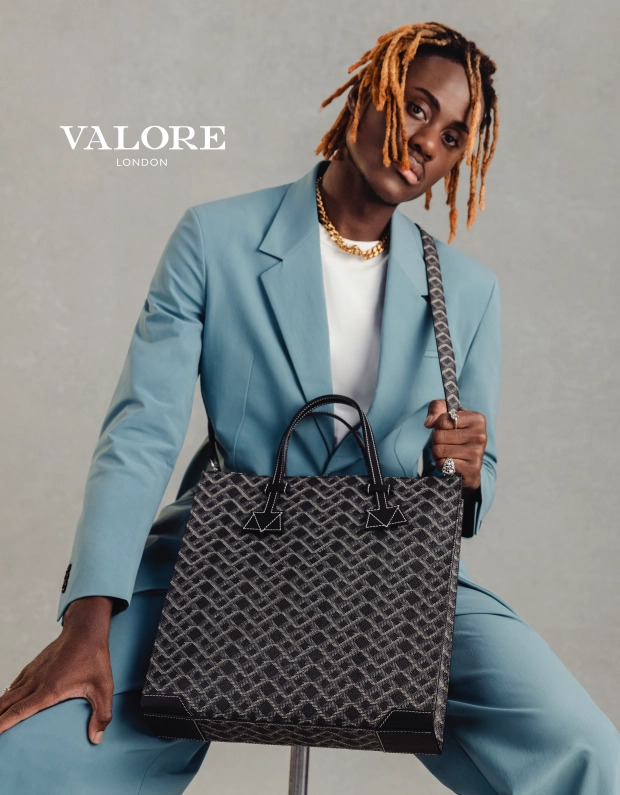 If there's one club in the Big Six that has fits gods galore, it's Chelsea. Ben Chilwell, Mason Mount, Reece James, and Hakim Ziyech are some of the most stylish footballers in the world, without question.
But a name that stands out because of his eclectic style choices is Trevoh Chalobah. It may be that the youngster has blended in the background amidst a dressing room full of superstars, but his drip game is criminally underrated.
Throwing brands together is one thing, but stamping one's own individuality on a look is another, and that's exactly what the gifted center back tends to do.
In this fire fit above, his choice of rocking a Marni check-print zipped track jacket shows that the 23-year-old baller has unique taste. The stunning piece from the Milan-based brand is paired with a pair of white/sun Prada downtown leather sneakers.
The former England U21 international has chosen to prioritize an all-luxury designer fit, rather than staying in the safe haven of streetwear, as most of Gen Z tends to.
Keeping it low-key with the formal black pants, there remains a strong balance between loudness and simplicity in this fit. While the Marni jacket and the Prada sneakers are unapologetically out there, the pants feature no label in the pictures at least, and were needed to mellow down an in-your-face outfit as a whole.
However, this is standard procedure for the man himself, who is often seen rocking high-designer brands such as Raf Simons, Bottega Veneta, Gucci, and Lanvin.
With Chalobah modeling for Valore London's Future British Icons campaigns before even making his Chelsea debut, it seems as if he was born to do his thing in fashion, as much as he was to play the beautiful game.
Tottenham Hotspur: Ryan Sessegnon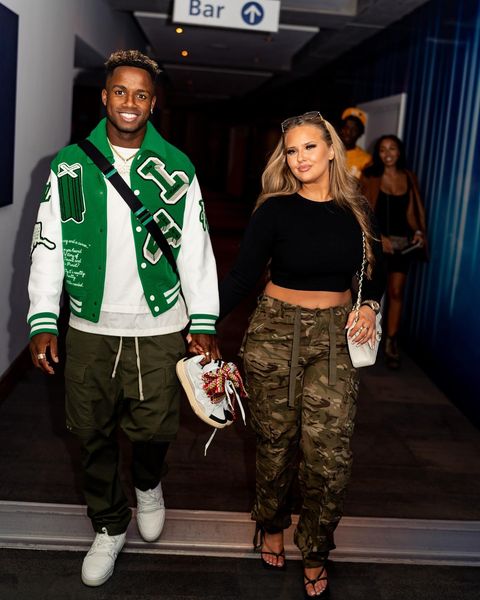 It isn't a hot take to suggest that Spurs are lacking slightly in the style department. On the pitch, the likes of Harry Kane, Son Heung-Min, Dejan Kulusevski and the rest of their ensemble certainly aren't devoid of any flair or talent. But off it, it seems like they would rather they do their talking with the ball at their feet, which is fair enough.
However, a player that likes to dip his toe in both ponds is Ryan Sessegnon, who isn't afraid to take to social media to flex on us with his stupendous fits. And perhaps his finest work so far came during Travis Scott's concert at the O2 Arena in London last month.
The Louis Vuitton varsity leather jacket is perhaps one of the most coveted pieces across the board since it first released. The former Fulham wonderkind paired the French luxury brand's glorious jacket with a squeaky-clean white pair of LV trainer sneakers.
Matching brands is a fundamental principle of stepping clean, and the Tottenham left wingback needs no reminding of it. While the Englishman could potentially have gone bolder with his sneaker choice, it would've been extremely over the top to do so, especially with a start to his fit as loud as the Louis Vuitton jacket.
A simple pair of brown bottoms are an insight into Sessegnon's preference for looking stylish without trying to go overboard one bit.
A quick glimpse at Sessegnon's 'gram is enough to suggest that he isn't shy of experimenting with high-fashion brands, often seeing rocking Fendi and Gucci, while having an enviable Rolex collection as well.
Simplicity is the man's fashion MO, but he wears anything and everything extremely well, which is why he deserves to be on this list.
Liverpool: Curtis Jones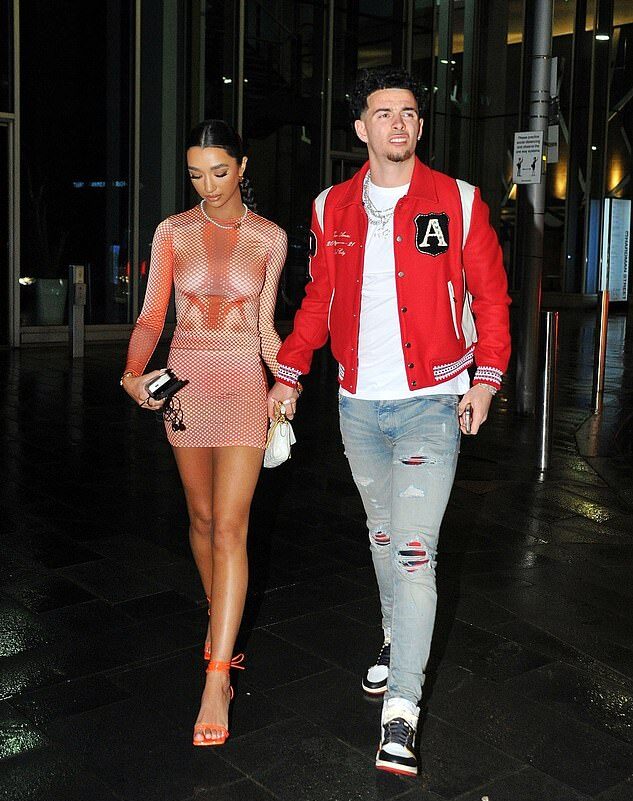 While Chalobah's style has been recognized enough for him to be the face of a campaign, Curtis Jones is truly one of the most slept on fashionistas in all of the Premier League.
In a similar vein to the Chelsea academy graduate, the highly-rated midfielder is overshadowed by some of the best players in the world that also happen to ply their trades for Liverpool.
And assessing Jones' fits, one can admit that his flowers are due.
The cream Gallery Dept. jacket is a winner and much like in Sancho's case, is a piece that you tend not to come across when browsing through the average top-level footballer's 'gram.
The custom grey jeans with the white trim go hand-in-hand with the cream jacket, and accentuate the Reds wonder boy's attention to detail.
After all, the decision to opt for a darker tone of jeans would not have been a clanger, but Jones knew how to accentuate the entire fit with the choice of colors. Further accentuating this claim are his Travis Scott "Reverse Mocha" Air Jordan 1s. Color combinations were carefully curated in this instance.
But this isn't the only example of the Englishman dressing to kill.
In June this year, Jones dropped a holiday fit that would make one want to pack their bags instantly.
The Casablanca tennis club silk shirt is stunning, and paired with the matching shorts, you have to give the Liverpool starlet the credit he deserves. You can never go wrong with a pair of clean all-white Air Force 1s, and the Premier League champion's simple choice of footwear especially works because it does not take away from the fit.
The rose-tinted eyewear accentuates the entire look altogether as well.
Jones has the wardrobe and the excellent taste to look sharp whether he's out for a concert or on vacation, which makes him one of the best-dressed footballers amongst the six biggest clubs in the league.
And most certainly, top dog at Anfield.
Arsenal: Bukayo Saka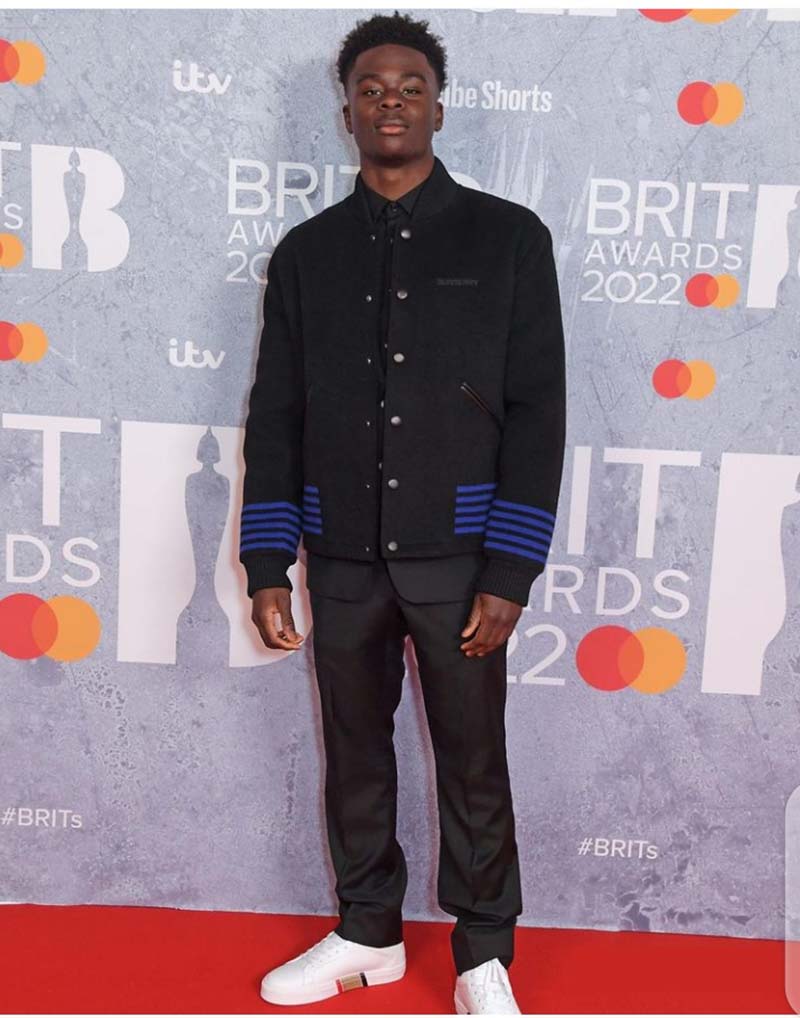 Look, the easy answer is Reiss Nelson. But we decided to shed light on another extremely stylish player at the Emirates Stadium and Arsenal's poster boy, Bukayo Saka.
If you don't believe us, take a look at the England international's fit at the red carpet during the 2022 BRIT Awards.
The black Burberry jacket is a lovely choice because you can spot someone rocking the British luxury brand from a mile away. Saka has kept things subtle and chose a unique piece that only has the textual logo on the jacket, and that too in black.
The silky winger kept things classy, yet understated, which is very on-brand and works well at an event such as the BRITs, which is as prestigious as it gets in the UK music scene.
But the Hale End academy graduate can most certainly switch things up, as he did when in attendance at an NBA game in May this year.
The white and green Rhude tracksuit is once again a rather infrequent piece worn by the typical footballer and yet, it works to a tee.
Being sponsored by New Balance, Saka took full advantage of the freebies he likely receives by rocking the brand's White Green 550s.
The colors are coordinated flawlessly and shows that at this point, there is nothing this man cannot do. A fit God in his own right.