The National Women's Soccer League (NWSL) announced Feb. 2 that it has reached a landmark three-year partnership with A&E Network. In exchange for an equity stake, Lifetime, a member of the A&E family, will become a sponsor and the official broadcasting outlet of the NWSL.
Previously, Fox Sports had a deal in place broadcasting six games over the course of the season, while the remaining NWSL games were streamed live via YouTube. In comparison, Lifetime's agreement will create considerably more exposure for the league, broadcasting a game of the week every Saturday of the seven-month season, with the remaining matches available through online streaming.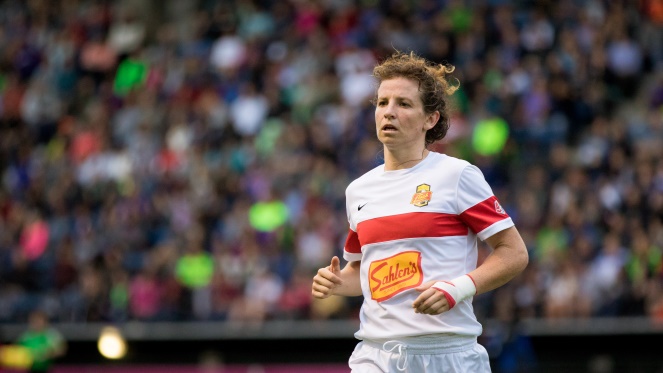 "It's a dream come true," said North Carolina Courage (formerly Western New York Flash) midfielder Elizabeth Eddy. "I had talked with a lot of other girls in the league about what the future of this league would be. We talked about how we needed a TV deal, because it provides a lot more coverage for this league so that other people can see what's going on across the country, which is huge."
While die-hard women's soccer fans have managed to follow NWSL games in the past, this new step in nationwide visibility is crucial in establishing, and indeed proving, that the NWSL can have a long-term place in American sports. Professionally produced pre-game and halftime content from NWSL Media will also up the entertainment value and scope of coverage.
Starting its fifth season in April, the NWSL has become the longest-tenured professional women's soccer league this country has seen. However, many in the industry will be the first to express there is still much room to grow. Eddy compared the NWSL to a startup company, with the TV deal representing major funding from an investor.
"If you think of it like a startup company, it's almost like we're interns on the startup grind for a company that has a lot of potential," Eddy said. "Getting this TV deal means we're actualizing the potential. It's a really cool opportunity to help grow this sport for women."
The added exposure of Lifetime's network, which boasts a large female viewership and has broadcast the WNBA in the past, will presumably increase player salaries and create opportunities for players to market themselves and obtain endorsement deals as well. This is a critical lifeline to NWSL athletes, who are paid as little as $7,200 a year.
"As a professional player, games being televised is a huge perk," FC Kansas City midfielder and former U.S. Women's National Team member Yael Averbuch said. "Not only is it exciting to allow friends, family, and fans to watch us play on a main television network, but it allows us as players to showcase ourselves on a bigger platform."
Lifetime and A&E networks will hope to capitalize on the large audience the U.S. Women's National Team (USWNT) draws, with 20 out of the national team's 22 eligible players on NWSL rosters.
"NWSL has incredible talent and parity across the board," Averbuch added. "The competition for spots on teams and on game day against every team in the league is unparalleled in any other pro league around the world. The USWNT is by far the most competitive environment for female soccer players in the world, so having those players as part of NWSL sets an amazing standard for the league."
With the USWNT currently ranked No. 1 in the world by FIFA, and the sport growing by leaps and bounds among young women, it makes sense for the major cable outlet to invest in one of the largest markets for women's soccer on the planet. The A&E partnership is a significant and much-needed step in this expansion.
While the schedule has yet to be released, the NWSL is set to kick off its season in April, and the North Carolina Courage will look to defend its title.
To learn more about the NWSL, visit www.nwslsoccer.com.