"Can you see it? Football. It's everywhere!" So announces Neymar's global signature football tournament kicking off an international five-a-side tournament (Neymar Jr's Five) open to men and women between the ages of 16 to 25. If it wasn't obvious already, small-sided football is experiencing a surge in popularity as evidenced by the growing number of tournaments, product launches, and ad campaigns pushed by the likes of Nike and Adidas.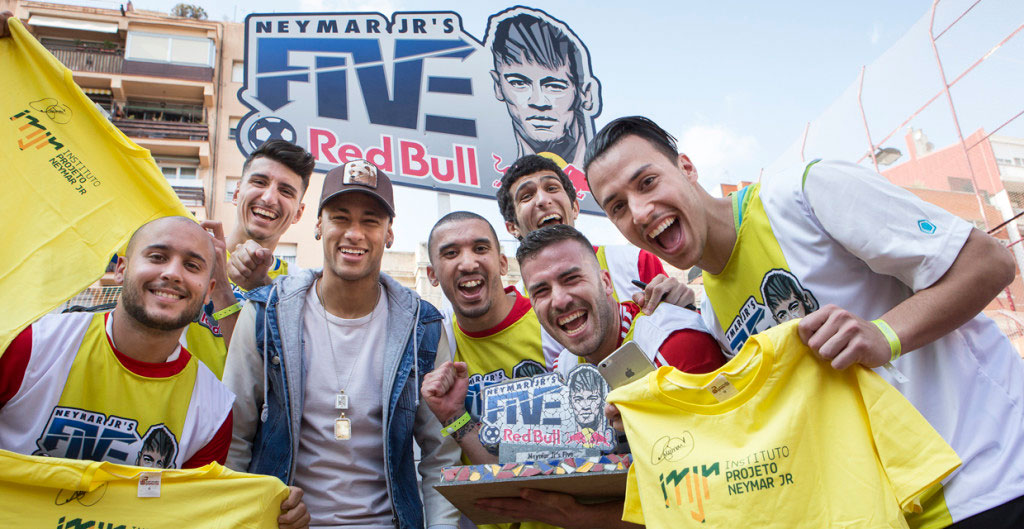 Street ball has been a staple in the alleyways, parking lots, and informal pitches of the world since the beginning of the sport, and now it's evolved into the game of choice for professionals and amateurs alike. Neymar Jr.'s international street tournament is a shining example of the game in its most commonly played form.
Sponsored by Red Bull, the Neymar Jr's Five tournament takes place from January to June 2016 across 43 countries. The 10-minute games have no keeper and feature a special twist: when one team scores, the other team loses a player, a quirky rule similar to Nike's Día de los Muertos Tournament held in Los Angeles. The tournament culminates in a world final on July 9 in Praia Grande, Brazil, where the winning teams from each country will compete for top honors. The overall champions will meet Neymar Jr. in Barcelona, Spain and be his invited guests for an FC Barcelona match in Camp Nou.
The event is already in mid-stride in various countries, and fans can peep pictures and videos from qualifying rounds by searching for #NeymarJrsFive. In the U.S., there will be nine qualifiers across seven cities: Los Angeles, Miami, Chicago, Phoenix, San Diego, Fresno and Rochester, NY capped off with the finals in Miami on June 11. Here at Urban Pitch, we are definitely looking forward to the L.A. qualifier and have the inside scoop from some of the top street ball crews that they've already signed up and are waiting to go!