On the heels of Family Business, the new LA-Tinos album release, we catch up with Feefa to discuss his vision for the group, overcoming COVID-19, and what's next in store for him individually. 
Feefa has always had big goals.
"We're gonna be game changers," he told us in 2018, months before his debut project Estilo de Vida dropped.
Since then, the LA-based hip-hop artist has been up to big things, including performing at major festivals like SXSW and Real 92.3 Street Fest, while also helping to create LA-Tinos, a conglomerate of like-minded artists and creatives.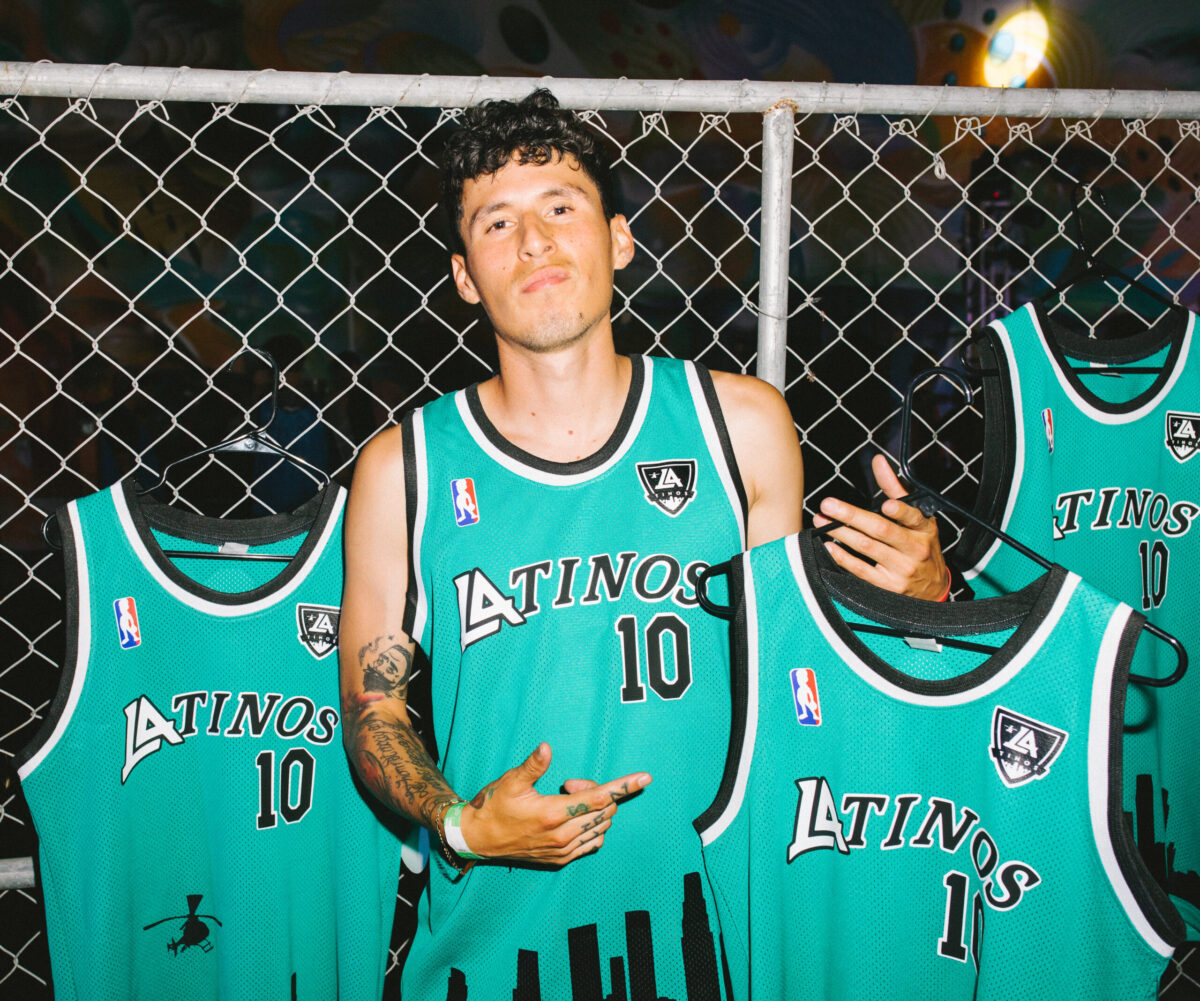 With an expanding roster consisting of fellow Latin Trappers Ratcheton, Harlay, Mas Fortuna, and AM Vicious, as well as an in-house DJ in BRVO, Feefa has one goal for LA-Tinos — creating an empire. In September 2019, they dropped their first official merch line at UrbanFutsal LA's Baller Night, and just over a year later, they released their debut album, Family Business.
The compilation album follows in the footsteps of hip-hop consortiums such as Odd Future, A$AP Mob, Dipset, and Young Money that have also put out joint projects of their own, but LA-Tinos were sure to add their unique flair in a way only they could.
At eight songs and 25 minutes, Family Business is a quick yet diverse listen, ranging from booming upbeat party anthems to chilled out tracks made to vibe out to. We also get a mixtape-like intro from LA staple DJ Carisma, immediately giving the album a West Coast feel, as well as a pair of humorous skits that add to the throwback soundscape.
Highlights of the album include the three-track run following Carisma's intro. We start off with "Háblame Nice," in which Feefa and Ratcheton shine in particular over a menacing beat. We then get the heavily reggaeton-influenced "Mátame," which seems to feature a sample similar to that of a particularly iconic West Coast hip-hop jam (we don't sample snitch over here). Capping the trifecta is perhaps the strongest cut from the album, "Cómo se Mueve," whose catchy marimbas courtesy of producer Ism have radio airplay written all over them.
It's not a perfect project, but there are certainly highlights throughout its entirety that show the potential of LA-Tinos both individually and as a collective. If the crew continues on its upwards trajectory, Feefa's "empire" goal may not be as lofty as it seems.
We had a chance to sit down with him to go over the album's process, difficulties as an artist during the pandemic, and what we can expect next both from him and the rest of LA-Tinos.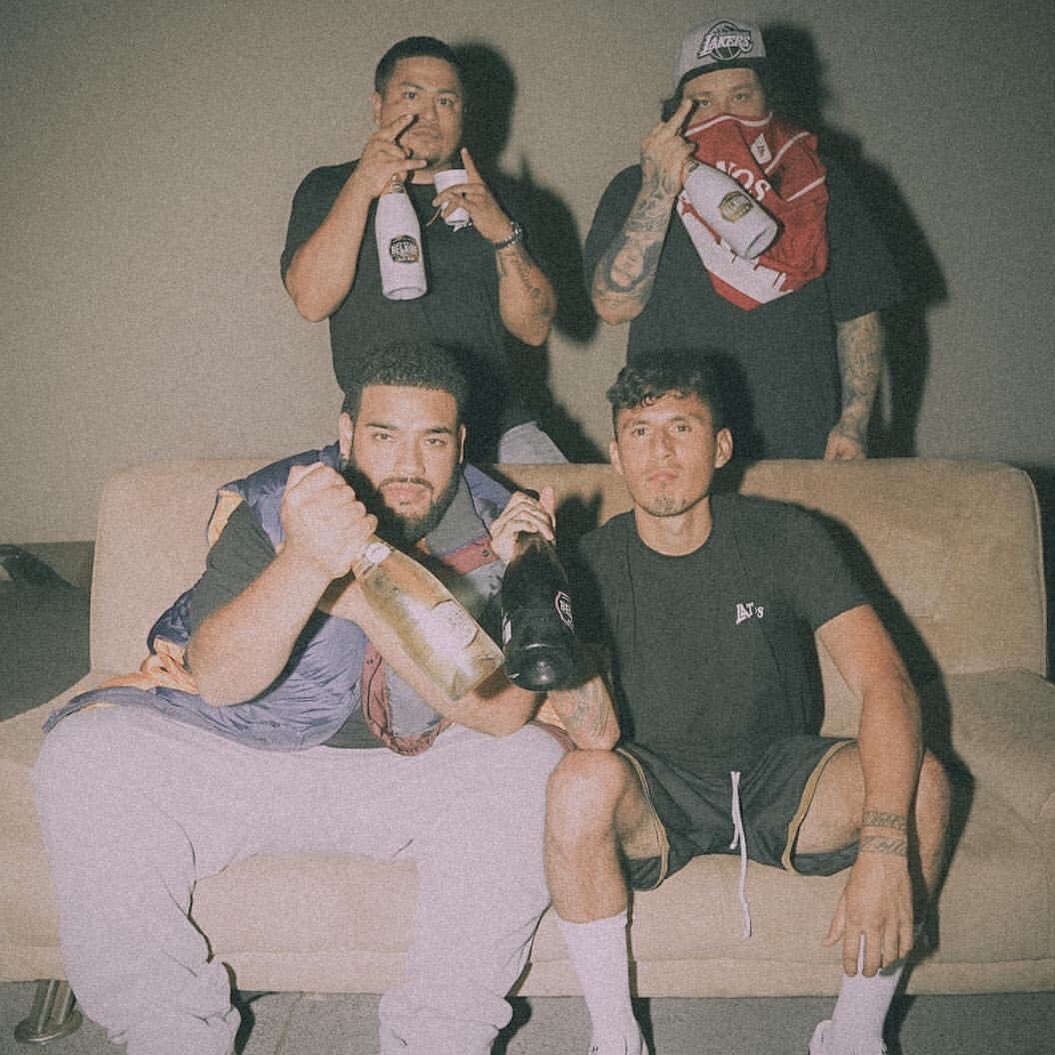 Urban Pitch: On first listen, one thing that really stood out was the overall production of the album. Can you take us into the beat selection process?
Feefa: It's mostly based on the energy these guys carry. Ratchet is more fun, he's going to say more random stuff on records. I like to put him on the hook of the party records and turn-up stuff. Mas Fortuna is more smooth, he likes to talk to the girls more. He usually does reggaeton, but I felt like we could put him on songs that felt like reggaeton but that also had a trap beat.
That "Háblame Nice" beat in particular is hard.
That sample was from Kevo. We were talking about how we could incorporate our culture with our music. He's from Honduras, and there's music called Garifuna from there. And it's very African-influenced, and that sample — he just played me that beat and — usually the beats talk to you. You just feel them.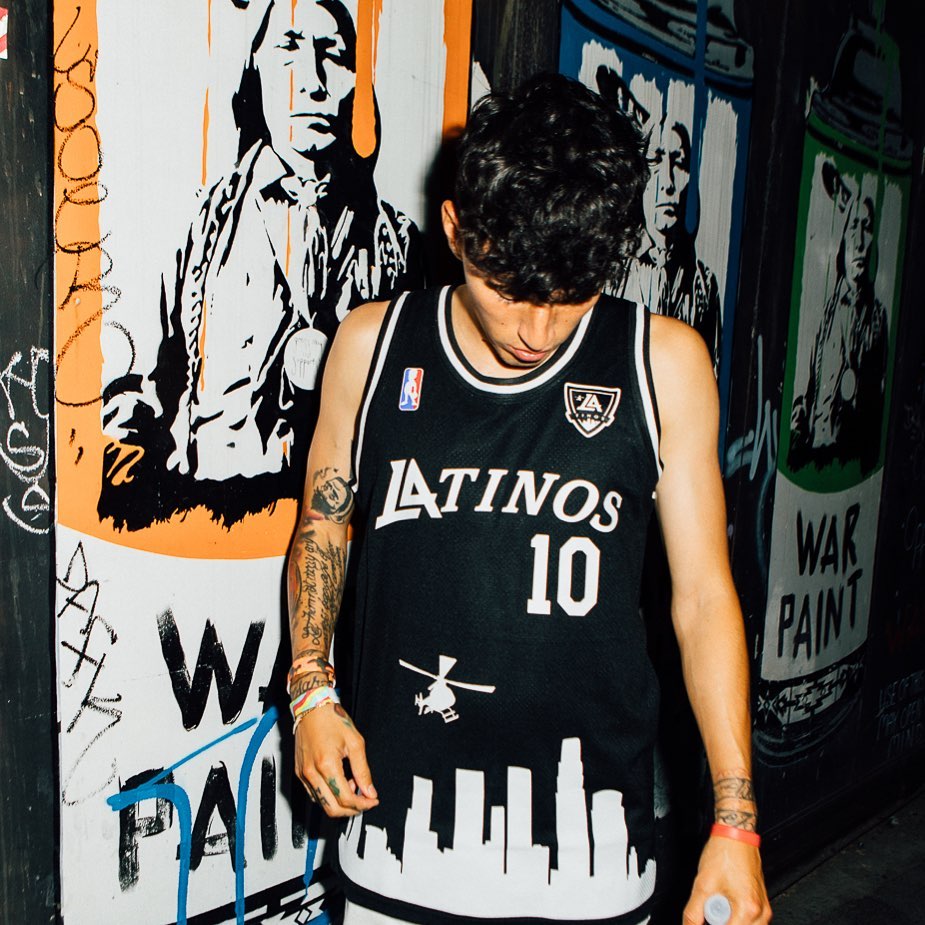 Obviously, the past seven months have been pretty difficult for everyone. What was it like creating an album during a pandemic?
It got tricky, because in the first couple months of making the album everything was shut down. Luckily I have my studio where we could work on it. I would just call the guys like, "Let's work," but everyone was a bit sketched out.
In late July-early August I ended up getting COVID — not from what we were doing but from somewhere else. That was probably one of the hardest things right there. That's the reason why we weren't able to release the album the first time we wanted to. That shit sucked. (Laughs.)
But it wasn't too hard because we all live around each other, so it was more trying to avoid catching COVID and spreading it, and the moment I caught it it slowed everything down.
And the whole music industry has taken a hit — especially with the lack of concerts and live performances. In what ways have you needed to adapt as an artist?
It was hard. I think the first move is accepting the fact that this is going to be like this for the next two or three years. I think we accepted that — at least for myself. The pandemic isn't just a six or eight month thing, this could become the new normal right? I quickly tried to learn how to adapt, and focus on the brand and really try to execute every plan how I wanted to. I think the pandemic has helped with giving us more time to focus on our craft and on details and small stuff that we never realized. I feel like before we would've rushed it, like, "It's cool, we can just make another one."
Earlier this year, you dropped the "En mi Bolsa" video. What was it like shooting with most things shut down? 
We shot that in May, when everything was pretty much still closed. I've had that song for a while. I previewed it on IG and everybody liked it, so I knew I had to shoot a video for it. We were like, "If we're going to pull this off, we have to shoot early." So we were up at like 4 a.m., we got in the middle of the street shooting the video, getting tatted. I wasn't actually getting tatted, but that was the idea.
I think sports have taught me how to adjust my game depending on what turf I'm playing on. Like if we're playing on dirt, I know that I can't run fast because if I fall on this dirt it's going to hurt. I'm going to change my game up depending on the situation. And I try to use that into what I'm doing now.
Will we see "En mi Bolsa" in a future project or is it a loose single for now?
That was actually the lead single to my album. I had already finished my album before the LA-Tinos tape. It's called Apreuba de Balas, which means "bulletproof." I've got the cover, got everything. The whole album is about anyone who's felt like they were a target. If you've been through stuff and are still alive and standing here, this album is going to relate to you. I felt like I had a certain shield to protect me, and I want to talk about my experiences and my ups and downs and how I made it out.
"En mi Bolsa" was more like, "I'm in my bag. Why y'all bugging me? I'm too focused." It's more of an intro. But that's for my album, and the pandemic just kind of pushed everything back.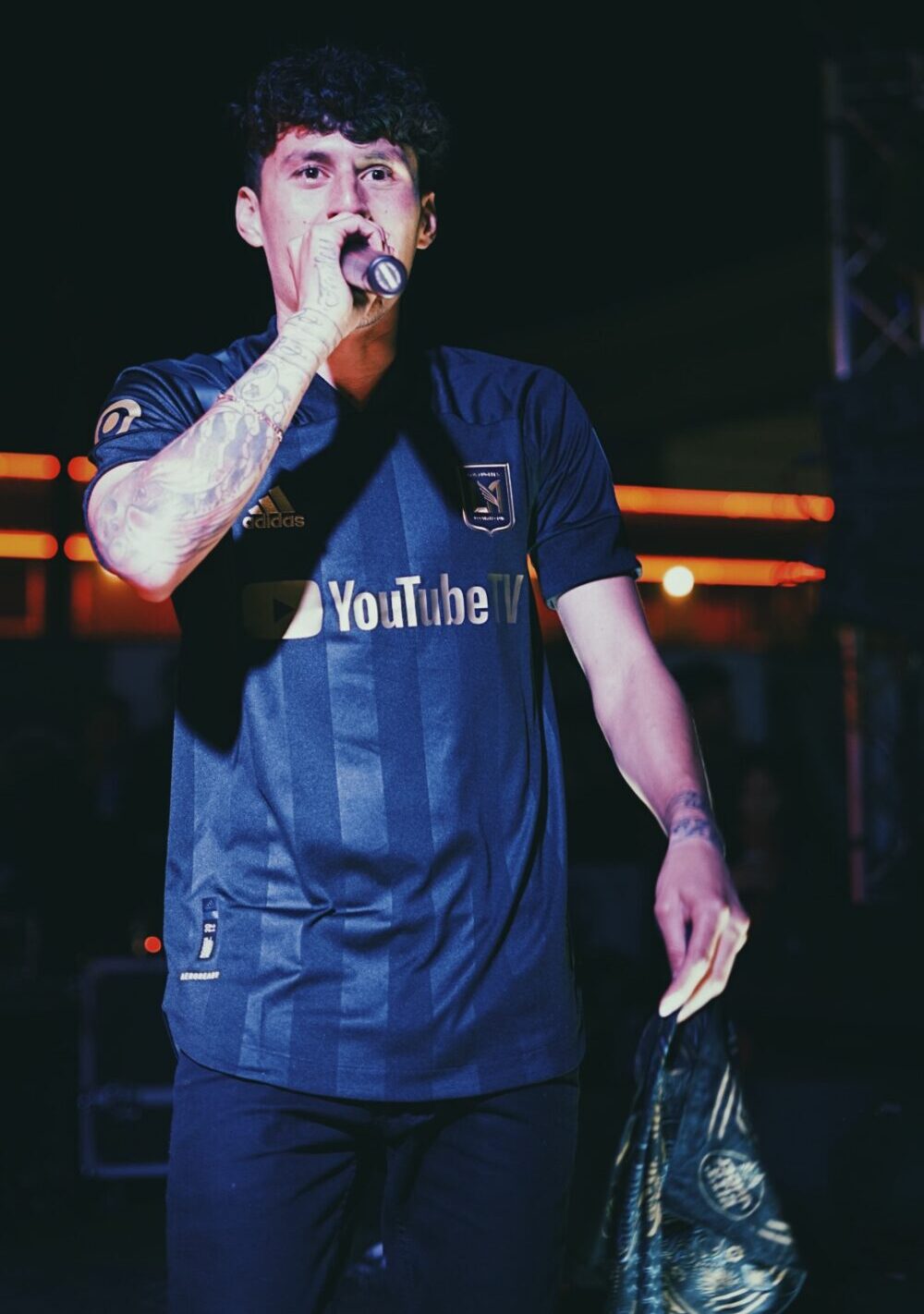 In the past year you've hit a few really big milestones — from performing at big time festivals to LAFC's jersey release party. What do you have your eyes on next?
My goal is just to pretty much build an empire. I want to continue to build the LA-Tinos brand and get it to where I want to get it to as far as it becoming its own label. I want to be able to sign videographers, music engineers, skaters, snowboarders, you get me? I want to really take it there.
I'm not too into the gimmicky stuff — like the Grammys and the Billboards. I already figured that whole game out. You just need to know somebody who knows somebody that can pitch it to somebody that can get you in there. It's not really about being the best artist or making the best music. It's just about knowing who does what.
One of my goals was always to win a Grammy and Latin Grammy. I still want to be one of the first hip-hop artists to be able to do that. But my main focus is on the brand and how I can turn this into something bigger than whatever else is out there.
I've seen you've been keeping up with playing soccer here and there. How often are you getting out and playing?
Shoot, it's been a challenge man! It's something that I've always wanted to keep up. It's me trying to be that next-level artist, so that when the world does get to know me they'll know that you can still take care of your health and your happiness while being in the busy world. You don't have to be all about one thing and stress about that. You can still give yourself time and enjoy other things. I want to push the healthy workout stuff to the kids and even grown people who don't do it.
And the cardio is also good for performing right?
Yeah. That and the cardio helps me last through my days. If I'm in good shape I'm able to run around and go to multiple different studios, lay down multiple verses, and also head back to my studio to work, all while being a dad at the same time.
I'm just trying to push a new lifestyle to what rappers have been portrayed as. Even in my culture, it's like, "Oh the music business is all about smoking and drinking in the studio, and it's just for the turn-up," and etcetera. There is a lot of bad involvement, but you just gotta pick your lane.
That lifestyle isn't for everybody, and what I do isn't for everybody. It's draining but it's fun. We just played soccer two days ago and I was hella tired, and I was sore as hell yesterday, but you wake up today and all of a sudden you have this energy that's just ready to go.
Stream Family Business on Apple Music, Spotify, and Tidal, and be sure to follow LA-Tinos and Feefa on Instagram.