He made headlines for his £25 million transfer to Newcastle earlier this year, but more importantly, Joe Willock has blossomed into one of the game's best dressed players. We breakdown five of his best fits — from tasteful accessories to neck-breaking kicks. 
Hector Bellerin walked so the likes of Serge Gnabry and Reiss Nelson could run with the fashion wave at Arsenal — or so it seems. And then of course, there's Pierre Emerick-Aubameyang, who drives a gold Lamborghini and wears more fur coats than Diddy in his prime.
But if there was someone at the Emirates who didn't quite get his flowers for what he wore during his time in North London, it's Joe Willock. He received recognition for bagging goals in his sleep for Newcastle last season, but this lad's got as much an eye for the back of the net as he does for the coldest fits. Let's break down five of his best.
Dior Galore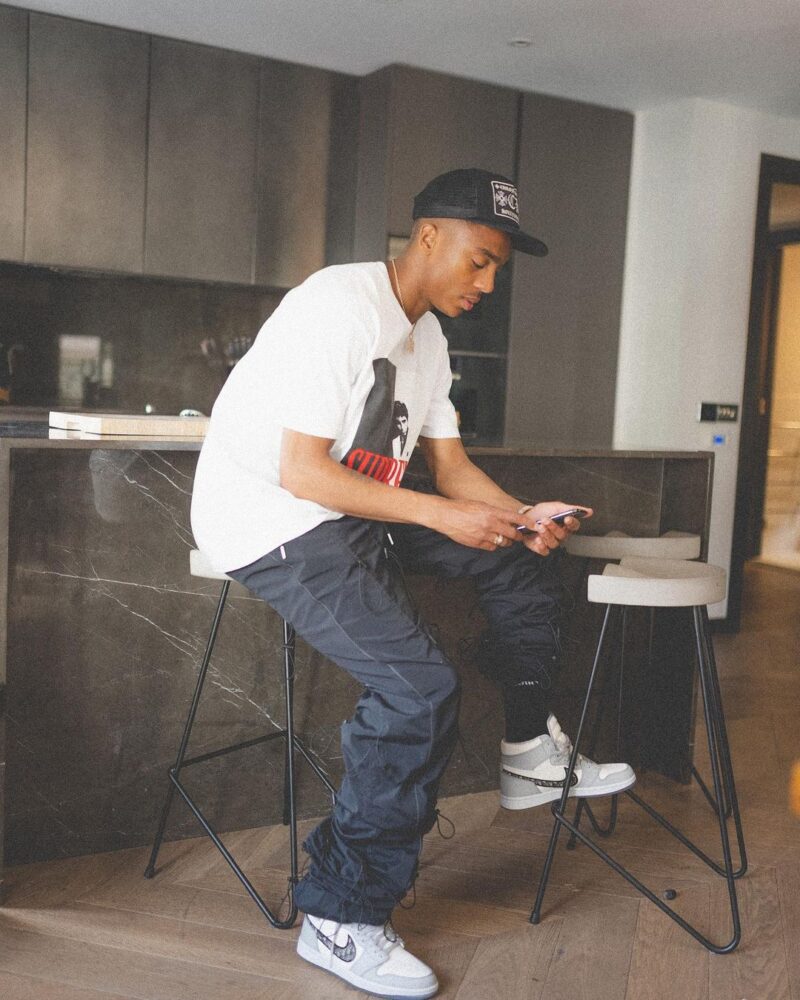 Whether Willock is actually on his phone or just posing for the fit pic is worth debating — but what isn't is how salty everyone who didn't get the Dior x Air Jordan 1s were when they begrudgingly liked this picture.
And then there's the Scarface x Supreme split white tee, which you can never go wrong with. Possibly one of Supreme's most recognizable pieces, and undoubtedly one of the most iconic films of all time. Repping Tony Montana while looking like a boss himself, Willock's fit flex is luxe without trying to be.
Adding to the "not trying too hard" theme are Willock's pants, made by Prada (though you wouldn't be able to tell by the photo, which has no logo in sight), and his Chrome Hearts LA trucker hat, worn ever-so-casually.
Let's give him the benefit of the doubt and assume he really was on his phone here.
No Ls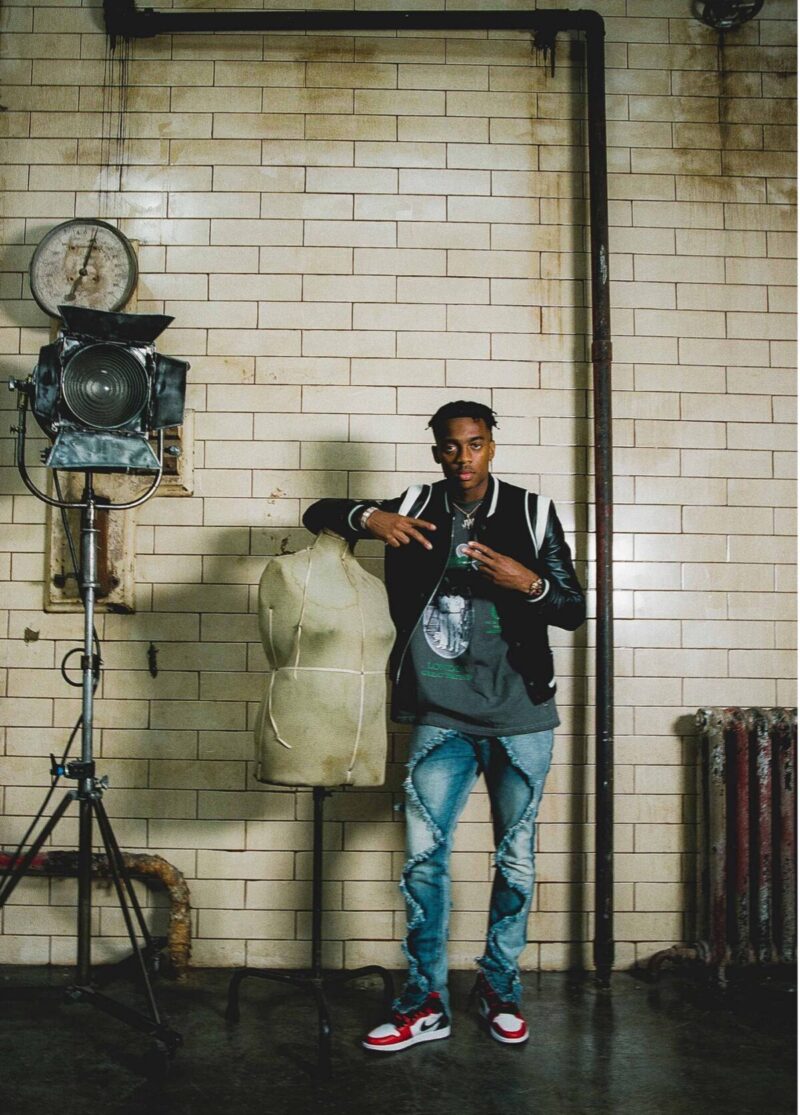 If we saw Gunna in these Finish 94 50/50 jeans, nobody would bat an eyelid. And Rihanna would win Halloween again, without question.
But when Willock rocks these, you can expect a flurry of comments on his socials referring to this style choice as "sus" and an "L." Tasteless trolls aside, it's always welcoming when footballers express themselves, especially in today's heightened media-trained age.
More power to this baller wearing what he wants without a care in the world. In fact, he chose this fit himself to flex for GAFFER magazine's "No Stylist" series.
In addition to the pants, Willock dons a Trench London stadium leather jacket which adds to the grungy vibe of this fit. And if we're honest, it's one of the select few times where leather jackets have actually looked fly in 2021.
The Unknown London tee is super under the radar, but it adds to the slightly darker tones of this look which is a plus. And the iced-out custom JW necklace makes it stand out, which is a nice touch from the man himself.
Before we actually talk about the kicks, let's give Newcastle's £25 million man his flowers for being low key in his choice of brands. Not that there's anything to dislike about the Diors or the Guccis of this world, but it's always more interesting to see people branch out and not just rock things for the sake of a certain logo.
Funny how we say that when Willock's kicks need no introduction, as the Air Jordan 1 "Satin Snake" is an iteration of possibly the greatest sneaker of all time, the Chicago 1. Perhaps a darker colorway of the silhouette makes more sense with the fit, with the Smoke Grey 1s springing to mind. But Willock's got it spot on because the Satin Snakes bring a pop to the entire ensemble that makes this such a unique fit.
Why Not?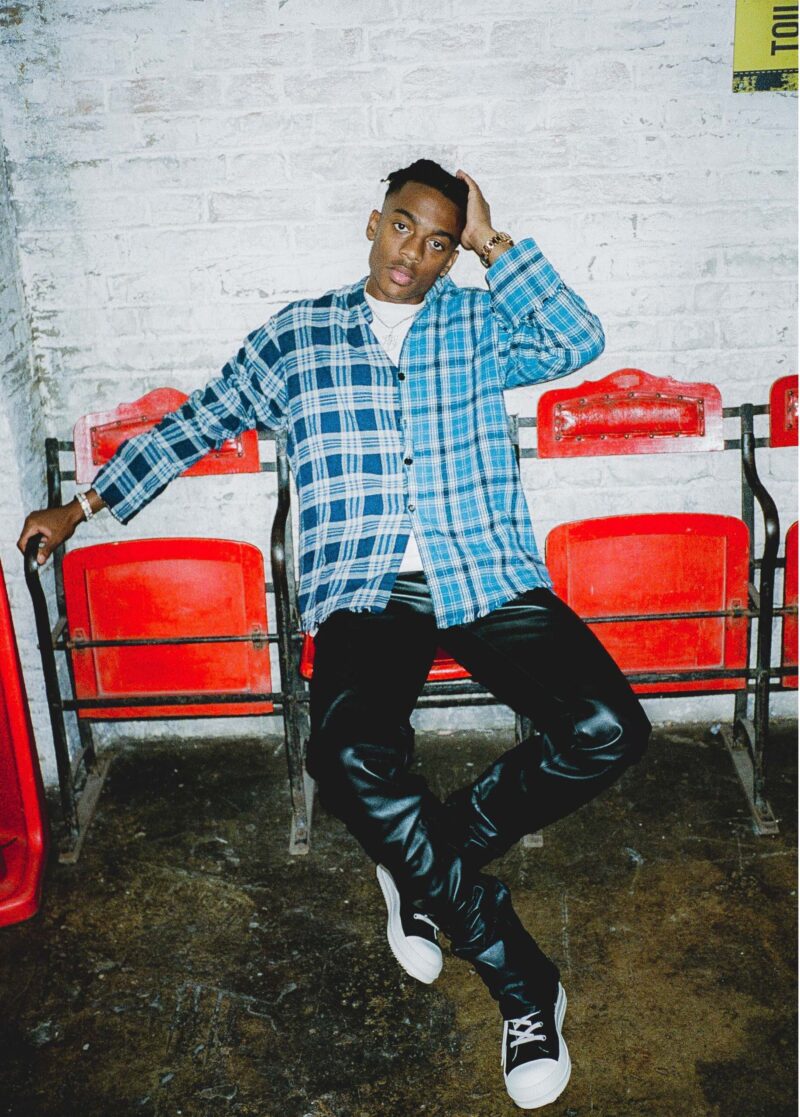 This fit from the same "No Stylist" episode has us thinking that Willock chose the wrong sport, because drip like this screams more NBA tunnel fit than walking off the coach to square up for a North London Derby. Or well, a Tyneside Derby, now that he's officially one of the Magpies. On a side note, imagine Roy Keane's face if a player rocked up to a derby wearing leather pants.
And speaking of the trousers, there's three reasons why these make such a statement. One…they're leather pants. Two, this is straight from the Russell Westbrook "Why Not" playbook, and you've got to respect it. Three, and perhaps most importantly, the DAGYE Studios zip-slacks leather pants support a British business, hailing from Milton Keynes.
Pair a local brand with the Rick Owens royalty of the DRKSHDW kicks, and the balance is beautiful. The cut of the pants mask the giant Ricks to a degree, adding a slight touch of subtlety to a fit that's already very out there.
Finally, there is the Greg Lauren mixed studio shirt. Much like the DAGYE Studios choice of pants, Newcastle's midfield prince has gone a tad left field in his choice of brands with this piece.
Greg is of course, Ralph Lauren's nephew, which means you're always in the shadow of greatness. But he's created his own niche, with style icons like Kanye West and Miguel wearing his pieces.
Add a certain Joseph George Willock to this mix and this fit is high fashion and streetwear meeting in the middle as tastefully as possible. In the words of Nayvadius DeMun Wilburn, "Sensational."
Rhude Boy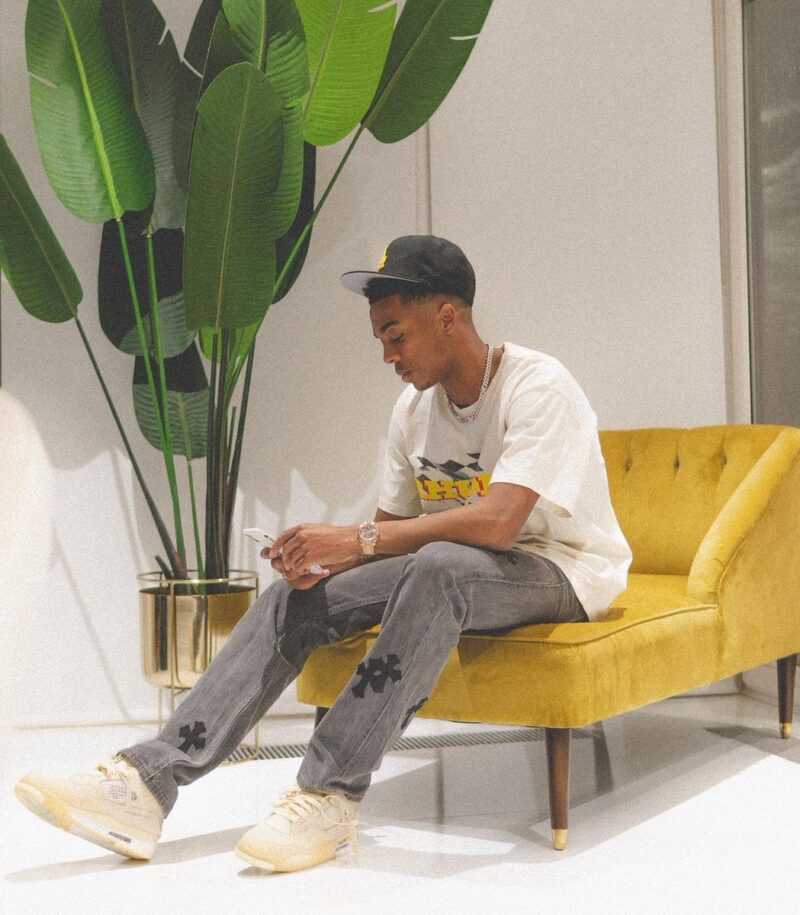 Not every fit needs to be from Dominic Calvert-Lewin's closet for it to make an impression. And this is exactly that — a squeaky-clean look that turns heads for the right reasons.
Judging a fit by the sneakers is an unwritten rule, and just a peek at what the lad's got on his feet tells you why his name starts with a W. The Off-White x Jordan 4 "Sail" is a modern-day classic. Resellers will be milking this silhouette as it ages like Andrea Pirlo, and Willock could lace up in these 10 years from now and still be the freshest one in the room.
Take the cream white from the kicks and match them with a Rhude tee and it's all coming together. The checkerboard aesthetic is a staple of the LA-based brand, and the ex-Gunner keeps it tidy with one of the brand's more low-key pieces.
And of course, we have the grey Chrome Hearts denims which makes this fit an absolute winner. A style choice that equates to a top bins screamer.
This is possibly the most audacious aspect of this fit right here, but the black logo matches with the black in the checkerboard color scheme as well as the hat. There's more than what meets the eye here.
bol bol! chrome hearts denim! pic.twitter.com/Fu2tgcBBZw

— LeagueFits (@leaguefits) December 26, 2020
Even the Denver Nuggets' Bol Bol was dripped down in these joints in December 2020. No surprises seeing big ballers have one thing in common: elite taste.
My Team, Supreme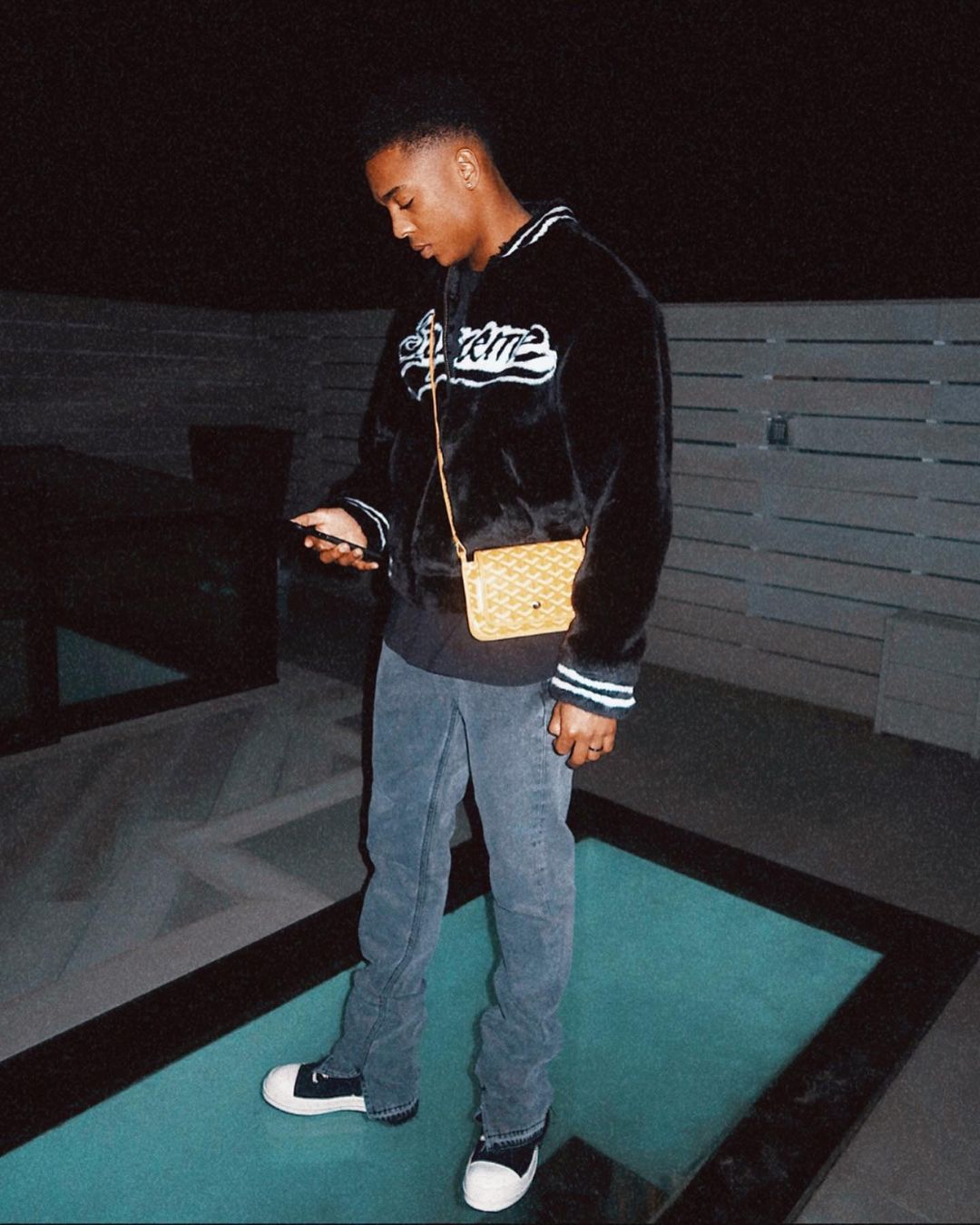 Read the headline again. This is exactly why Joe Willock is an underrated fit icon.
We need to somehow call the legend who voiced the "Flawless Victory" catchphrase on Mortal Kombat, because this fit is the position this geezer plays on the pitch: 10.
That Supreme faux fur varsity jacket is why Willock's reigning atop the game if we're talking style in football. A collector's item that you'd only see a streetwear connoisseur out and about adorning.
Draped over the jacket is a Goyard purse satchel, an accessory that has become all too common, especially amongst the pro athlete crowd, defying masculine and macho stereotypes that tend to surround them. It goes without saying that this makes for a stunning color palette between the black from the jacket and the mustard from the satchel.
Once again, the Arsenal academy baller's chosen to keep it label-free with his bottoms, and brands don't matter as much as how one curates their looks. While the slit at the bottom with the denims touching the sneakers may trigger some for thinking Willock's bringing bootcuts back; if you style them like this, we're all for it if we're keeping it a buck.
Also, the DRKSHDW Rick Owens sneakers make a comeback, which is wholesome if you're a sneakerhead to see Willock also has a certain pair that never goes out of rotation.