Since its introduction in 2014, the adidas Spezial line has been a consistent, albeit relatively quiet hit for The Three Stripes. We take a look at its origins, as well as some of the best releases over the past seven years. 
The adidas Spezial line is iconic. The shoes represent part of the modern social and cultural heritage from the last few decades in the United Kingdom, and consequently, the rest of the world. Unique silhouettes, ample colorways and models, and some special editions tributing cities and relevant icons from the international panorama of culture are just a taste of what Spezial encompasses.
The line itself started in 2014 as a way to revive and reimagine classic models from the adidas archive. Gary Aspden, the man largely responsible for Spezial, grew up during the height of UK casual culture in the '80s, of which adidas played a large role in.
In an interview with wellgosh just before the initial Spezial release, Aspden said he created the line to connect with those who grew up with a certain image of adidas in their minds. One of the main anchors behind the Spezial line is identity — and there was perhaps no one better suited to create a vintage-inspired adidas line than Aspden, who's been a mainstay in sneaker culture, particularly with The Three Stripes, throughout his life.
A mix of quality and nostalgia, the Spezial line reintroduced a "super European" aesthetic to a world of globalized fashion. Regional looks are increasingly more uncommon thanks to the internet, but Spezial is a mini time capsule that transports us to the terraces of football stadiums across the pond decades ago.
According to Aspden in the same interview, many high fashion brands such as Lacoste and Armani came and went out of style while he was growing up, but adidas was a mainstay. The German brand has been worn over many generations and inspired urban fashion and daily comfort characterized by high-quality suede and gum soles.
What I like about adidas though, is that you keep it simple and casual. It's an authentic, classic look. Even to this day, the football or urban scene is about the things you wear and how you wear them. If there is a brand genuinely linked in the football scene, it's "The Brand With the Three Stripes."
I understand football as passion and fashion, this perfect blend of style in the terrace scene. At this point, long gone are the days when football and fashion seemed two worlds apart. Back in the '80s, London subcultures were struggling to forge a true identity, but they were cementing their looks with adidas.
Models similar to those of the Gazelle and the Samba were de rigeur for Aspden and his peers growing up, and their popularity today is a testament to their timelessness. However, Aspden wanted to bring some of the more obscure models from the era back as well, including leisure and running silhouettes.
"I'd say Spezial are up there with timeless classics, they are a consistent model in the adidas range since they came out in some great colorways," said Peter O'Toole, adidas Originals fanatic and a privileged owner of his own signature model. "I own a pair of Manchesters, which I think were from 2002 for the Commonwealth Games. You can't beat a simple hard-wearing suede trainer with three stripes."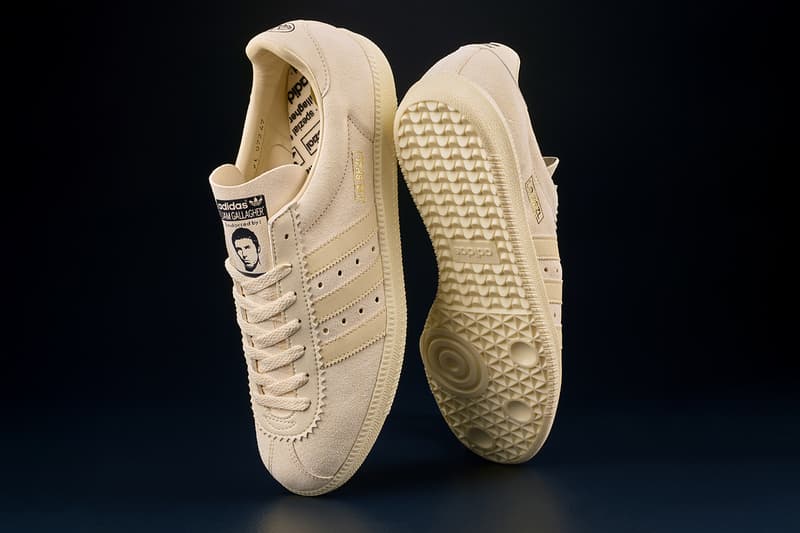 The adidas Originals line has influenced the music scene as well, and if there is a place on Earth where music inspires lifestyle, it's the UK. It's easy to identify similarities between the Brit Pop and football terrace scenes. Have a look at Liam Gallagher's Spezial trainers, one of the most representative icons from both universes, a universally proud Man City fan.
The passion for the trainers and adidas Spezial is universal, the fascinating collectors behaving as brand ambassadors and recovering adidas' historical heritage. This is the case of Carlos Ruiz, the greatest Spezial tale ever known.
An "adiAddict" from Buenos Aires, Ruiz kept his sports shop intact for almost 40 years, selling deadstock vintage adidas gear and footwear. The Spezial team led by Aspden ventured to Argentina to find Ruiz's shop, and many of the shoes they found there were the inspiration for future Spezial releases. The team documented and paid tribute to Ruiz's love for the brand and sneakers by designing a limited "Carlos" Spezial model in 2015.
Since the original five-shoe drop in 2014, we've gotten a steady release of Spezial kicks, and it's been a consistent, albeit quiet hit for adidas. It may not be as riot-inducing as other sneaker lines, but Spezial drops are coveted by those who understand their cultural importance — and that's exactly how Aspden wants it.