Francesco Lettieri's modern take on the ultras movement gives a realistic look at the grip of brotherhood and violence between different factions.
Extreme supporters. Political paramilitary groups. Violent, organized fans. Just some of the names used to describe the social phenomenon that is the ultras. A reflection of Italy's sociopolitical chaos in the Modern Era, these fan groups have taken the media spotlight for their bad (and even sometimes good) behavior.
In a cycle where the State looks down on ultras, the public just cannot look away. Their gigantic banners that fill stadiums, flares whose smoke casts shadows between the terraces and the pitch, and the fan-versus-fan violence are impossible to ignore. Some are politically aligned with fascism, others communism, and then there are those who purely fight for the glory of their club.
Ultras culture has since become a main source for one of Italy's largest industries — film. In 1991, Ultrà followed the conflict of Roma fans against those from Juventus. Some 30 years later, Francesco Lettieri's directorial debut Ultras captures Napoli's rebels, who are some of the most feared in the world.
In 2008, hundreds, if not thousands, stormed Rome's Termini train station in a takeover that resembled the Vandals sacking Rome rather than visitors heading to an away match. Their brash attitudes and militant ethos stretch between clans of their downtrodden yet beautiful city, as Lettieri reveals in his realistic interpretation of the inner workings in one of their groups.
Lettieri places us on the coast of Napoli, at a rocky outcove in a humble neighborhood. The main character, Sandro, aka Mohicano, is being followed through his path to a wedding. An attendee asks for a selfie. He's a local celebrity, donning a ripped denim vest with a Confederate flag in Napoli colors stitched onto the neck.
It's a wedding. But not any typical union, a Napoli ultras one. The group starts singing. I'm reminded of the rhythm of some Roma chants, and it seems there's no separation between holy matrimony and the club itself.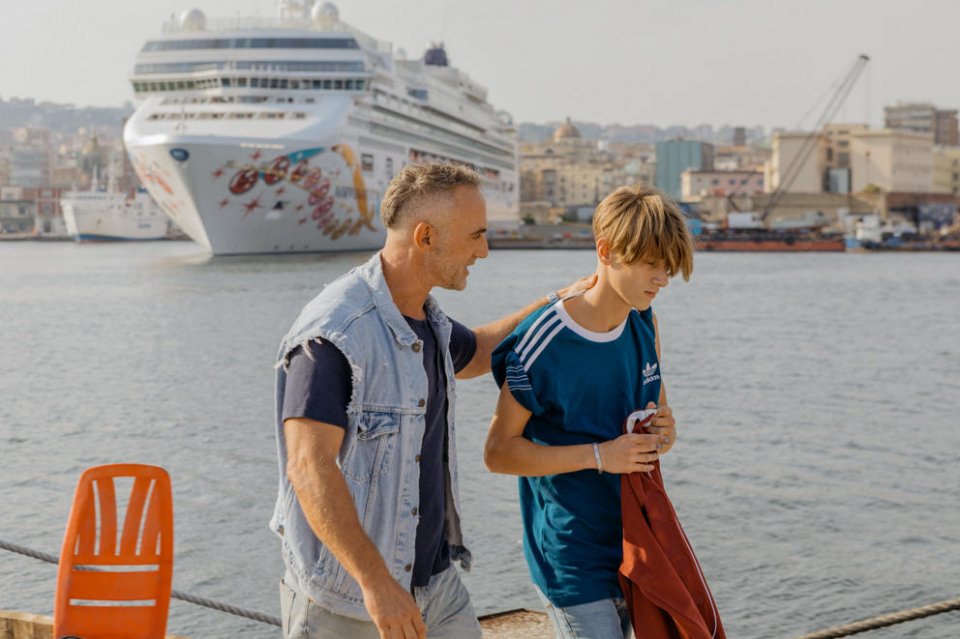 From here, Sandro, played by Aniello Arena, takes us to his home. Living in a typical yet sordid high rise, he's taking care of Angelo, played by Ciro Nacca. Sandro is a type of father or uncle figurehead role to Angelo, though they aren't related by blood.
He realizes that Angelo is in love with the life of an ultra, and shows him the secret location where they make the striscioni — the banners that line the ends of the stadium, often displaying a phrase of support (or sometimes ironic contradiction). Sandro starts to tell him about the fierce battle between them and the Atalanta ultras, who eventually invite them to the other side of Italy one day. Here, he mentions the story about the insane party they had, even bringing a military tank onto the street (that actually did happen in 2013). Angelo is captivated, as the scene ends and the sun sets over the Gulf of Naples.
Mohicano is rough around the edges, attributed by Arena's actual character and history. In 1993, he murdered three other underground criminals who were selling drugs on his turf. In the last decade he was given special privilege during his life sentence, and has since become an awarded actor, likened to a Danny Trejo.
While Arena now enjoys his freedom, Sandro finds himself trapped, trying to separate himself from the tumultuous life of a "capo," or head ultra. He and his club brothers, who call themselves the Apache, are in their 50s, and it's almost hard to take them seriously as they zip around on scooters like the teenagers in Gomorrah.
Sandro's love interest, Terry, is the catalyst that makes him realize he's been striving for a normal life. The Apache structure of unity depends on Mohicano though, and his counterpart notices the change in heart.
As Angelo starts showing up at the Apache meetings, his mother confronts him, warning Sandro that she "does not want to lose another son." The deceased brother is a subplot throughout the movie that shadows the background, but never enters the limelight.
Meanwhile, Angelo is becoming the "cool kid" of the group, pulled away from googly-eyed Neapolitan girls for the sake of becoming an ultra. He's becoming fearless, and possessing all the qualities to become a capo himself. Without unraveling his storyline, his development begs for a part two, in which he will surely become a full-blown ultra.
The most heart-wrenching scene is when Angelo returns home to find a gentleman sitting with his mom. There is the animosity between the mother and son, as she attempts to restart her life following her husband's death, and the son's conflicting emotion of grief, blame, and jealousy. It's a moment many can relate to following a divorce, death, or split in their own family dynamic.
In addition to its gripping action and scenic cinematography, Ultras features an original soundtrack from rising star and Naples native Liberato. Highlights include "We Come from Napoli" and "O Core Nun Tene Padrone – Apache Mix." Personally though, I love the dark synths of "Graziella."
Liberato shot to the national spotlight with "Je Te Voglio Bene Assaje," which was made into a short film that chronicled a young love story of jealousy and angst. Every track is celestial, synthetic, and modern. It fits right in between the airy and sun-drenched Neapolitan coastline, and appropriate for a film of the newborn decade.
What is life without fidelity? That is the ethos of the ultras mentality.
To Watch or Not to Watch?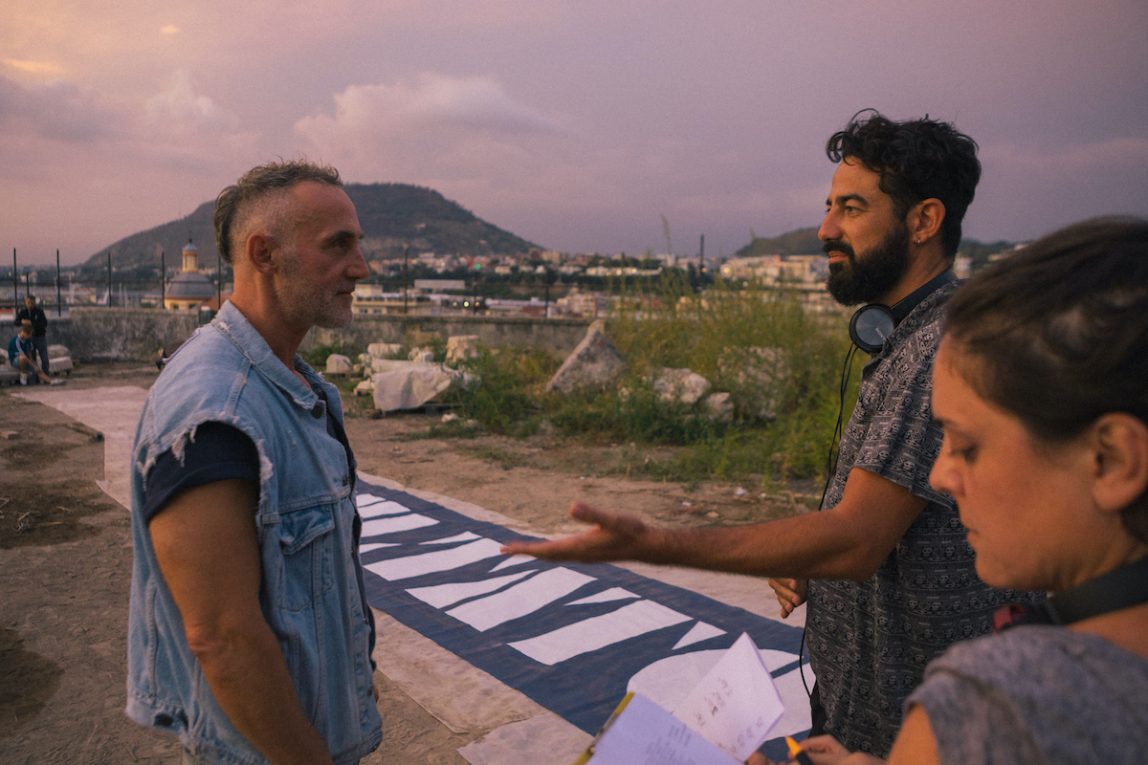 Ultras is a must watch for Italian football fans, and a "should watch" for general fans of the sport. However, there are a load of unfinished storylines that should have been filled in or even just elaborated upon. It would highly benefit from a second part, which can delve into the character that Angelo is becoming. It's easy to make comparisons to Gomorrah's Ciro Di Marzio or Sangue Blu, but his (incomplete) storyline deserves to be respected in itself.
Arena's performance is awesome. In a way he reminded me of Ryan Gosling in A Place Beyond the Pines, in that the character is a motorcycle-riding good soul at their core, but their actions as young men result in their downfall. I look forward to seeing more of him in film, especially now that he is free. I'm glad to read that in real life he's made strides to better himself, and this role should propel him to securing future ones. His acting and movement give him a way of expression without verbalization, and he understands that body language is the key to communication. His portrayal of Sandro was top notch, if short lived.
The Bottom Line: While imperfect, Ultras benefits from strong performances and a realistic portrayal of ultras culture and politics. From the sweeping vistas of the Napoli coastline to the original soundtrack, Lettieri's feature-length directorial debut is a strong one.
Stream Ultras now on Netflix.