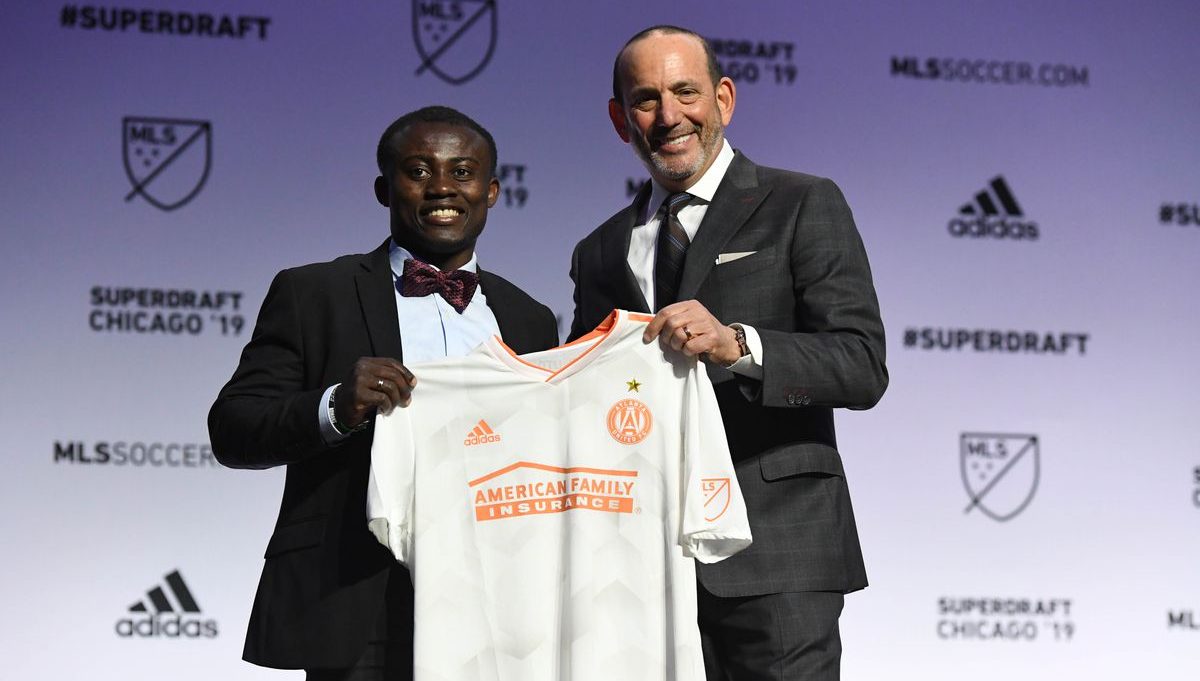 The latest installment of our Checking In series features Atlanta United rookie Anderson Asiedu. Ahead of his club's home opener tomorrow, we caught up with the Ghana-born midfielder, discussing his expectations for his rookie year, how he's fit in with his teammates so far, and his pregame music playlist.
While the offseason storylines surrounding Atlanta United mainly covered whether the squad was fit to repeat as MLS champions following the departure of star midfielder Miguel Almiron, one addition that hasn't received quite as much spotlight could have the club at peak form in 2019.
First-round draft pick Anderson Asiedu's laser-sharp focus and team-first mentality impressed ATL UTD staff during preseason camp, leading them to officially sign him earlier this morning.
After transferring to UCLA from Monmouth University his junior year, Asiedu quickly became a pro prospect, winning All-Pac-12 honors in both of his seasons with the Bruins. He's now looking to take his game to the next level, something Five Stripes supporters should be excited about.
We were able to check in with the Ghanian rookie during his time in preseason camp, discussing what his pro experience has been like so far, what he looks to accomplish in his first MLS season, and which French defensive midfield wizard he models his game after. Below is an excerpt of the conversation. You can view the interview in its entirety on our Instagram TV channel.
Urban Pitch: What has MLS camp been like so far? Have you bonded with any players in particular?
Anderson Asiedu: It's been good. I've had a couple of games with the first team and some challenges for myself. I've just been following what everyone is doing, studying the game, and listening to the coaching staff to try and modify my game in any aspect to help the team win. I'm just going to work hard every day until my time comes, then I'm going to deliver.
When I got here, Miguel (Almiron) was a very good friend of mine. He was very good to me. But still now there are guys on the team who are good. (Florentin) Pogba is a very good friend. We were roommates in LA. He's there for me, talks to me every day, and helps me out.
What are some goals you have set for your rookie season?

Rookie player of the year. I know it's going to be tough, but I think I can do it. I want to be on the field as much as possible and do what I'm best at. I want the team to win. The more the team is winning and doing good, I feel excited. Everybody is helping each other and it's better. Team first, and then yourself. So my first goal is to have the team win as much as possible. And then for my individual goals, I want to be one of the toughest rookies this season.
What teams do you support and who do you model your game after?
I'm a Barça fan, but player-wise it's (N'Golo) Kante. I want to be like Kante. More than anything for the near future, that's the player I want to be like.
Check out the entire interview on our Instagram TV channel, and while you're there, give Anderson Asiedu a follow to keep up with his rookie year journey.