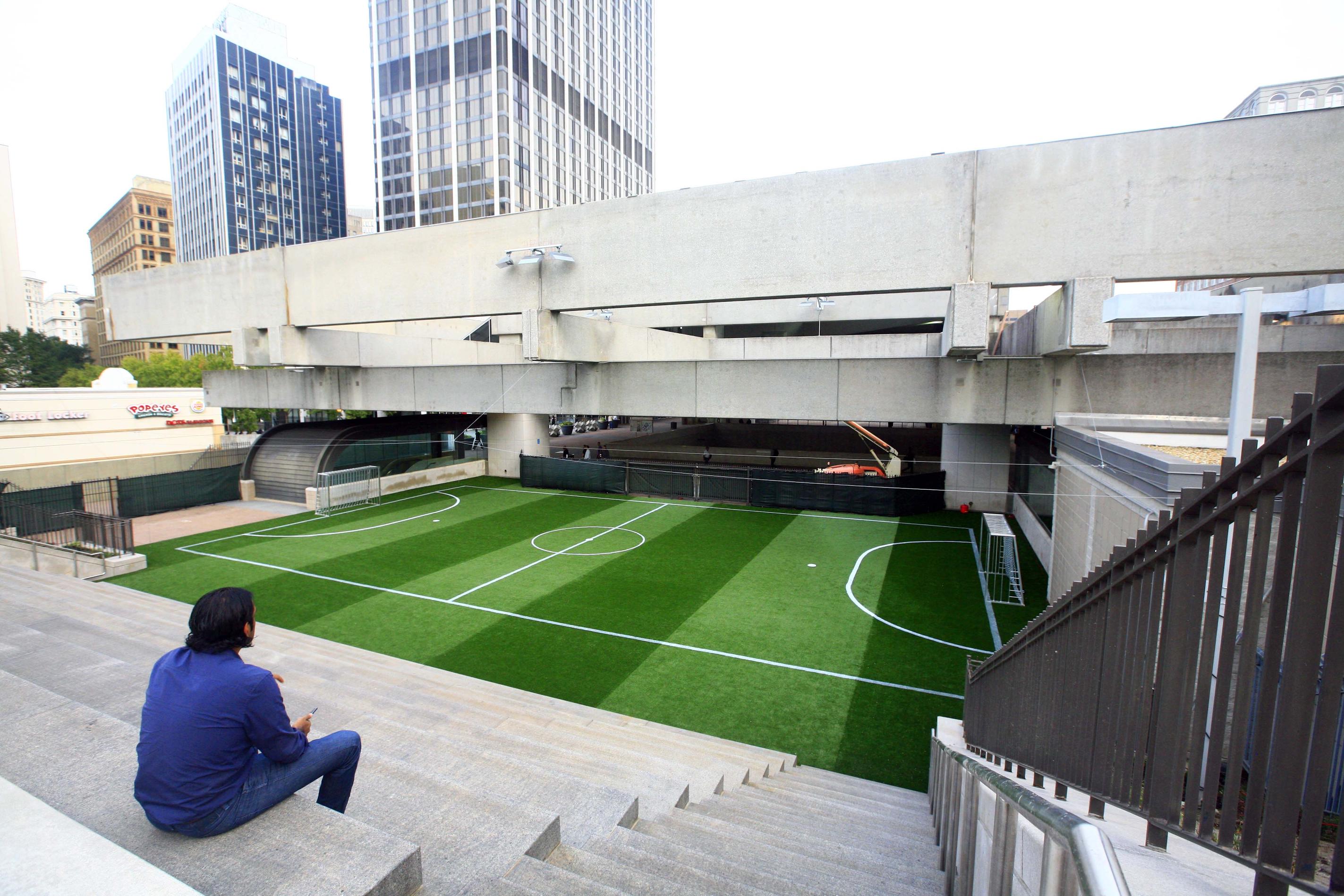 Something revolutionary is happening in Atlanta, GA, and it could easily spread to other big cities. Non-profit organization Soccer in the Streets, in conjunction with Atlanta United and the Metropolitan Atlanta Rapid Transit Authority (MARTA), has repurposed an open space inside the Five Points downtown metro station into a small soccer pitch—the first-ever permanent football field built inside a transport hub.
In stride with the organization's goals to empower underserved youth, build community, and use soccer for social change, the pitch will serve multiple youth outreach programs as well as play host to adult leagues. With one field already open and several more planned in different stations, we caught up with Soccer in the Streets board member Sanjay Patel, the architect behind the visionary project.
Urban Pitch: How did the unveiling of the pitch a few weeks back go?
Sanjay: The unveiling went very well—we had 150 school kids that will benefit from this field and programs over time in attendance. Given our relationship with the Atlanta United FC organization it was fitting they launched their foundation the same day, it was great all round.
How has the community responded to the project? Has there been a lot of interest in the adult league?
The community has been very supportive and there has been resounding positive feedback thus far … The interest has been strong regarding adult leagues, we have set up a site for registration at www.stationsoccer.com—given we only have one field at this location we are limited to number of leagues we can run. The station is in the heart of the downtown corporate district so we plan to run both lunchtime and after work leagues including student leagues for nearby Georgia State University.
At the station I noticed numbers of kids and adults on a nearby soccer field, they were all using the train to come and go …
I understand you came up with the idea to build a pitch inside of a transportation hub. Can you explain your thought process a little bit?
The idea came to me whilst on a trip to the UK where I was visiting family that lives near a train station. At the station I noticed numbers of kids and adults on a nearby soccer field, they were all using the train to come and go … I figured why couldn't we build fields in Atlanta at MARTA stations that have been built on large parking lots that are often unused and build a league around it. At Soccer in the Streets one of the biggest hurdles is transportation, we might be able to alleviate the issue with this type of league and programs—it provides access to soccer to many that usually wouldn't get it. Hopefully it will also integrate communities and allow for more youth to practice regular use of public transportation leading to obesity control over time.
There's so much good that can come from it … Also, if you haven't heard, the traffic in Atlanta has sky rocketed to L.A. levels—our adults can benefit here also!!
So, is it truly the first pitch built in a major transit station?
As far as we can see it's the first and only! We did a global search and there's no such thing as a permanent soccer field inside the perimeter of a mass transit station anywhere … So yeah we believe we are the first.
You're planning on opening 10 other pitches in different stations, when are those scheduled to be completed? And will Atlanta United be helping you pay for those as well?
We are taking one step at a time, it's important we perfect the PILOT but yes the plan is to have a "league of stations"—be good to have it up and running by 2020.
I can't speak for Atlanta United in this matter, I can say they have been very supportive and given the Atlanta soccer community something to be very proud of with their support of grassroots soccer.
I know the registration money for the adult league funds children's programs, but who will pay for the pitch maintenance and upkeep?
Adult league funds will cover maintenance and upkeep also …
Any plans to have an annual tournament?
Soccer in the Streets has some great events and tourneys planned—bring some Cali folks over and we can show you how to play!!
To find out more about Soccer in the Streets, visit. www.soccerstreets.org