A street artist inspired by one of the greatest to ever do it, San Spiga continues to keep Diego Maradona's legacy alive both in Napoli and across the rest of the world.
It's been years since Diego Armando Maradona sported the powder blue and white of SSC Napoli, yet he's still omnipresent throughout the city. Its inhabitants still idolize him in a seemingly eternal fashion, and you'll surely feel it with one walk through its meandering streets — after all is there anything more iconic than a Maradona mural in Napoli? If there was ever a town and person meant to be conjoined at the hip, it's those two.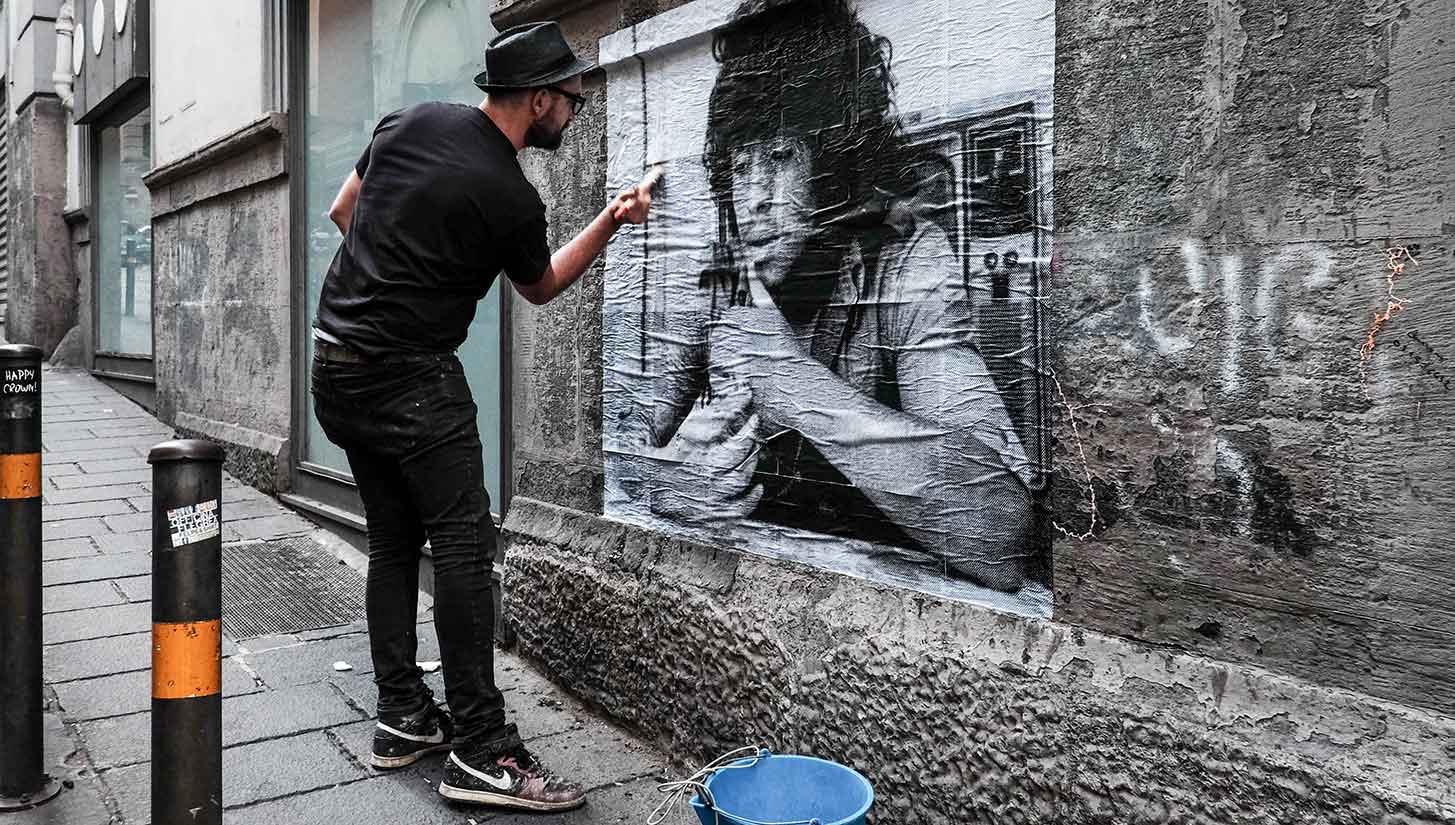 Argentinian artist Santiago Spigariol, aka San Spiga, has further increased Maradona's presence throughout the Campania capital by adding to the vast array of Diego's religious passages on its walls.
"I'm a visual worker," Spiga said. "I create colorful banners and stick them to the streets all around the world."
We caught up with Spiga, who currently teaches in his hometown at Buenos Aires University, to discuss his career, infatuation with El Pibe de Oro, and vast cultural experiences. If Maradona was born to be the king of Napoli, Spiga was to spread the word on walls across the world.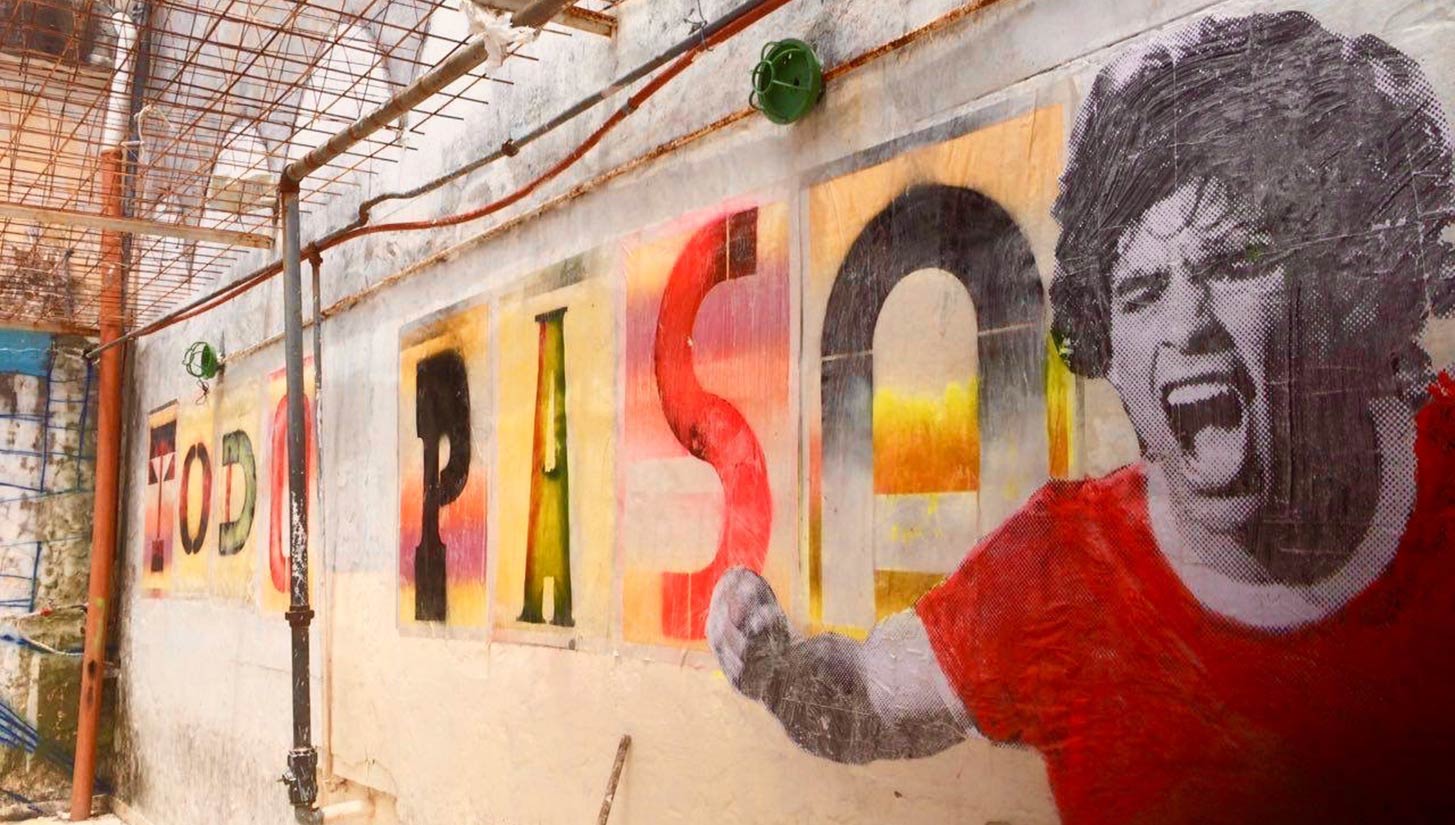 Urban Pitch: Where did your passion for street art originate? 
San Spiga: I've been fascinated with cumbia banners all my life. Cumbia is the music that identifies Latino American people, and guys cover the city with banners that announce shows and events. They do it illegally, at night trying to avoid the police. This is still happening, and it's incredible. That's how it started, just watching people stick those banners as a job.
Why Diego Maradona?
It came from when I was 5 years old. The first memories were with family, delighted when Argentina won the 1986 World Cup. All of us are artists when we're kids, so I drew those moments and Maradona was part of them. I believe in being loyal to those passions you have in your childhood. However, I also chose him because of his revolutionary identity. He made it the revolution.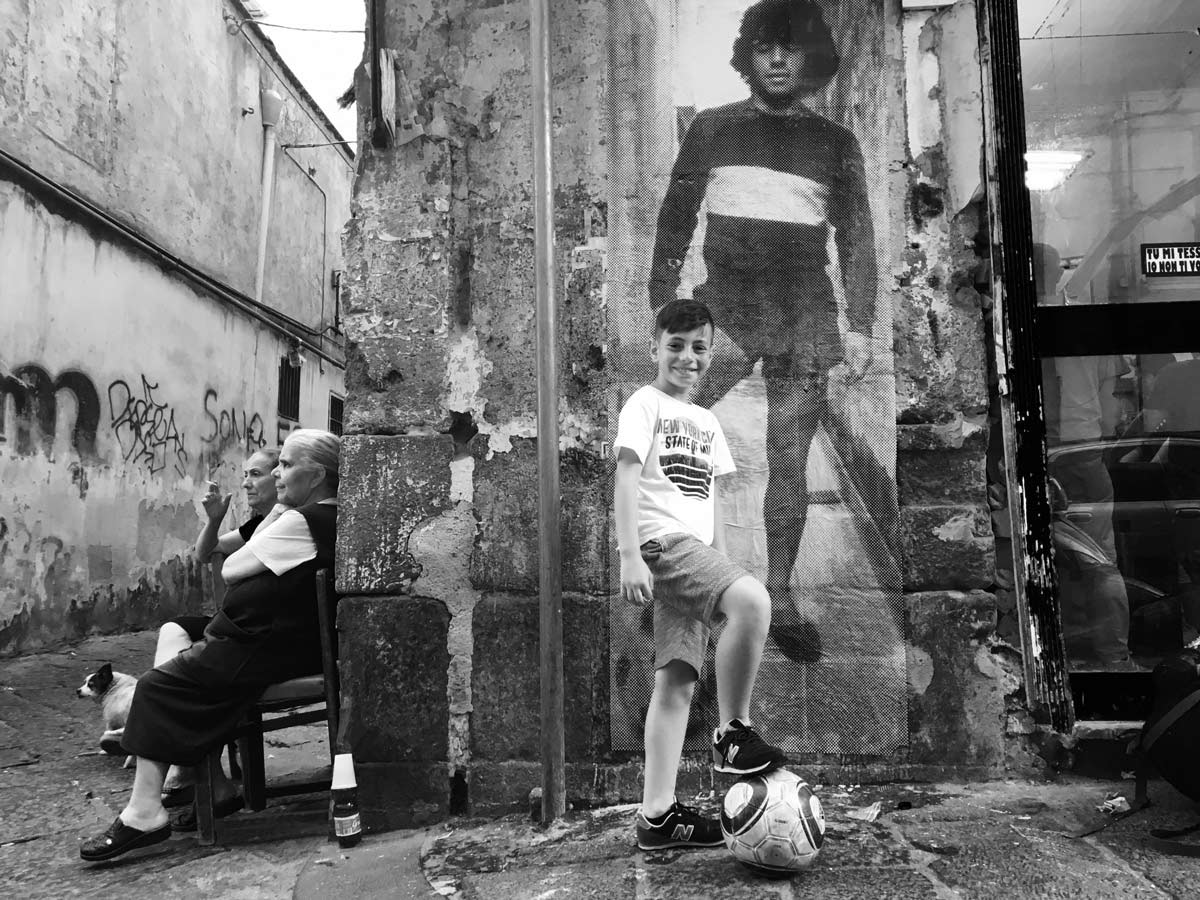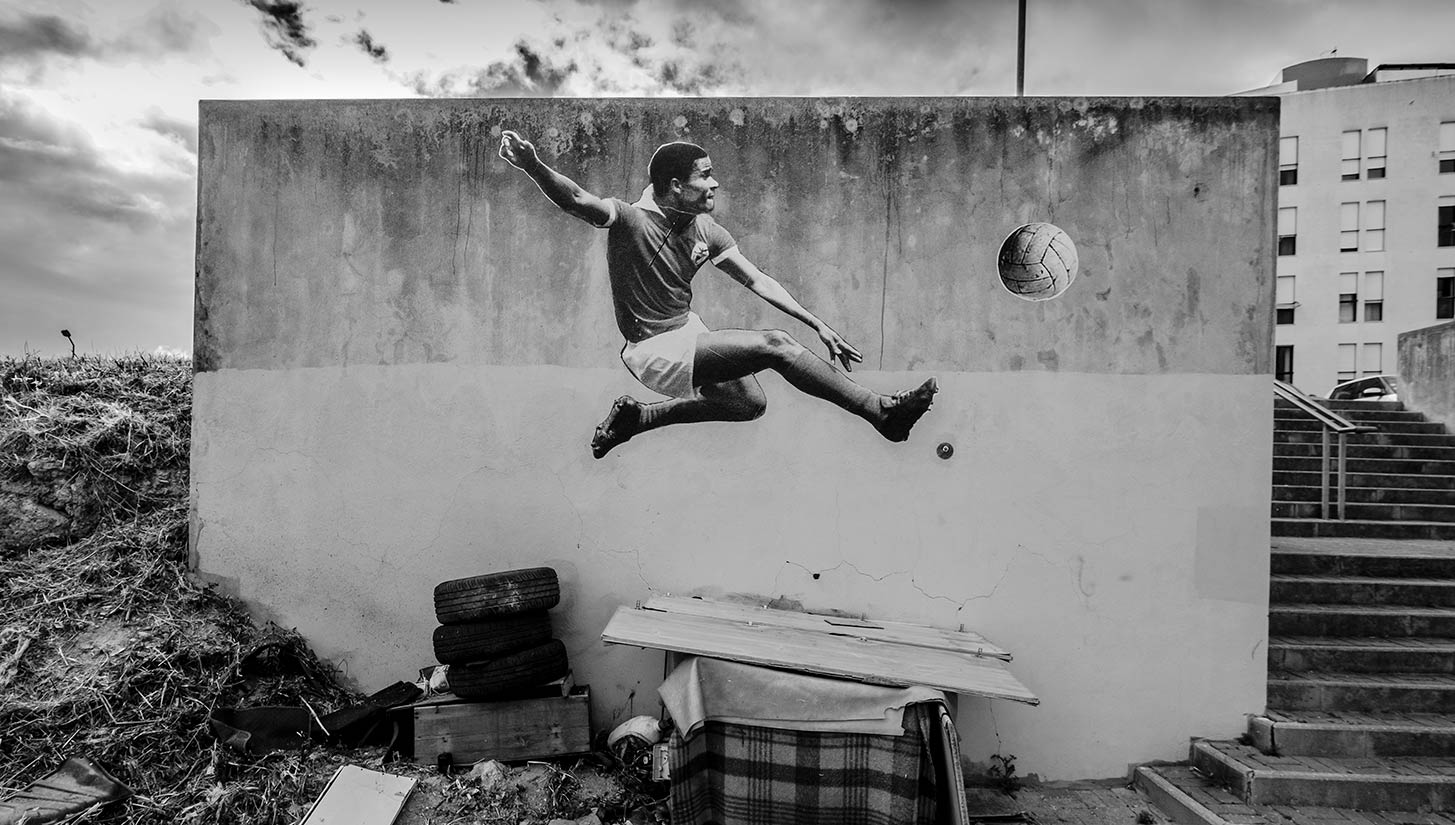 So, do you consider your work as subversive? 
Not my work. I've taught at Buenos Aires University for more than 20 years, and you can see the revolution in the classrooms. The altruism of those people teaching without getting paid. It's vocational, enhancing the sense of belonging.
You've done some Maradona murals in Napoli, a city with a connection to him unlike any other. What was that like? 
The first time I went to Napoli, it was the 30-year anniversary of the famous "Hand of God," and I've never traveled to Europe in my entire life. I saved money over the years because I wanted to be in Napoli on the anniversary. I didn't know anything about the city, and I didn't know anyone. There was one certain thing that was on my mind — a mural of Diego that was restored by a local artist.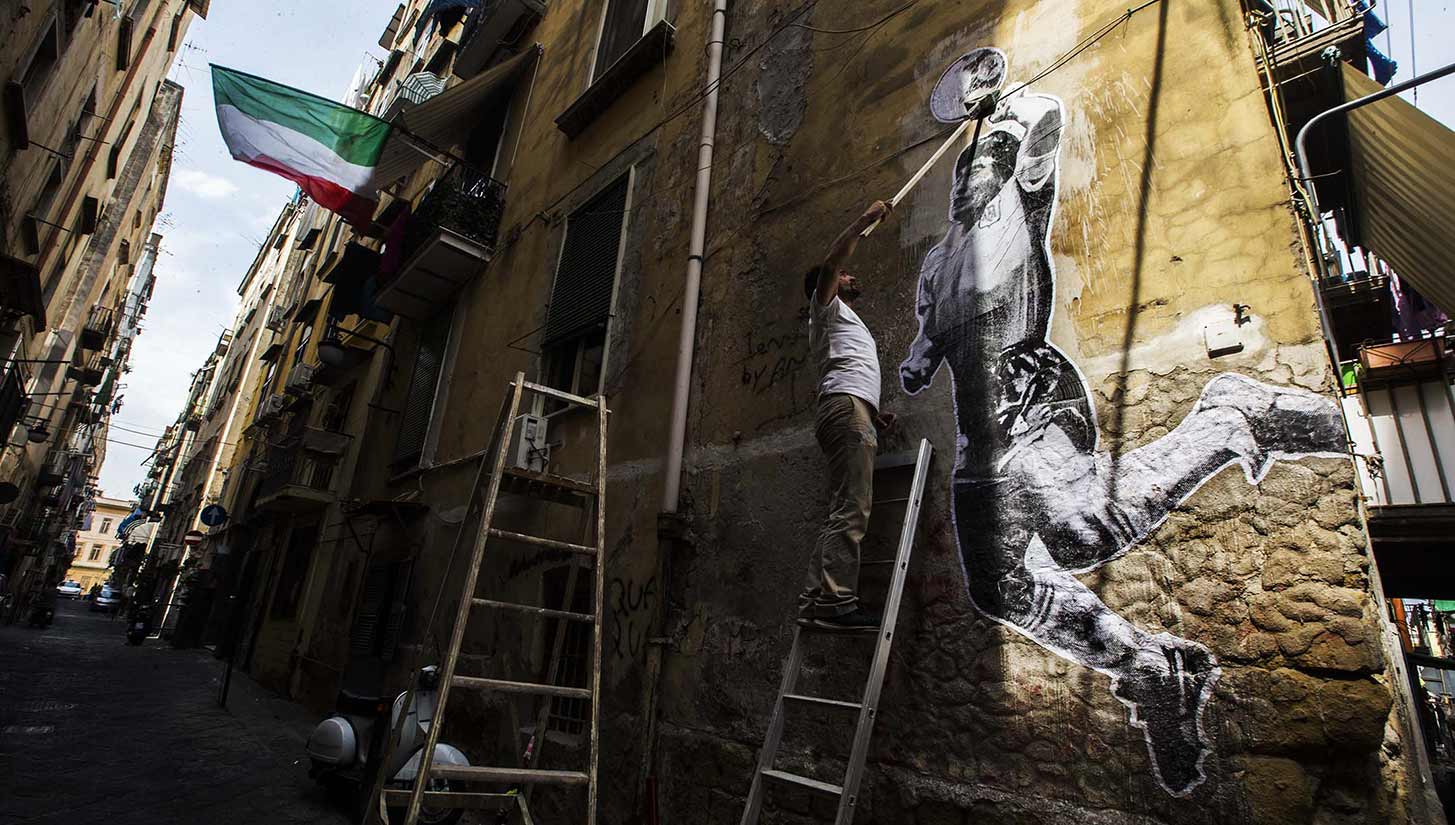 Something crazy happened when I got to the city centre. The first person I asked to find the wall was the artist who made it. I showed him a photo of the mural I had intended to do of Diego, and he instantly understood me. He called the media, and the day after I was on the news. The neighbors began cheering me and giving all their love for it. I felt like I was a part of the community.
The technique of the mural is so essential. It's just a big image of Maradona printed in different parts of A3 sheets and stuck with paste. It has the essence of a rudimentary process, so urban, cheap, and popular. I will remember those days in Napoli enjoying what I was doing. Every moment I felt like I was part of something. Now that I can say is revolutionary.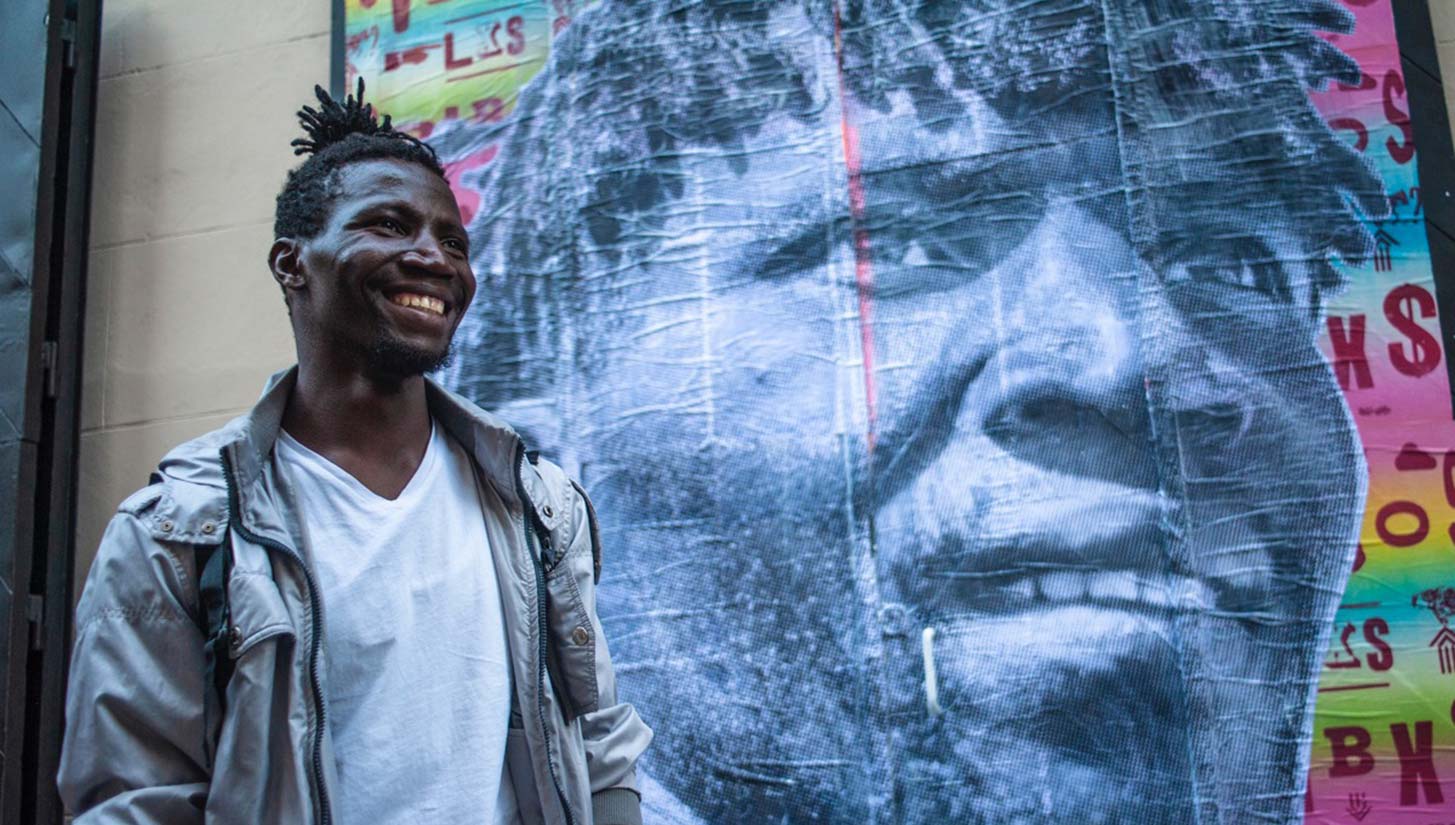 In addition to famous athletes, you've done work with quotidian people as well. How do you choose who your subjects are?
I create a lot of material from my people — friends or acquaintances. I call it 'pop art' because of its popular essence, which is taking photos of people from my barrio and printing them in a large format to portray. I work on the feelings that art can exalt. Once I took a photo of a boy, and I displayed it on his grandma's kiosk. She was totally speechless and she couldn't believe it. I love that instant connection of people with loved ones.
What are some of your favorite cities to work in?
I have been fortunate to perform in Berlin, Barcelona, and London, for instance. But nothing can be compared to Napoli if we talk about that particular meaning, the synergies created during the process, and that humble tribute with the people of Diego. I consider that I was at the right place at the right time. Of course, there are more elaborate and fascinating murals of Maradona than mine, but perhaps none have that community sense.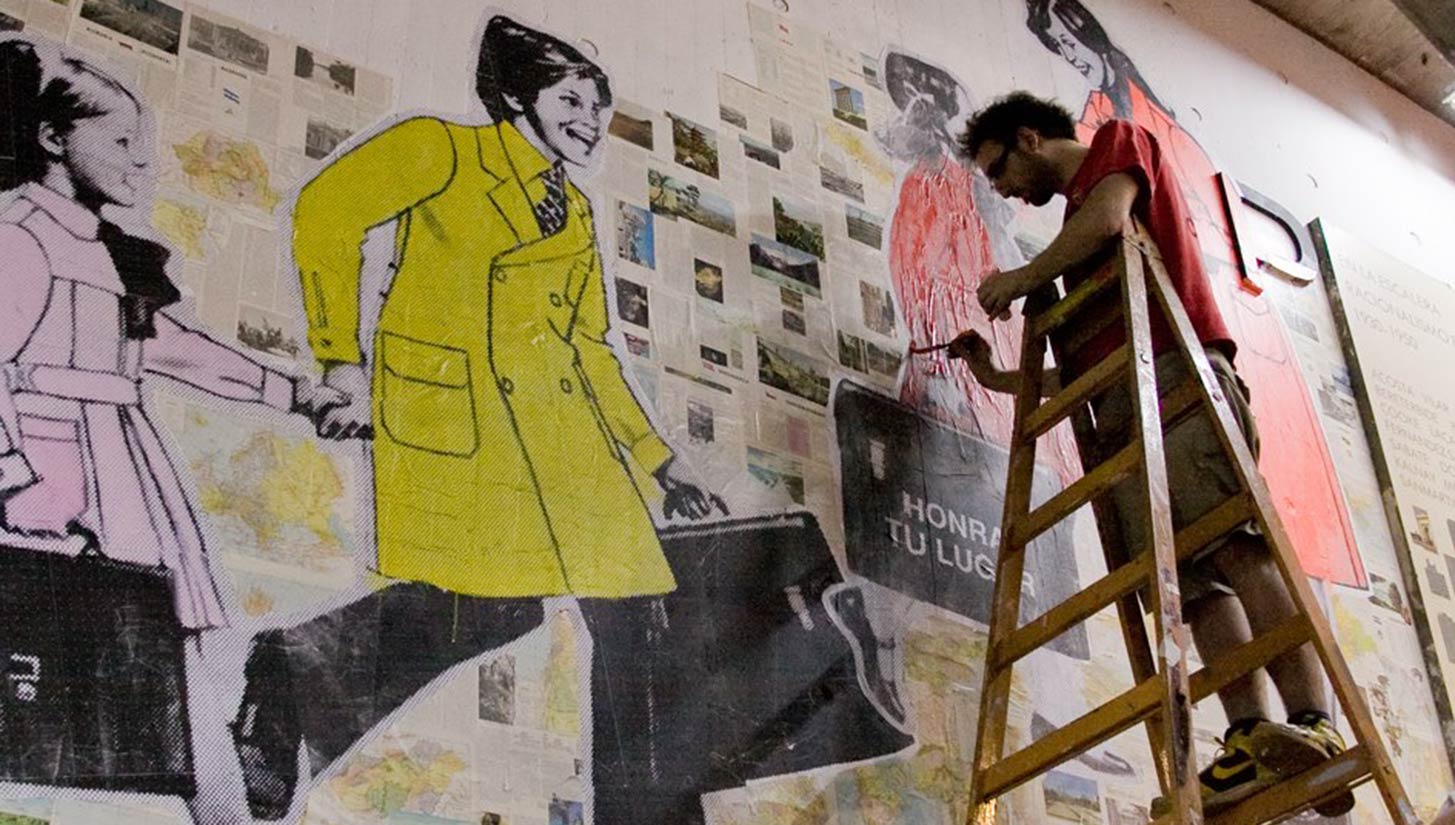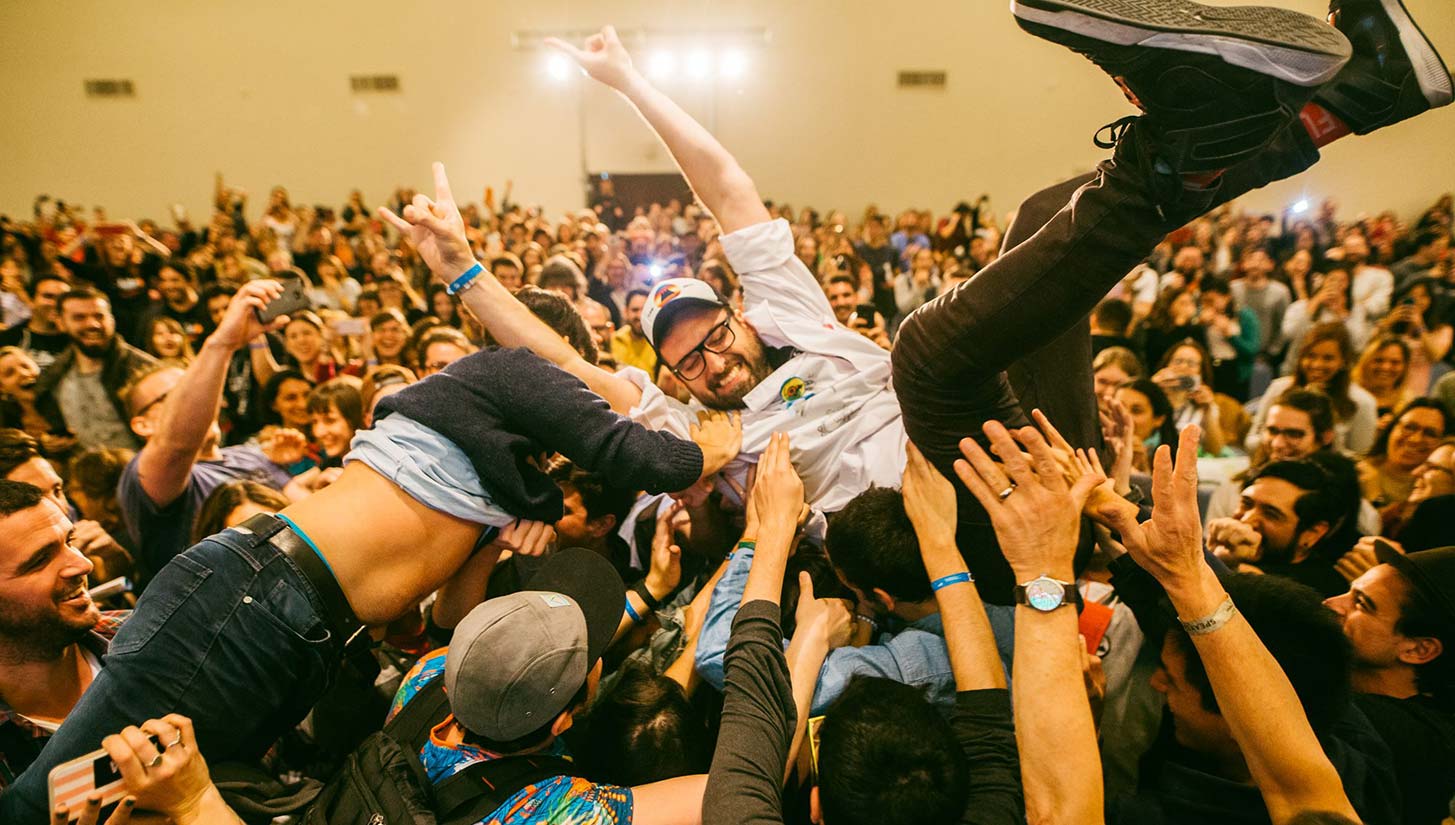 Anything you'd like to tackle in the future?
I would love to visit New York City, of course. Additionally, I would choose to do a mural at the Estadio Azteca — where Maradona became immortal.
Can you name any future clients you're working with? Don't be shy…
Well, I think the happiest moment of my career was when Diego named my work on TV. He was thankful for the murals publicly as part of the World Cup tribute. His daughters follow me on social, and they drop me messages when I post something about their dad, showing their support of my work appealing to the emotions rather than the glory.
On the other hand, I am getting involved with Mothers of Plaza de Mayo, a unique movement in the world. I have created some pieces for them, taking part in the commemorative 40th anniversary event. I don't consider clients my customers because I don't get paid for this. I am so proud of it. It is a community and social work, the biggest in Argentina. In my opinion, 'the mothers' are just one step higher than Diego. Or maybe more than this, many more.
Follow San Spiga on Instagram and Twitter to stay up to date with his latest work.