Despite Liverpool's quadruple hopes ending last weekend, they continue to be a paragon of football success — while also receiving more universal love amongst neutral fans compared to their big six peers. 
Manchester City cemented their Premier League supremacy last Sunday, but their quest for love and legitimacy goes on. The vastness of resources at Pep Guardiola's disposal traps him in a unique predicament — winning the league is considered par for course, and losing it sees him dubbed a bald fraud.
Getting rid of the asterisk attached to all that Man City have achieved in the past few years has proven to be a Herculean task for Guardiola. From lavishing his players with superlatives, to positioning the club as disruptors to the traditional footballing hierarchy, to creating an "us vs. them" mentality by turning hostile with the media, he has attempted numerous ploys to change the narrative around the club.
Pep Guardiola: "Everyone in this country supports Liverpool, the media and everyone… Our destiny is in our hands, this is important." [via @beINSPORTS_EN]

— City Xtra (@City_Xtra) May 8, 2022
The intensity of his messaging was taken up by a notch in the aftermath of their exit to Real Madrid in the Champions League semifinal. The inflection point came in his press conference after their win over Newcastle United in early May when he hit out at Liverpool's title-winning record in the Premier League, and claimed that everyone in the country supported the Reds.
While it was an astonishing outburst, Guardiola's bitterness is valid. The media coverage of the title race in the past few weeks has been dominated by quadruple talk. City's push for a fourth title in five years was a secondary plot line. The same held true outside the press box too — barring the blue halves of Manchester and Merseyside, the majority of the country seemed to be siding with Liverpool.
While City have admirers, Liverpool evoke something more ardent in the neutral. And contrary to what Pep believes, it is not all down to the Reds' rich history.
Today, football is on a collision course with unhinged hedonism. Sportswashing, nation-states, consortiums, and super leagues have all seeped their way into the game's vocabulary. A base understanding of financial practices and global politics has become a prerequisite to cover it.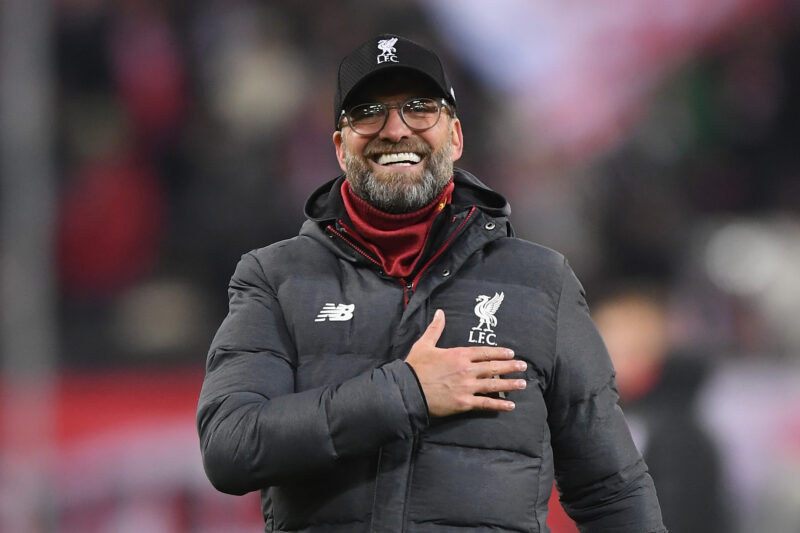 This landscape inadvertently lends a near-nobility to Liverpool's success. Passion, unity, character, and graft — throwaway tropes that are but fodder for Twitter trolls in today's game — have been the pillars around which they've built their triumphs. Jürgen Klopp and his tribe have injected some much needed soul in a game that has rapidly veered off course. And yet, the irony is that Liverpool defines what a modern football club should be.
For all the emotionality harnessed within the team, the manner in which Liverpool is run is scientifically scrupulous. From transfer targets, to tactics, to training regimes, data is at the front and center of everything the club does. It is a fact that's best illustrated by their work with the German neuroscience company Neuro11.
The Reds have been working with Neuro11 for a couple of years with the aim of gaining a mental edge on their opponents. Neuro11's neuroscientists attached electrodes to players' heads during training sessions and collected data of their brain states. The aim is to help players enter a mental state optimal for high performance and help them create models to combat fatigue and pressure. Klopp has alluded to Neuro11's role in Liverpool's steeliness in penalty shootouts in their two cup final wins this year. Mentality monsters are not born; they are molded.
"You could see the high quality of Liverpool in what they created in that camp," said Neuro11 co-founder Dr. Niklas Hausler in an article on The Athletic.  Every single thing was mapped out — processes and thoughts behind everything. That's what we love coming from a science point of view."
Their approach to financials is just as forensic. Liverpool have not hesitated from playing the transfer market roulette, but it is done on their own terms. It's a squad greater than the sum of its parts because each of these parts is identified and picked on the back of extensive scouting. While the club has been well supported by owners FSG, it is a tightly-run ship. Since Klopp took over in 2017, Liverpool's net spend has been £115.74 million. To put that into perspective, that figure is the lowest amongst the Premier League's top six. Similarly, their wage bill of £314 million this year ranks fourth in the top six. It's a sustainable model that has produced sustained success.
When Guardiola said everyone supports Liverpool, he was only half-right. It's not the team the neutrals were backing, it's the system. Liverpool's success does not evoke jealousy amongst opposing fans as much as it did longing. It is not about what they have achieved as much as it is how they have achieved it. Making your stadium a fortress, building a connection with the fans, championing homegrown players and transfer market shrewdity — the ingenuity lies in how intuitive it is. Klopp did not just make the Kop dream, he showed the rest of the league that there is another way to win.
There is a scene from Jerry Maguire that helps illustrate what this looked like. It comes in the aftermath of one of the biggest moments in NFL player Rod Tidwell's (played by Cuba Gooding Jr.) athletic career. Stepping out of the locker room, he finds himself besieged by the media for the first time in his career. Amidst this chaos, he spots his agent Jerry Maguire (played by Tom Cruise), walks over and pulls him into a passionate embrace as a way of saying thanks for always standing by him. The two sway with emotion in what is an oddly touching scene. One of Tidwell's teammates, who is looking on at this overt display of brotherhood, turns to his agent and says, "Why don't we have this type of relationship?" The agent glances over at Cruise and Gooding Jr., ventures to hug his client before being quickly brushed off.
Get my point?
Liverpool's progression has been iterative and its appeal lies in the fact that they built it in public. The rungs they climbed as they scaled new heights of success were for everyone to see. Klopp made fans trust the process. Think back to the arm-linked celebration in front of the Kop after securing a last-minute equalizer against lowly West Brom in 2015.
While the celebration was widely lampooned, Klopp saw it as a step in rebuilding the fortress. Four years later, they did the same gesture in front of the Kop. Only this time, it was after knocking out Barcelona to reach the Champions League final. While today they boast a backline of astonishing depth, the days of the center back pairing of Lovren and Klavan were not too long ago.
And therein lies another crucial aspect to the Liverpool love-in — it's a great story. Almost each player in the squad has been on a journey. Think back to the times when Jordan Henderson was the media's favorite whipping boy, James Milner was viewed as washed up, Mohamed Salah was dubbed a Chelsea reject, and Andy Robertson's signing from Hull was emblematic of the club's lowly ambitions. Think about Divock Origi and the role he has played in it all.
Liverpool's attempt at the quadruple only furthered the fascination. Irrespective of whatever else was happening in the league, there was always one eye on Liverpool in the last month of the season to see how they had fared. It was tough not to be enamored by the relentlessness of their pursuit. Ultimately, they came within six minutes of keeping that dream alive. But, heartbreak and the frequency of its appearance in Liverpool's story has had a role to play too. It is a story that has taken on many forms in the last few years but it has never been a fairytale. The beauty lies in how real it has been.
In his seminal book Sapiens, Yuval Noah Harari detailed the crucial role fiction has played in the survival of the human species. He spoke of how the ability to create myths and stories helped in the collective cooperation of humans in large numbers. In an article he wrote for the Guardian soon after the Russian invasion of Ukraine, he once again alluded to the power of stories. Take a look at an excerpt from the article:
"Nations are ultimately built on stories. Each passing day adds more stories that Ukrainians will tell not only in the dark days ahead, but in the decades and generations to come. The president who refused to flee the capital, telling the U.S. that he needs ammunition, not a ride; the soldiers from Snake Island who told a Russian warship to 'go fuck yourself'; the civilians who tried to stop Russian tanks by sitting in their path. This is the stuff nations are built from. In the long run, these stories count for more than tanks."
For all the trophies that Man City rack up, the power of the Liverpool story will ultimately be why this era of the Premier League will be remembered for them.