Danny Gildea has created a movement with his unique GPS Soccer Assassins training videos, garnering nearly 500,000 followers on his Instagram page. We had a chance to get to know the personal side of the English-born technical soccer specialist, discussing everything from his childhood in a football-crazed family to the many stops on his journey to success.  
Thanks to an incredible work ethic and acute eye for detail, Danny Gildea has created quite the buzz around his challenging and unique GPS Soccer Assassins training program and social media channel. While he has amassed a large following through his creative content, and is instantly recognizable through his trademark snapback hat, Gildea's personal side — including what has made him so successful — remains quite the mystery.
From his early days in England to his short stint in Dubai, we got to speak exclusively with Gildea in a personal yet casual tell-all discussion.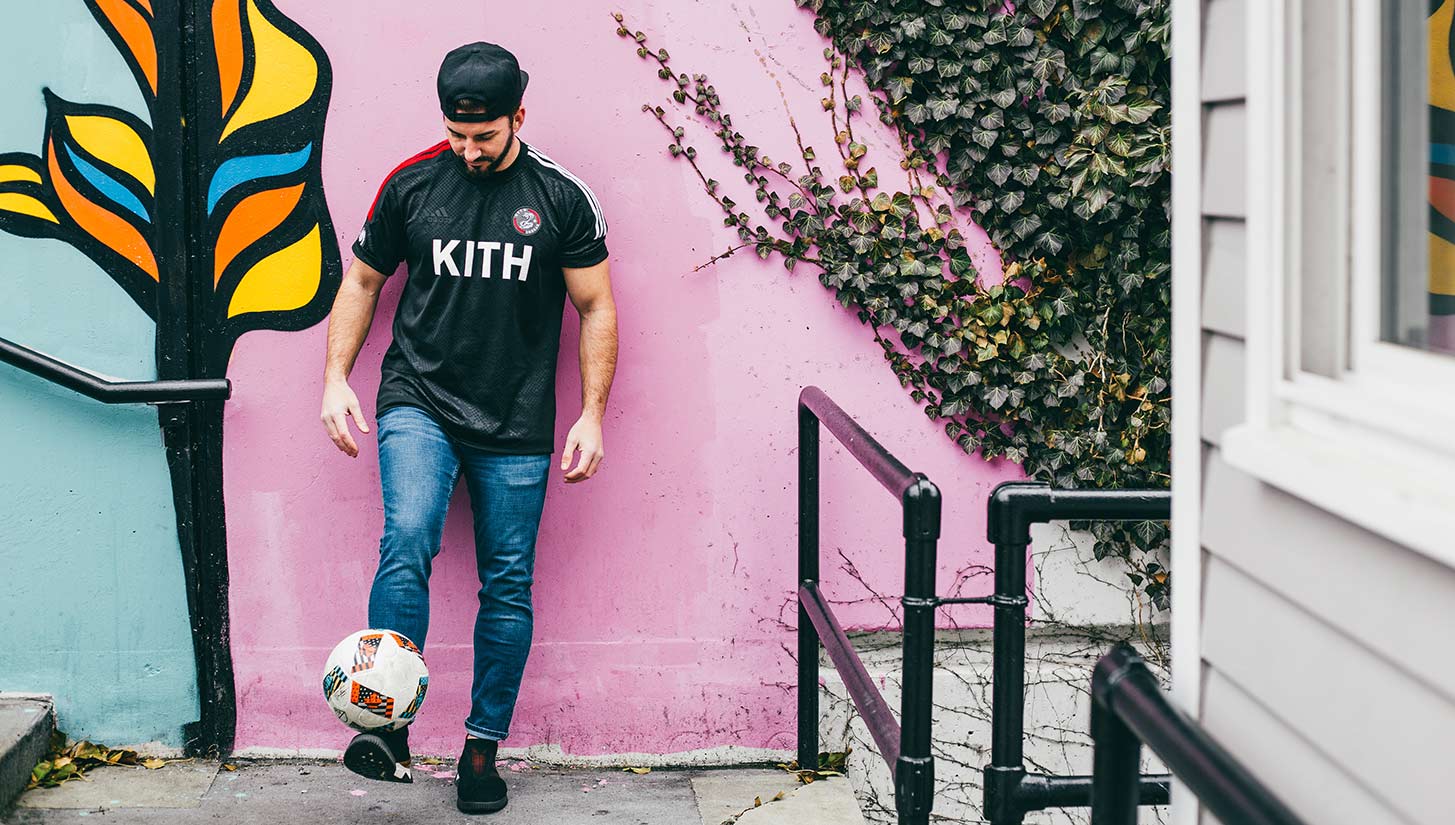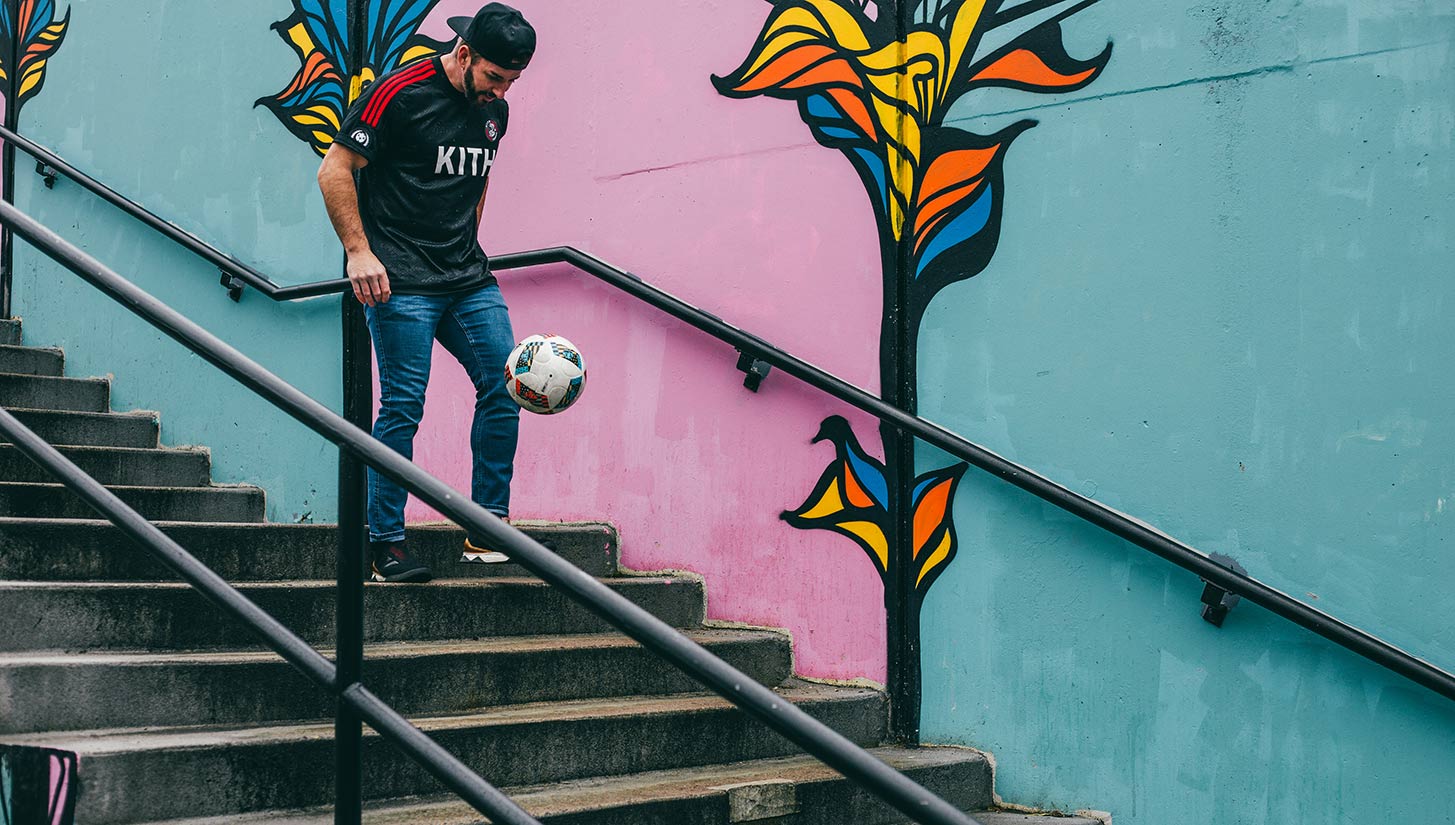 Urban Pitch: To start things off, what is your soccer background? You're obviously a baller, but what is your official background?
Danny Gildea: So I come from a soccer family. I've got four brothers, all of them played as well, three of them professionally. We grew up in the academy system, and I was in the Leeds United academy until I was 16 years old. I then went to our hometown team, Scarborough. At the time they were playing in the old Division 3, which is now League 2. I did my apprenticeship there, so they were paying me, which back then for a school boy player was like £50 per week.
I don't want to make any excuses, but my style of play didn't really fit that level, which was more long ball oriented. I was much more technical, and that lower-league football style didn't fit me. I was getting paid, but I was losing enjoyment for the game a little bit.
The experience was great, and I wouldn't give it back for anything, but I just don't think my style was suited at the time. I liked watching the Brazilian guys play, the guys that had flair and fluidity. I felt like it was a bit squashed all the way through my playing days. I think that molded my coaching style. I want all of my players to be creative. I love that street style, I love players trying new things in a game.
So you said you had four brothers? Where did you stack up among them age-wise? Do you have any sisters?

Yeah, four brothers, I have one younger and the rest are older. It was just us five boys, so my mom always gets attached to any girls that we bring home (Laughs). 
Out of the five brothers, how does the hierarchy align? Were you the most successful in terms of taking his skills to the next level?
Well currently, yeah, but back when we were playing, my brother Alex was very highly regarded. There used to be this school in England called Lilleshall, where players would go and live for two years between the age of 14 and 16. Players like Michael Owen, and loads of Premier League superstars went to this school.
Let's talk about you now. After you were done playing, what happened next? Did you leave England?
At the time of my first apprenticeship, which is between the ages of 16-19, I completed my first two FA coaching badges. That just kind of got me interested in coaching. My youth coach at the time said that coaching was something he could see me doing, and that I had a knack for it. I was about 18 at the time, and he said that if I went to somewhere like the U.S., I could coach at a high level, and that stuck with me. As much as I loved playing and still do, I just felt like coaching was something that I was good at. I took on leadership roles as a player, and the transition felt quite easy to me.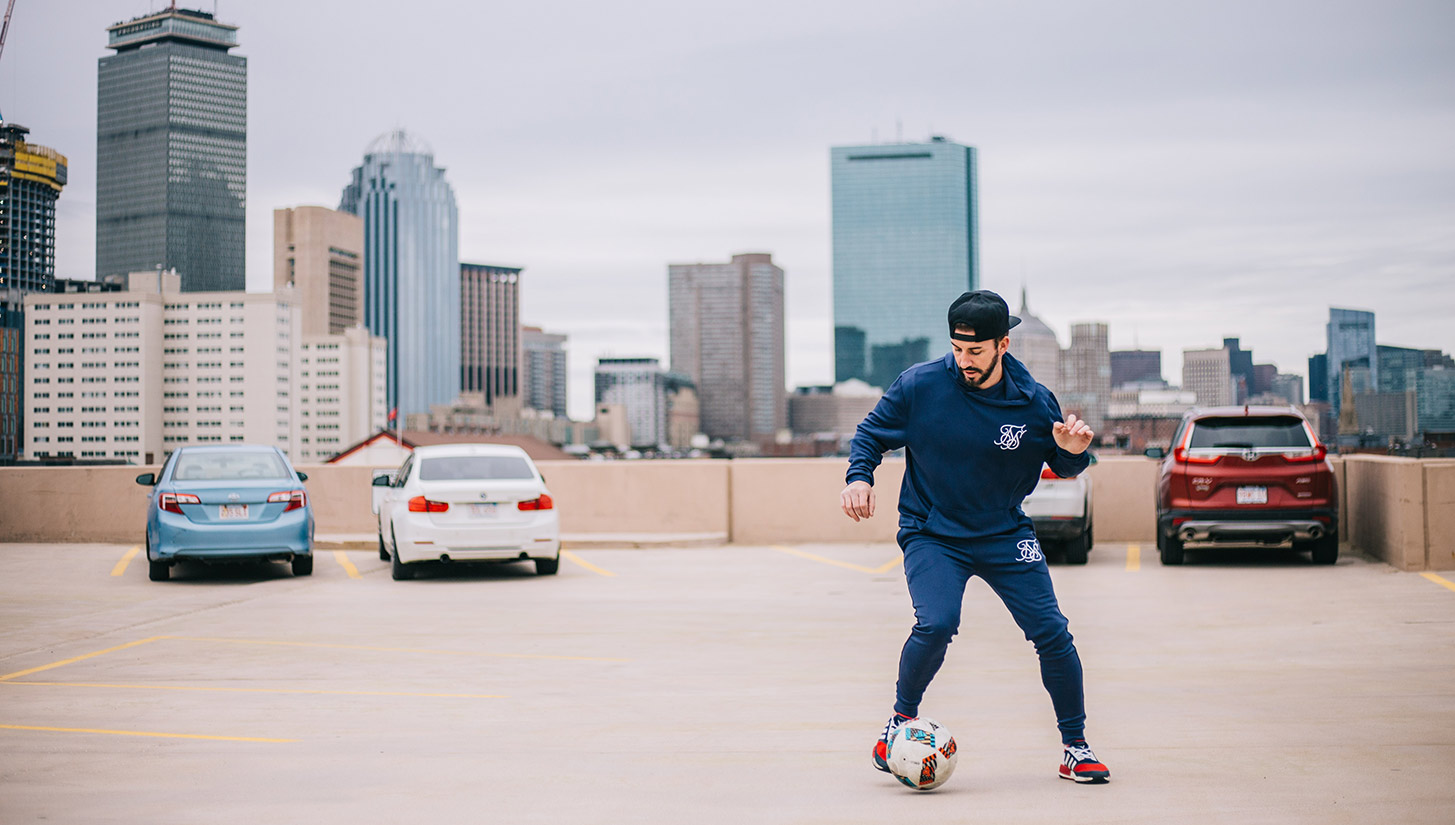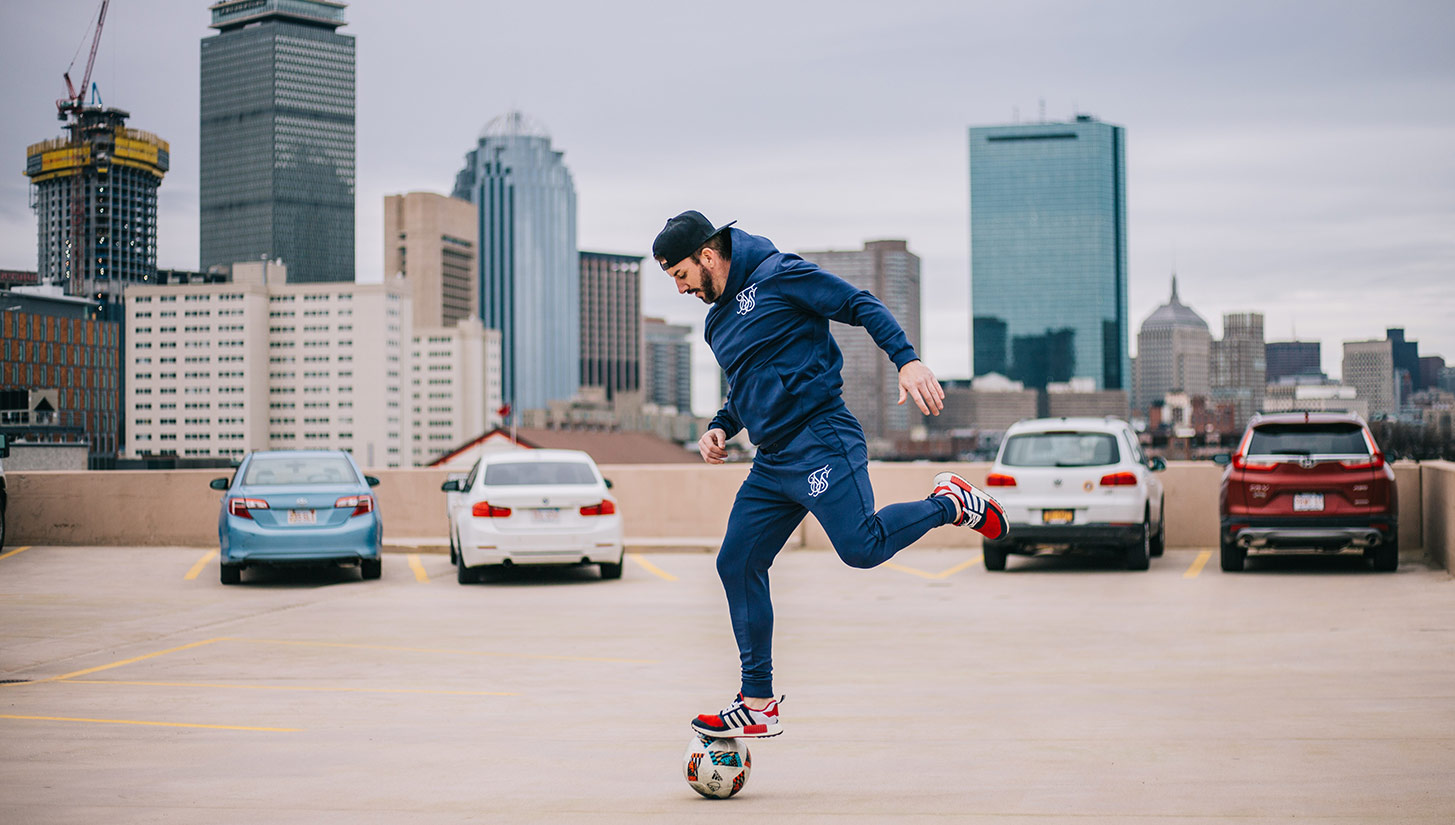 How did you get the coaching job in the U.S.? Did you get hooked up with an academy or something?

No, it was an agency back in England. There are a lot of teams that use these agencies to employ English coaches. It's a group called Challenger Sports British Soccer, and they're in every state. They run fun camps a lot of the time, and it wasn't exactly what I wanted to get into. I wanted to get into coaching club, high school, or college teams. I didn't necessarily know the system properly when I first came in. It was more of a vacation, and coaching was the side gig.
So what happened after that summer, did you go back to England?
Yeah, and I missed being in the U.S. I was obviously enjoying my time here, but there so many things that I enjoyed over there, like chatting with girls without the accent. (Laughs)
Yeah, you guys are like Superman when he leaves his planet when you come over here — you guys just swoop up all the girls with that accent like James Bond!
I mean it helps, right? But yeah I came back the year after, and we went to Chicago. I came out the following year with two of my brothers just for a summer gig, and we enjoyed it again. We were set to travel afterwords with a few friends from England, but we ran out of money. We had planned for five or six weeks of travel, and we wouldn't be able to without any money.
Challenger Sports told me about positions that they had with some club teams for some extra money. You'd stay an extra two to three months and coach the season, then you'd head back to England. I wanted something close to Chicago because I loved the area so much, but the only two-person opening they had for me and my older brother was in Madison, Wisconsin. I'd never heard of it, but we did a little research and saw that it was a college town, and as a young, single guy, I thought it'd be ideal. When we got there, I genuinely fell in love with what I was doing. Everyone was so welcoming. It was that Midwest mentality. They made us feel so relaxed and at home.
Once I went back to England again, I realized I wanted to go back full-time. I spent six years in Madison, the last three of them at the Youth Development Soccer Club there. I felt like we built something big from something very small. We had like 280 kids in the program when I arrived, and when I left we had almost 1,300.
And you're in Boston now? How did you go from six years in Madison to where you're at now? 
Because of my work visas, I had to go back to the UK every nine or 10 months. I loved my job and I wanted to live in Madison, but I didn't want to have to keep going back and forth on temporary visas, so I made the decision to leave. I planned on going to go to a different country, one where I could get a permanent coaching job. When I came back to England, I decided to buy a ticket to Dubai, even though I didn't have any real connections there. I knew there was money out there, and I talked to some people upon arriving and got a few job offers at soccer academies.
How was Dubai? What were some of the biggest challenges you faced?
Dubai was amazing when I first got there, but living in an Arabic country, it's a bit different. Even basic things like conversation were challenging. When I was trying to get an apartment, most of the people I was talking to only spoke Arabic, and it was frustrating. It would have been hard enough finding a place to live and get comfortable with in a new country, and then when you're dealing with people who speak a different language it becomes even harder. I had to decide either to stay and continue to get paid good money, or say, "I'm not happy and go back to the U.S. and try and make it happen." And that's what I did.
How long were you in Dubai before you came back to the U.S.?
It wasn't that long, maybe like six weeks.
Thats it?! So now you're back in the U.S. at this point? What happened next?
I had an interview with Global Premier Soccer in the U.S. before I went to Dubai. I went to the interview because I heard that they had access to different kinds of visas. They offered me a position in Georgia to run the program there, and I told them I'd go if they could give me access to those long-term visas. They weren't able to give those out to people who they didn't know yet, and while they liked what I did in the past, they couldn't offer me that. So I went to Dubai. But while I was still in Dubai, I contacted the recruiter for GPS and asked if they had any other positions, and he told me that there was a spot in Boston and I took it. This was around 2015.
How did it go from coaching at GPS through somewhat random circumstances to building it up to what it is today? How'd that happen?
It was definitely random. GPS is a huge organization, and they have clubs in 14 different states and in Canada. It was definitely different. I was used to doing my own thing, from picking coaches to writing the curriculum. The people who were doing that did it in the office from 9 a.m. to 3 p.m. and then went out to coach in the evenings. I didn't want to do that. I didn't come out here to work in an office. So I wanted to start my own side project that I had come up with, the Soccer Assassins concept.
I saw groups like Beast Mode Soccer and Superior Striker, and saw how many followers they had, and thought I could do that. I love what Allan Russell (Superior Striker) does but I felt like I could do that and make people interested in it. So I started to do that on the side while coaching 3-4 teams, and filmed the videos during the day instead of going into the office.
How does a guy from England call it Soccer Assassins instead of Football Assassins?
I guess it was just the fact that I was in the U.S. for so long. My initial thought was to target the U.S. market, but now it's gone global. But I wanted to market my individual coaching ability in the U.S. so I could sell some sessions.
We've been following you for a while, and when we first met at that Adidas commercial shoot last year you had a decent following, around 30,000, but now it's nearing 500,000. So when you first approached the GPS team about handling their social media, what was the strategy there? Did you want to handle their social media or do your own thing?
Initially I wanted to do theirs, but then I thought that doing my own would be better. I wanted to generate exposure of what I felt I could bring to the table. Initially it was about getting people's attention. I guess people at first looked at it and said that I was trying to do what the F2 were doing, but that was never my intention.
I wanted my own lane. I wanted to be able to do that stuff, but at the same point rival Beast Mode Soccer, the No. 1 technical soccer trainer, and Allan Russell, who I have a lot of respect for. It was a lot of work for me. I had to make sure I was getting the right content while filming. I put a lot of time into it and had a very strong vision behind it. I really firmly believed it was going to grow into something fairly big. When people talked to me, they knew that I was serious. This wasn't going to be just 10,000 followers.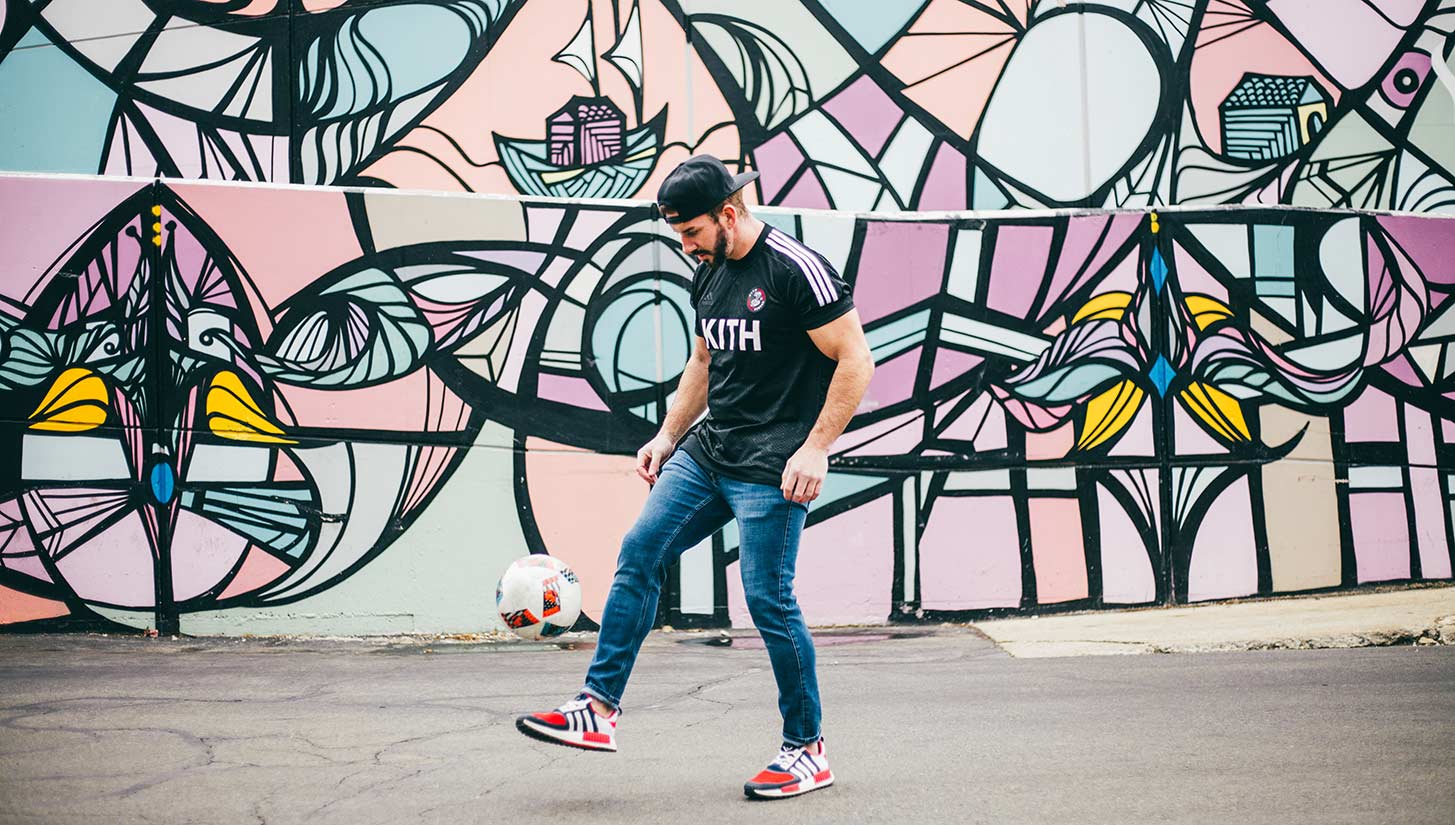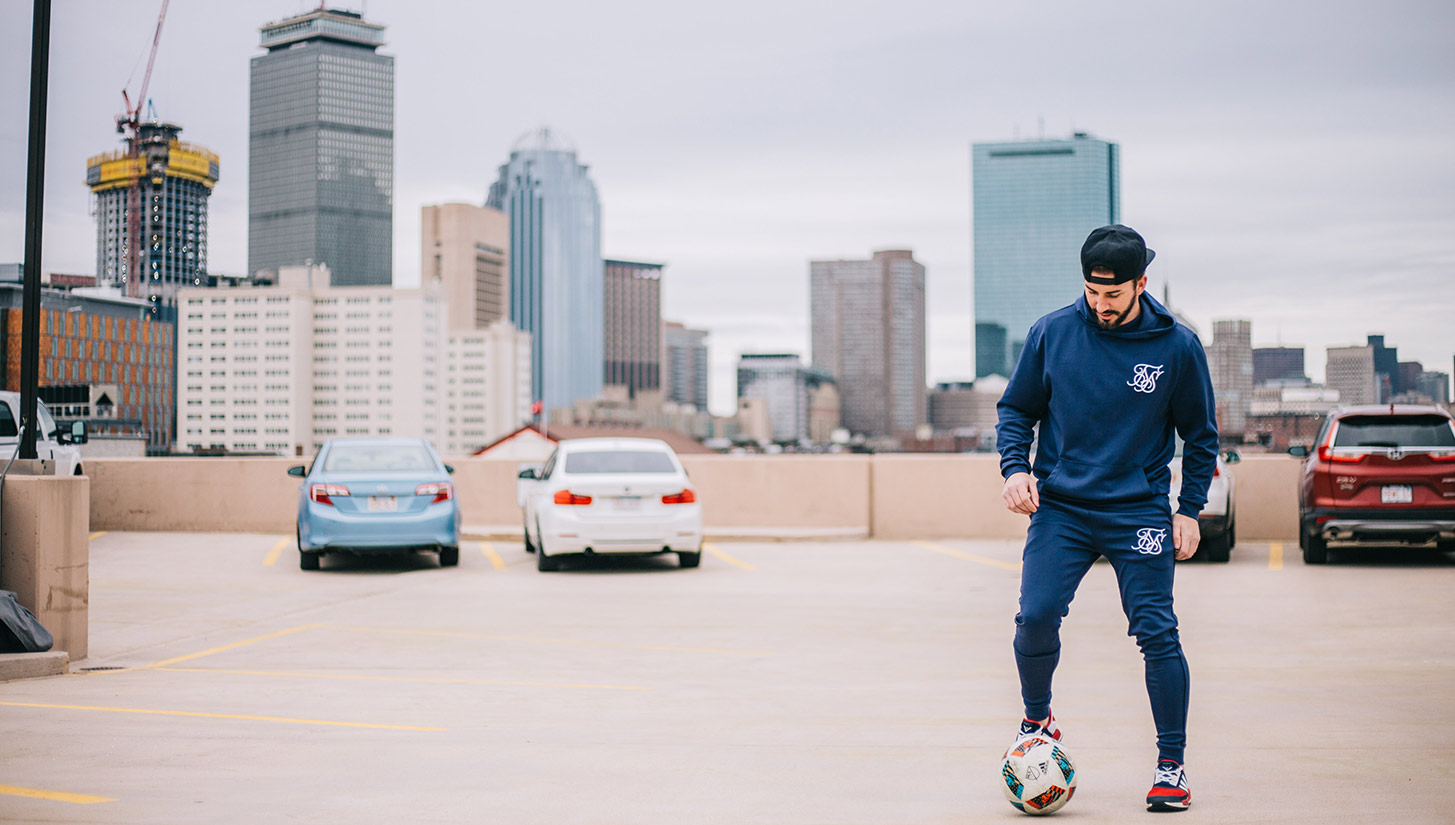 How long did it take you to get to that 30,000 mark back when we first met?
I think that was in January, and we had launched the page the previous July, so like six months.
You're a one-man team on Instagram, filming, editing, and posting everything. How much time do you spend doing all of that in one week? I can't imagine what kind of headaches and DMs come with nearly 500K followers!
(Laughs) It depends, some weeks are more busy than others. But like you said, I get a lot of DMs, and going through them all you don't want to miss any possible opportunities. People also don't get how much time is spent looking for music for the videos. It's not particularly hard work — you can do it from your couch — but if it takes me two hours to find a song, that's two hours that I'm not doing what I really want to do. A big misconception is that all I do is kick a ball around and not work, and while I don't feel it's work either, the reality is that if I'm going out there and putting the time in, I'm putting all of my effort into it.
How many DMs are we talking on a day-to-day basis?
On the average, 50-ish? It could be higher, it depends if I put something out there that gets people talking. With the way Instagram is now, you can poll people and ask questions. I can get easily over 100 on some days.
What's the craziest message you've ever received? Any special offers?
I've had some nice offers from different companies. I've gotten a DM from David Luiz which was nice. Lieke Martens hit me up one time, and she's pretty big time now so that was cool too.
So you've gotten some good fan mail from women in your DMs?
(Laughs) I mean yeah you're going to get some from time to time, of course, but I'm taken now.
Ah, so you're off the market. What's your current relationship status then?
I'm married for about eight months now.
And obviously your wife is OK with your crazy hectic lifestyle, right? What does she do?
Yeah, she loves it. She's involved in career services at a University, so she helps students get jobs after they graduate.
How did you guys meet?
We met a local coffee shop. I was feeling myself that day, and I somehow struck up a conversation, majorly laid on the English accent and thankfully she liked it. From there we went on our first date.
On a scale from 1-10 how nervous were you when you approached her?
I wasn't that nervous, I was feeling quite cool that day, not sure why. Sometimes I do get nervous but I wasn't then. She's beautiful. She's half-Dominican, so she's got this exotic look to her, and I didn't want to miss that opportunity. We started chatting, and I think she was taken aback that I was English, because in our area there's not a whole lot of English people. We went on our first date from there.
So what have been the keys to your success? It's kind of a cheesy question, but there are a lot of people out there that want to do what you do, with some probably more serious than others. 
I was obsessed with the amount of work that needed to be put into it. Again, people just saw my work as running around and kicking a ball all day, but I was sacrificing a lot of time for this. When my friends would be going out on a Saturday night, I couldn't go with them because I had to get more footage. If I didn't have the footage that I needed, I knew I had to go out and get it — I couldn't be going out drinking when I needed to put something out. I want to be successful and be the best in this category, and I need to put the time and effort into this to reach that. That's all it is. There's no special ingredients. It is cliche, but that's what it takes. I don't see myself as majorly talented, but I'm relentless when I want to get something.
Finally, where do you want to be in the next two to five years?
Ideally, I'd like to keep growing my social presence, and I want my YouTube presence to increase as well. I eventually want to start my own academy, I'd love to do that, whether it's under the Assassins name or not. I really believe I can make an impact in youth soccer development in the U.S. There are a lot of people who think they can too, but I truly believe it. I think with the training tools I can provide, I can produce some serious players.
What about on the personal side of things? Any kids? Moving to a new place?
Yeah my wife and I talk about relocating, we're just not sure where yet. Maybe somewhere a bit warmer. We're looking at some houses too, and ideally we'd like to have a family and house and everything like that.
Keep up with Danny's journey by following him on Instagram and subscribing to his YouTube channel. 
Photography by Victoria Romulo for Urban Pitch.