It wasn't the World Cup campaign it expected, but the Canadian men's national team's first tournament appearance in 36 years is a net positive for the rising nation. 
There's been a surge of talent to hit Canadian soccer in recent years. A huge influx of talented players have plied their trades abroad, and a burgeoning new league has allowed uncovered gems to reach their full potential.
So when the Canadian men's national team made its first World Cup in over 35 years, few were shocked. But the Canadians weren't meant to push a tournament favorite like Belgium to the limit — they were either too young or too old in the positions that mattered. After three group stage matches, the team is headed home without a point to show for itself, but that doesn't mean this whole campaign and the run up to it was a complete failure. In fact, it's far from that.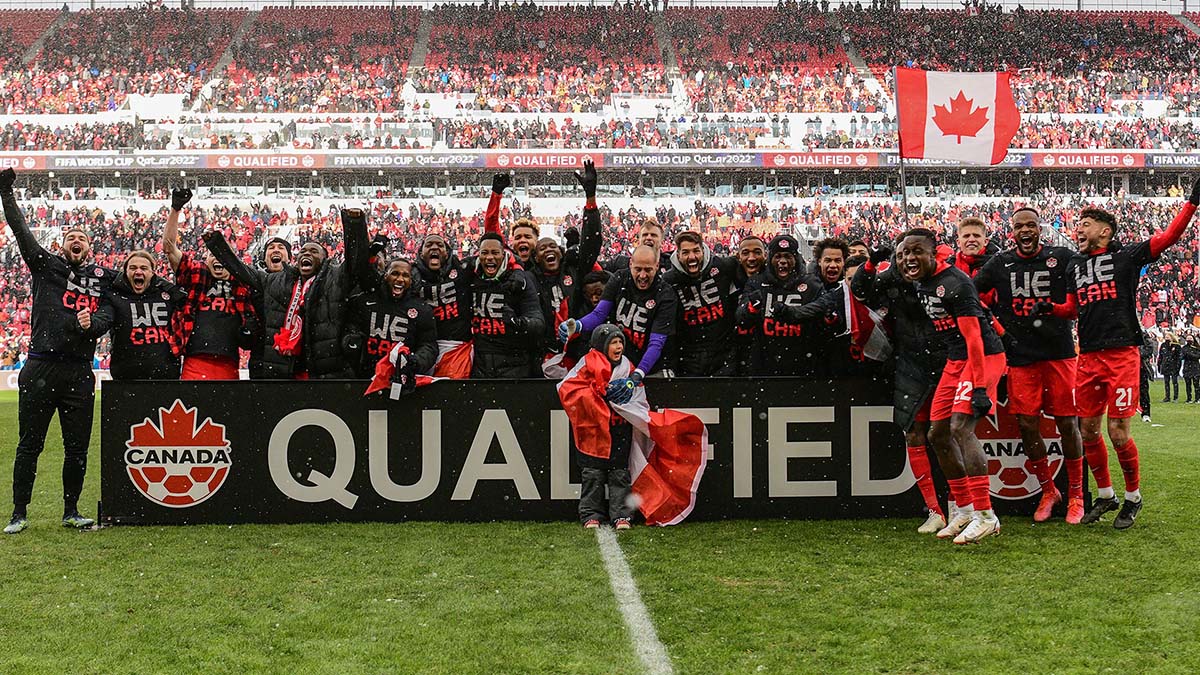 Canada finished atop the CONCACAF qualifying "octagon," yet during this stressful qualifying period — particularly at the beginning of it — there wasn't much external noise. Even people who followed Canadian soccer didn't fully start believing in this team until the November round of fixtures, where Canada beat Costa Rica and Mexico in back-to-back games. That's when local and national news started taking notice. The momentum started to build, and then on that fateful day in March 2022, Canada destroyed Jamaica to seal a spot in Qatar.
Almost instantaneously, the expectations for this team exploded — despite the betting odds saying otherwise. They went from "hopefully, we can get close to qualifying," to "Croatia and Morocco are both teams that we can and should beat." Somehow, we Canadians forgot that Croatia was in the last World Cup final and Morocco boasts players like Achraf Hakimi and Hakim Ziyech on its roster. And sure, almost every player on the Canada roster has had a meteoric rise to prominence in the past two to three years. But these expectations placed additional pressure on a country that had never scored a goal at a men's World Cup, let alone earned a singular point.
Canada came into Qatar 2022 with 36 years of pent-up World Cup fever and, in that daze of excitement, forgot that it was still a minnow in the world footballing ocean.
Game one, Belgium versus Canada: World No. 2 two versus world No. 41. This was supposed to be the most challenging game for Canada. But, in a weird way, the energy around this game had the young team trending upward, while Belgium was trending towards a rocky decline.
Belgium's back line had aged like tepid milk, and the country's star striker Romelu Lukaku was stuck on the sidelines with an injury.
Canada dominated possession in a game that mirrored something out of a FIFA video game where everything felt stacked against you. It pressed hard and created more chances than Belgium. What was missing was the clinical edge that comes with experience on the grandest stage. Alphonso Davies missed a first-half penalty, and Michy Batshuayi buried an absolute peach of a through ball from Toby Alderweireld to leave Canada stunned just before the end of the first half.
In every way, for Canada, this was a dream and a nightmare. Their game plan was working perfectly, yet, it somehow wasn't enough. Belgium parked the bus, and no matter how many chances Canada had, it couldn't unlock Thibaut Courtois and the aging Belgian backline.
Amidst the adrenaline of Canada's first World Cup match in 36 years, John Herdman, in a post-match presser, said, "We are going to go out there and F Croatia."
And while I don't blame him for his bravado, I do blame him for sharing it with the world instead of only with his team. That moment changed the perspective of many. It turned Canada into a lovable but peaceful foe, into a villain with ruthless and unpure intentions to those that lined up against it.
Croatia was given a free piece of motivation. At the same time, Canadian fans ate up Herdman's bravado, fearlessly entering the match with the mindset that they'd enter the final day of the group stage with only Morocco standing in their way of round of 16 glory. They dismissed Croatia as an ancient team that was still holding onto memories of better years.
I'll state it to save the eyes and minds of Canadian football fans like myself: Canada got thrashed by Croatia. Despite a beautiful first 20 minutes — Davies' headed goal will live in the minds of many Canadians for eternity — Croatia humbled Canada in a necessary way. The CanMNT's hopes to advance to the knockout stages were vanquished.
Canada is still extremely raw when it comes to the beautiful game. This generation has but a few pioneers in Atiba Hutchinson and Milan Borjan. And it was great to see them have their moment after years of sacrifice. But, at the end of the day, the new generation is what got Canada to the World Cup. In the next four years, we will see who is added to the mix, who is left behind, and who will cement their place. But, for right now, Canadian soccer fans should be immensely proud of the growth that has come in the last three years, because it is one of the most improbable success stories we have seen in football, and Canadian professional sports as a whole.
Keep this fiery attitude and support the Canadian game, and maybe in a few years, your high expectations might be justifiable.
The game in Canada has been growing steadily, and a rapid increase in expectations won't get the game to a higher level any faster. Trust the process, the players, the coaches, and the ones who are giving their love, time, and mind to the game in Canada.