From third string keeper to national hero in the span of one tournament, Sergio Goycochea's rise is one of the greatest stories in World Cup history.
Argentina will enter the 2022 World Cup as one of the favorites to win it all — and with a roster featuring the likes of Lionel Messi, Ángel Di María, Rodrigo De Paul, and Emiliano Martínez, it makes sense. The two-time world champions will be counting on their key players to win their third cup, but sometimes it's the role players that step up to make a difference. For instance, John Brooks in the 2014 World Cup scoring the game-winning goal for the United States against Ghana.
In the case of Argentina, the Albiceleste knows a thing or two about World Cup heroes — Diego Maradona, Mario Kempes, and Di María have all come up big for the Argentine national team. But there is one particular case of a player who rose to the occasion, one who defied the odds and won a place in the hearts of all Argentinian soccer fans.
Sergio Javier Goycochea became a national hero in the summer of 1990 when he was unexpectedly thrust into the spotlight after Argentina's starting goalkeeper Nery Pumpido broke his leg in the team's second game against the USSR. Goycochea had only one senior cap to his name and an underwhelming club career, but all that changed in Italy.
A Dreadful Team
The 1990 Argentina World Cup team was one of the weakest squads the country ever fielded in a tournament. It was a team devoid of any real scoring threat and extremely defensive. Only four years earlier, an equally pale squad was famously uplifted by Maradona to win it all. This Argentine side had a lot of the same members of the '86 team, but all were on a downward trajectory in their careers — and none bigger than Maradona himself, who was six months away from testing positive for cocaine and being thrown out of Italy altogether.
Jorge Burruchaga, Julio Olarticoechea, and Oscar Ruggeri, who were pillars four years earlier, were not at their best. Only Nery Pumpido and Claudio Caniggia seemed to be at a World Cup level, and this was evident in Argentina's poor showing in the first game losing 1-0 to Cameroon.
Argentina Needed a Hero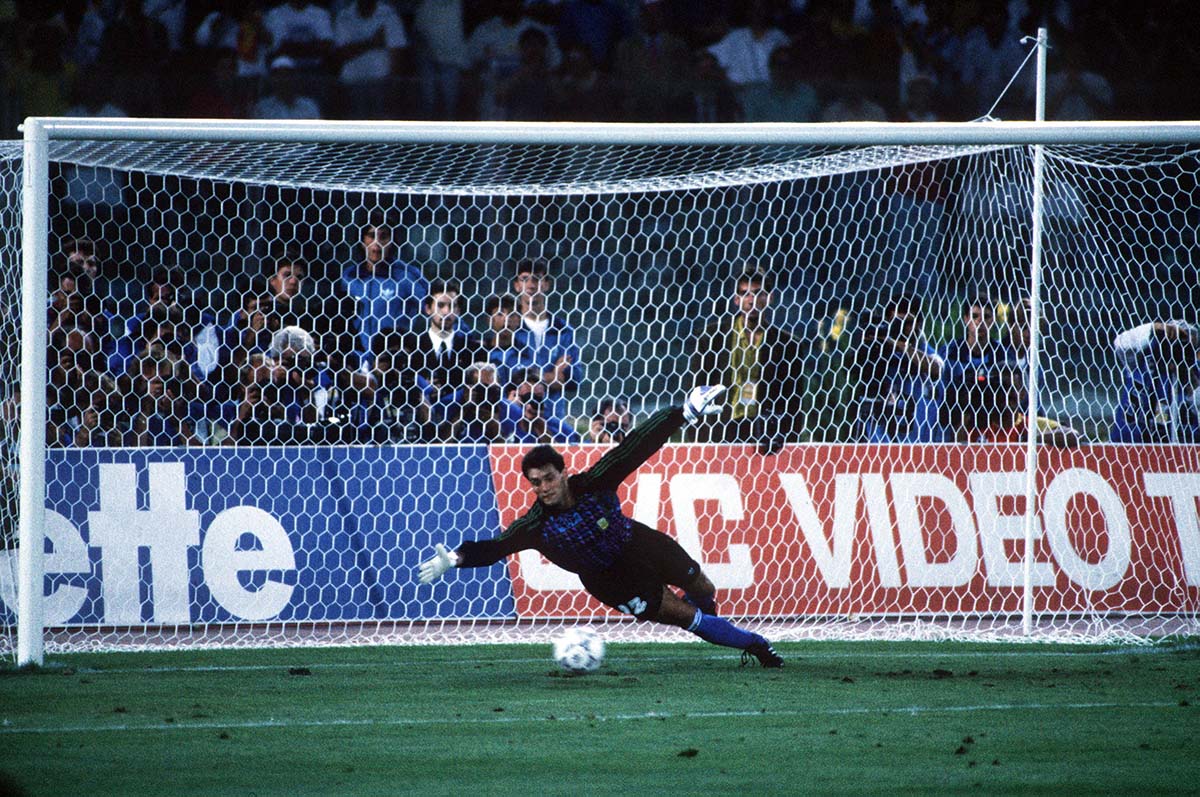 In the second match, Argentina's unbalanced side needed a win badly against the USSR, but catastrophe hit in the 11th minute, when Pumpido broke his leg while trying to intercept a ball. Head coach Carlos Bilardo called upon the once-capped Goycochea, a player who was best known for warming the bench at River Plate and was playing for Colombian side Millionarios to little fanfare.
Goycochea, a product of Defensores Unidos, caught his big break with River Plate in 1982, and until 1988 'Goyco' played second fiddle to various keepers including Pumpido. Still, Goycochea managed to play in 58 games over that span winning four championships.
His move to Colombia came as a desire for more playing time, but he did not exactly take the Colombian league by storm, playing in 39 games over two seasons. Goycochea's addition to the squad in Italy '90 was eye-raising to say the least, given that more capable goalkeepers at the time were left off.
A nervous Goycochea survived the USSR and was solid in an otherwise poor match against Romania. Then in the round of 16, Argentina met Brazil in a South American showdown and Goycochea showed all his skill, stopping numerous Brazilian attempts and keeping Argentina in the game. An unlikely counterattack led by Maradona resulted in a Caniggia goal, and Argentina upset the Brazilian team behind the will of Maradona, the skill of Caniggia, and the hands of Goycochea.
In the quarterfinals, Argentina played Yugoslavia with little zeal, leading to a 0-0 score line after extra time. In penalties, Maradona would miss his kick, only for Goycochea to make two key saves en route to another victory. The events set up a semifinal tie against host Italy, where Maradona stirred the pot by trying to divide the nation between the North and the South, where he played for Napoli.
In a 1-1 draw it was up to Goycochea to save Argentina again, and he did — stopping two penalty kicks and taking Argentina to their second consecutive World Cup final. By the end of the Italy match, Goycochea had turned into a national hero, and even became a sex symbol in Argentina.
Argentina would go on to lose the 1990 World Cup final to West Germany 1-0 on a late penalty kick that Goycochea guessed correctly but could not stop. It is considered the worst World Cup final in modern history. By the time Argentina returned home, Goycochea was everywhere — from endorsement deals to TV appearances.
A Hero's Rise to a Villain's Fall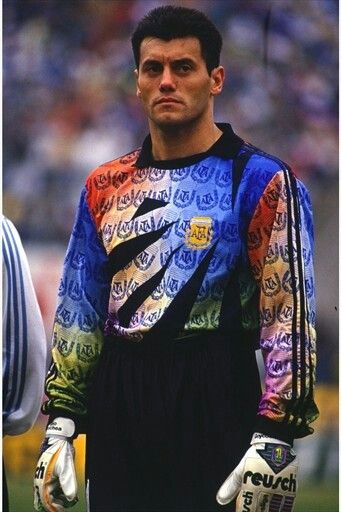 After 1990, Goycochea moved to Racing in Argentina, but more importantly took over the No. 1 spot on the national team. Goyco could do no wrong at the national team level, coming up huge for Argentina during their Copa America titles in 1991 and 1993.
At the club level, the shot stopper's career was unbalanced — a run of games in Racing led to a poor stint in Brest in France followed by uneventful stays at Cerro Porteño and Olimpia of Paraguay. A return to River Plate in 1993 just in time for the 1994 World Cup qualifying was just what the doctor ordered. Goycochea would win the 1993 Apertura with River, but his days were numbered, as he would be replaced by German Burgos the following season.
During Goycochea's club struggles, his place on the national team suffered as well. In a span of a few weeks the hero became a major villain, as Goycochea was not steady during qualification and took the brunt of the criticism after Argentina's disastrous 5-0 defeat at home to Colombia.
While Goycochea would play the playoff tie with Australia that marked the return of Maradona, by the 1994 World Cup he would be benched in favor of the more reliable and quick-footed Luis Islas.
After 1994, Goycochea never played for the national team again, and was singled out as the culprit for an embarrassing defeat. Nonetheless time heals all wounds, and the Argentine press and fans remember Goycochea fondly.
Life After Skyrocketing Fame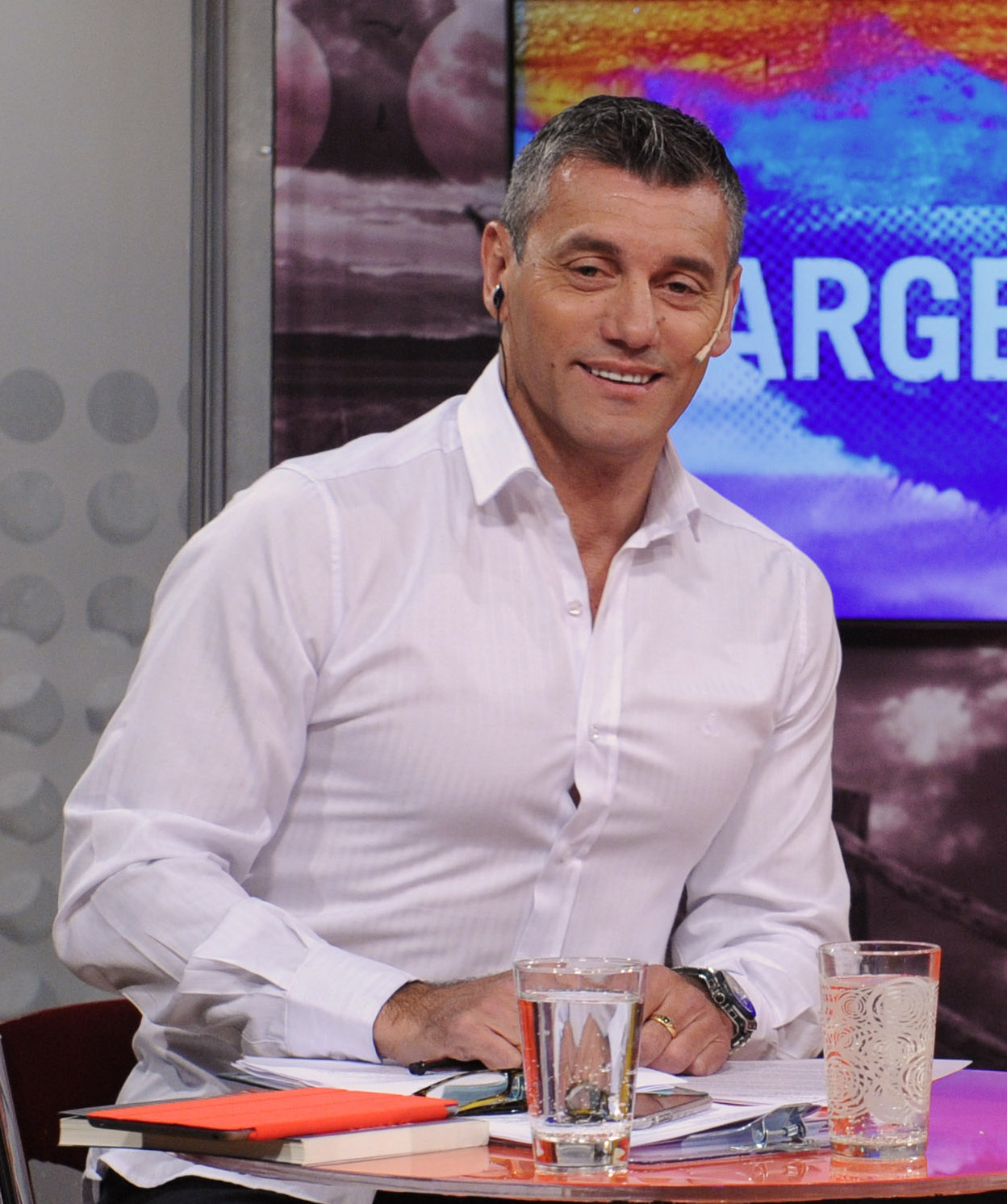 As Dave Chappelle once said, "You can't get un-famous." Although Goycochea's club career would end at Newell's Old Boys in 1998, playing limited matches, his fame would hardly cease to exist.
Goycochea would become a highly praised analyst and panel participant on soccer shows in Argentina. His movie star looks got him on Argentina television as a host or co-host for various programs. Goycochea helped Maradona host his variety show La Noche del Diez in 2005.
Recently, Goycochea has served as a panel host on various soccer-related shows on ESPN and Fox in Argentina. When Maradona passed away, Goycochea gave a tearful insight on what it was like to be a friend of Maradona and how the World Cup and Diego changed his life.
Goycochea's 1990 goalkeeper jersey is also one of the most sought-after retro kits in Argentina, with many sporting it at various matches.
Argentina is a place that is very forgiving to those public figures that have elevated the nation, from Maradona's out-of-control life to Goycochea's poor run of form leading up to the 1994 World Cup. Nostalgia plays a big role as to why Argentinian fans cannot forget the saving hands of Goycochea, and he has wisely been able to morph his fame from a hero goalkeeper to respected soccer analyst and pundit.
Still, for that month in 1990, Goycochea could do no wrong and was able to take his World Cup hero status and convert it into a way of life. Many other more talented goalkeepers have played for Argentina, but few have given the country as much joy as El Goyco.