With a new ownership group that looks to be serious about rebuilding the club, we take a look at the recent transformation of Birmingham City FC that has fans optimistic for the club's future. 
A great awakening is happening at Birmingham City Football Club. For the first time in a long time, there is optimism in the blue half of the United Kingdom's second largest city. A long-awaited takeover, a flashy new shirt that turned some heads, and a superstar investor-partner that got the attention of a global audience.
For many years now, Blues fans have been resigned to watching the exploits of their city rivals Aston Villa, waiting for something, anything, to happen to their own club. Periods of enjoyment have been few and far between, often done so vicariously through superstar academy graduate Jude Bellingham's exploits in Germany and now Spain.
Finally, things are happening. And those things are pretty special.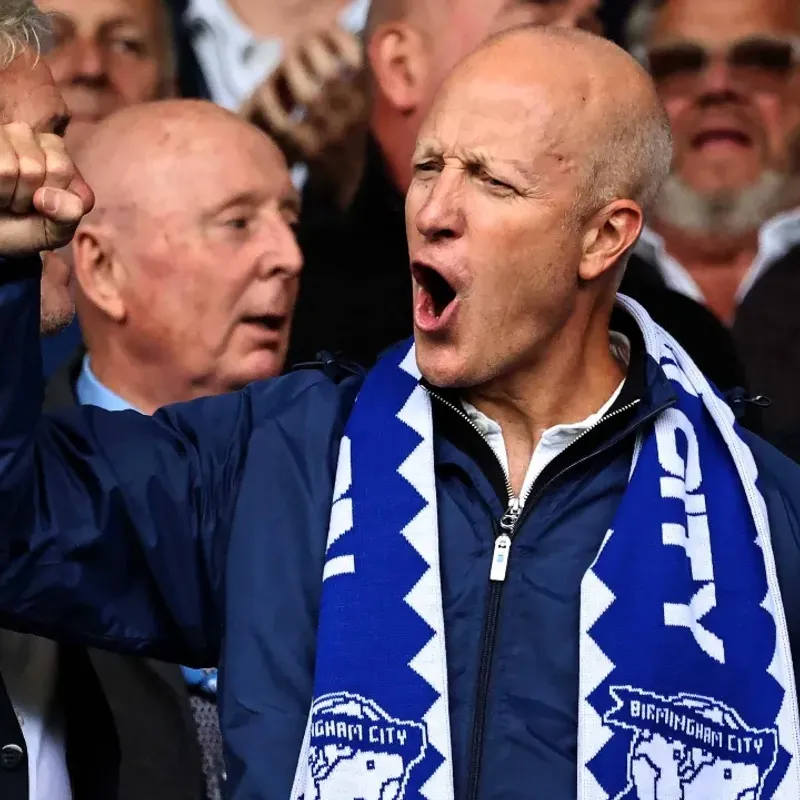 The first domino fell with the announcement in May that American hedge fund Knighthead Capital, lead by its co-founder Tom Wagner, was to purchase a majority share of just under 46% of the club. That figure is expected to grow in the coming years.
Wagner even set up Shelby Companies Limited — a nod to the wildly popular TV series Peaky Blinders, which has become a ubiquitous symbol of Birmingham — to complete the purchase.
The takeover crucially included full purchase of Birmingham City's tired home ground, St. Andrew's.
In an open letter to fans, Wagner promised to deliver "transformational improvements for the good of the club and the good of the city." Early commitments have included massive stadium repairs, as well as investment in the men's and women's teams, the facilities, and the overall club culture.
Blues fans must've thought they were dreaming.
"The club has needed this for many years," said Shane Ireland, a season ticket holder and former Birmingham City writer at the Birmingham Mail. "It has been neglected for so long that at times it seems like a takeover would never happen. This is a fanbase that has been ground down, season after season."
He's not exaggerating. The past decade and beyond has been mired by a horrorshow of mismanagement and malpractice by a labyrinth of questionable ownership groups, businessmen registered in Caribbean tax havens, and even a mysterious figure known simply as "Mr. King." 
Performances on the pitch weren't much better. At times watching Birmingham City was like riding a rickety ferris wheel in a run down and haunted amusement park. At least now it seems that the clowns have vacated the premises.
As Ireland points out, fans can finally be optimistic.
"The new owners have set out a vision that seems clear, and everybody connected with the club is excited about the future," he said.
But the trauma of previous takeovers has fans' feet firmly planted on the ground. So it made all the more difference that Wagner and Knighthead wasted no time in signaling their intentions.
In high demand! 👏 pic.twitter.com/HCralWksfW

— Birmingham City FC (@BCFC) August 4, 2023
The announcement that California-based streetwear brand Undefeated was to become the club's new principal partner and sponsor came just weeks after the takeover was fully completed at the start of July. The partnership will see Undefeated, mainstays of the Los Angeles streetwear scene, take a role in creative direction on future merchandise and other marketing projects.
Having previously partnered with brands like Air Jordan, Disney and the NFL, Undefeated's continued foray into the football world (the brand also teamed up with the United States women's national team ahead of the 2023 Women's World Cup) was a strong indication of Knighthead's intention to elevate the status of the club. Brand new home and away kits for the men's and women's teams accompanied the announcement. Undefeated's iconic five-strike logo taking center stage on the blue and red shirts took fans — and the internet — by storm.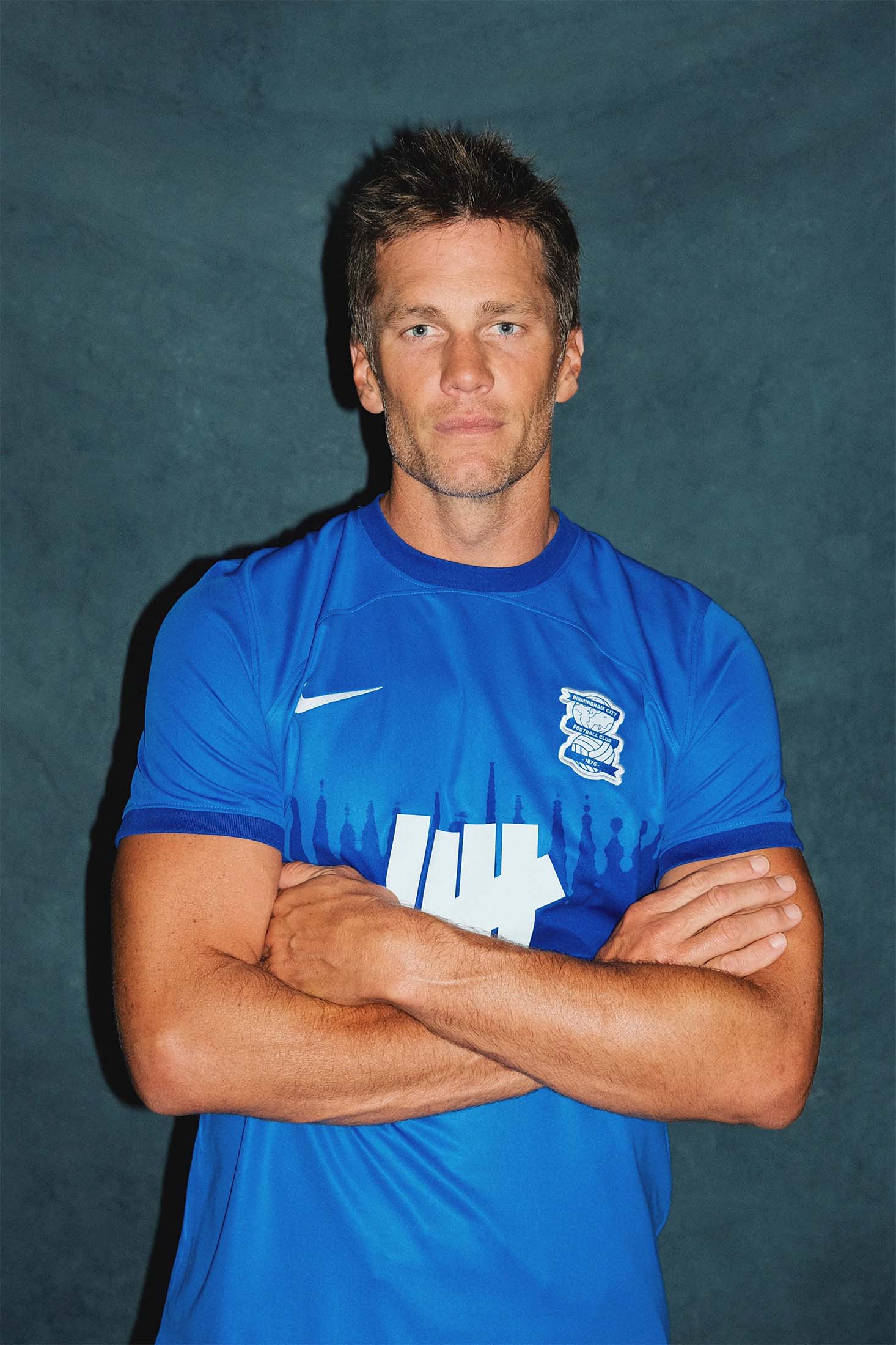 If a new owner with bold intentions piqued some interest, and a shiny new creative partnership turned some heads, then last week's reveal that seven-time Super Bowl-winning NFL legend Tom Brady had become a minority investor in Birmingham City Football Club was a high-voltage shock to the system.
"So here's the deal," beams an enthusiastic Brady in his official announcement video. "I'm officially coming on board with Birmingham City Football Club."
The steely bassline and drum beat from the Arctic Monkeys' "Do I Wanna Know?" echoes in the background. Do I wanna know? Yes, yes I would like to know what on Earth is happening here.
"It certainly made me smile," Ireland said. "Brady is obviously one of the biggest names in U.S. sports and from a marketing point of view alone, it's a positive thing to have him involved."
The details of Brady's investment are very scant, but the most important aspect of the partnership is his role as chairman of a new advisory board, where according to the club, he'll "apply his extensive leadership experience and expertise across several components."
Wagner called the move a "statement of intent" and a demonstration of Knighthead's desire to "set the bar at world class." Brady's even followed Wagner in dropping the hard "H" in Birmingham. That's a positive start.
Skepticism in the wider footballing world about Brady's involvement inevitably followed, and it's something that is not lost on Ireland.
"We all know Tom Brady didn't suddenly become a Birmingham City fan overnight," he said. "But considering what Knighthead's aims are — to strive for a 'world class' culture across the club — having somebody like Brady on board makes sense."
In the meantime, there are present issues that Knighthead will need to address urgently, namely bringing St. Andrew's back up to a passable standard. Several years of neglect under previous owners have turned the ground into a representation of the club itself.
"For a Championship club to have over a third of the ground shut for so long due to being unsafe is, quite frankly, embarrassing," Ireland said.
The list of repairs is long, and according to Ireland they include weeds growing around the seats, poor customer service, and a lack of hot water.
So while the big picture looks promising, and the Undefeated and Brady partnerships are solid indicators of direction, returning the club's traditional home to a source of pride is the yardstick by which fans in the short term will judge the owners' early tenure. It appears to be their top priority, and the improvement in general atmosphere and mood amongst fans is palpable.
The release by Birmingham-born grime artist Jaykae entitled "Bluenoses," which includes a video featuring the city's skyline and sights, captures the essence of what it means to be a fan of Birmingham City, and represents a change to an overall outlook of hope for the future. It has been widely endorsed and shared by the club.
Development of the city, particularly around the areas of Digbeth and Small Heath, areas which straddle the ground, has altered the outward perception of the city as a great place to visit, with a proud history and tradition of community. An acute understanding of that tradition is one thing that has endeared this new ownership to the fans.
"There is undoubtedly a tangible level of excitement that has been missing for several years," Ireland said.
That excitement came to a major swell after Birmingham City defeated recently-relegated Leeds United in their 2023-24 home opener. Ireland, along with 20,000-plus fans, were there to take in the victory that may usher in the start of a new era — one that breaks dramatically with a decade of turmoil and rekindles that sacred connection between club and city. It has been hard-earned.