Urban Pitch sat down with L.A. street baller Alfredo Sainz, whose career has spanned futsal, street soccer, and professional play in Bolivia. He's been featured in trick-heavy spots like the Nike FootballX Skills video, played for the Red Bull Street Team, and has been a leader in the street soccer movement with his longtime crew Calle661. "Fredo" Alfredo Sainz explains how L.A.'s urban culture has defined his play and the travels that have allowed him to explore various styles of the sport around the world.
Urban Pitch: So where did you grow up?
Fredo: I was born in Bolivia and I moved down here in the fourth grade. When I moved out here the only thing I knew was futsal. My dad put me in a league down in the San Fernando valley and it was a futsal league for kids. From there, I jumped onto a club team the second we found out about club [soccer]. Then I ended up moving to the Santa Clarita valley.
How did you get into street soccer?
In the beginning of junior high I always had a group of guys and we'd go play at a park on the basketball court. I was always hosting all of these games and it was through these mass texts and it just kind of blew up in high school. We started getting more kids from other high schools out here. Then after high school we had college teams coming out because we have a community college here and another big college called "The Master's College." All those guys started coming out. Now the cool thing is, ever since I moved away, all the younger kids took over and now they handle it. Of course now with the whole Nike app, it's a million times easier because you don't have to text anyone!
one of the biggest things when it comes to the streets is it's very fast, very competitive, and you can't hide.
Tell us about the Red Bull Street Team.
Right after high school, I tried out for a big street team sponsored by Red Bull. Basically it was just a bunch of street soccer players, outdoor players, beach soccer players, everything all mixed into this one group. We traveled and played all over the country which was great. And that's how I met a lot of those guys, especially from Long Beach. After that I played professionally in Bolivia for a team called [Club Jorge] Wilstermann and played out there for four years.
How did you get recruited to a pro team in Bolivia?
It was cool because my grandpa played on the same team and my dad played on the same team. They have a clásico there which is Wilstermann vs [Club] Aurora, which is a rivalry. They always have a tournament here in L.A. and it's all Bolivians and everyone goes. I've always played in that as a kid growing up. There were two coaches and a scout that day and they saw me playing and asked me to go back and play over there. It's ironic that my dad played on the same team. I didn't think I'd ever go back and play but it actually worked out. It was definitely a good experience, very humbling, and it helped my career a lot.
How old were you and how was the competition out there?
It was in 2008 so I was probably 21. It was a crazy experience because I had never played at a high level like that. It was very different, very skillful players. I always thought I'm going to go to Bolivia and it's not like it's a big time league. But it was impressive how talented everybody is. Especially, I played a lot of futsal out there. I played against kids that were 10 years younger than me and they were so talented. So much swag and it was very, very cool to see that. When I came back, the one thing I wanted to push more was the street soccer movement and futsal.
I think the worse the area, the better the players … You get a lot of guys who are just always on the streets, always with a ball,
always playing just like in the
rest of the world.
Touring the country with Red Bull and then playing in Bolivia, you must have some wild stories.
Yeah, especially when the whole Red Bull thing started I got to travel a lot. A lot of my friends [who] were playing college ball they all wished they could get paid and travel as well. Every time we came home, one of my best friends, we always had parties at his house. We did that so often and the parties became crazy, there was always fights and everything.
Which girls were crazier, during the Red Bull Tour [in the U.S.] or the ones in Bolivia?
[Laughs] I think Bolivia, definitely. Those girls can party like crazy and go out at like one o'clock in the morning while we're coming home at like 2 [a.m.]. Girls over there in South America are insane.
Ok, so tell us about your Calle661 crew.
We started Calle661 back in junior high. Throughout high school we started picking up a lot of different players. We have eight different high schools in the valley so it made it a lot easier to get a lot of people to come out. We started that just from the company "Calle" and got that name from there. They always supported us with the whole street soccer movement and got the name Calle661. We've been doing that for years and it stuck around. For the Nike tournament we kind of brought our best players there [to represent Calle661] so it was really cool.
What are the main differences when you play the street game versus a regular soccer game?
I think one of the biggest things when it comes to the streets is it's very fast, very competitive, and you can't hide. Because it's such a small space, you're always having to face one person in front of you or two persons in front of you. If you come from a game where you only played 11-a-side your entire life and you jump into a street or futsal game, it is very different and shocking because it is a lot faster. You need to be creative and can't be just a dull player. Especially when you go to these street games people host. Those are some of the most creative guys you can possibly get. If you don't have anything to bring to the table, they'll embarrass you.
… it can get very physical and there are no refs. You just have your crew to back you up …
Especially at our court, I think it's more competitive because you don't want to get embarrassed. If you do get embarrassed, it can get very physical and there are no refs. You just have your crew to back you up so if it does get kind of physical, you're kind of on your own and you gotta play that way.
Which is your home court?
Our 661 court. We play here at the [Santa Clarita] Sports Complex. We've been kicked out of a million places but this is our latest one. And this one is just two basketball courts but that's our home court now. There used to be a high school out here but we got kicked out of there because we're not allowed to play street soccer on a basketball court.
While growing up were you into hip hop, sneaker culture, and the urban scene?
Yeah, definitely. One of the biggest things is the whole sneaker game in L.A. and I was really, really into all that stuff. All different Nike shoes, old Nikes and new Nikes, it's been a big thing. But I think one of the biggest things about L.A. is the Latino community that makes it so much more talented than any other city. That's where we get a lot of the talent from is through that community. I think the worse the area, the better the players, to be completely honest. Because you get a lot of guys who are just always on the streets, always with a ball, always playing just like in the rest of the world.
How did you get connected with Nike?
I've known a lot of the guys from Red Bull. I played in that tournament, the Nike Risk Everything. I made the wild card team and got more familiar with a lot of the Nike people. They asked me a few months ago to do a commercial for [the Nike FootballX], of course I hopped on board. I want to be a part of it.
Outside of soccer, what are your hobbies?
One of the biggest things, I love lifting. I got into lifting after I came back from Bolivia. The only bad thing is, leg days is the worst for street soccer. Anytime I have leg days, I try to push it to Friday or Saturday so I can have a couple days to recover.
Going to movies with my girlfriend, we love going to see any new movie that's out. Cinematography, very into films and absolutely obsessed with creating them. One of my last short films I made is on my YouTube channel and it's basically about what I do. It's called "Connecting the Dots."
I love running, going for long jogs. I live in canyon country and there are tons of mountains around my house. So I take my dogs up there. Also I really enjoy hiking. Anything outdoors I'm a huge fan of, especially fishing and hunting. I work with kids, I'm always training, so I'm active 24/7.
we deserve to have our court, our street soccer court, where it's strictly for soccer.
What are your future goals in the next five years?
One of my biggest goals, in the next five years, is to have my own facility here. To have a futsal court. Or on top of that I'd want to have just like how DeForest Park has their home court that's strictly for soccer. I want the same thing for my city. Because like I said, we've been doing this for over 10 years now and we've been getting kicked out of tons of places. And we deserve to have our court, our street soccer court, where it's strictly for soccer. We have a ton of kids come out and I'm trying to work on that but going to the city, there's a lot of [loopholes] and all that. I think that's one of my biggest goals, to have a facility and having my skills academy there instead of at a random park every time.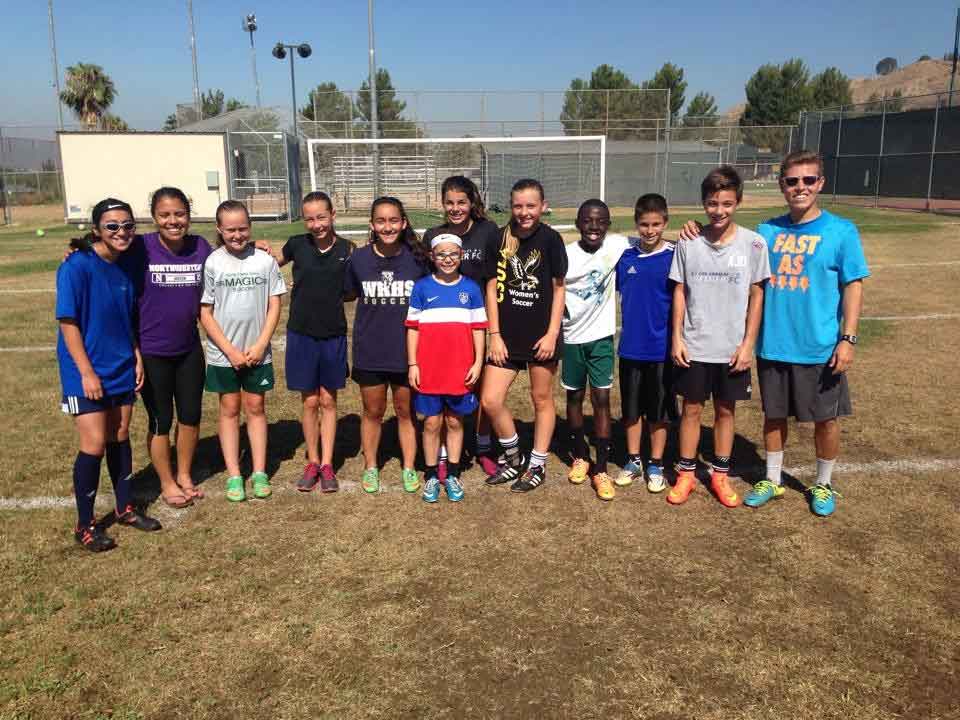 What kind of coaching are you involved in now?
Once I got back from Bolivia I started [Sainz Futbol] Academy. I started with just two or three kids that wanted private training and that got bigger and bigger through word of mouth. I ended up having groups of six every hour starting at 3 p.m. until night. I strictly make it skills and agility, everything is with the ball. There's no running without a ball, very skillful, very street soccer. I push that with kids and I think what separates me from other coaches is that I can show them examples right then and there. Kids love that, they're visual learners so they love seeing me do some things. They get inspired and then go home and they try to do it. Before I knew it, that blew up like crazy!
Final question: Adidas or Nike?
I've always been a big Nike fan. Always, just because they're just much more simple with all of their stuff. Their clothes is a lot more simple. I'm not a big fan of the [Adidas] lines. In fact, Tiempos have always been my favorite, always loved them, absolutely the best cleats. So I'm always representing Nike.
Follow Alfredo Sainz @fredosainz on Instagram.